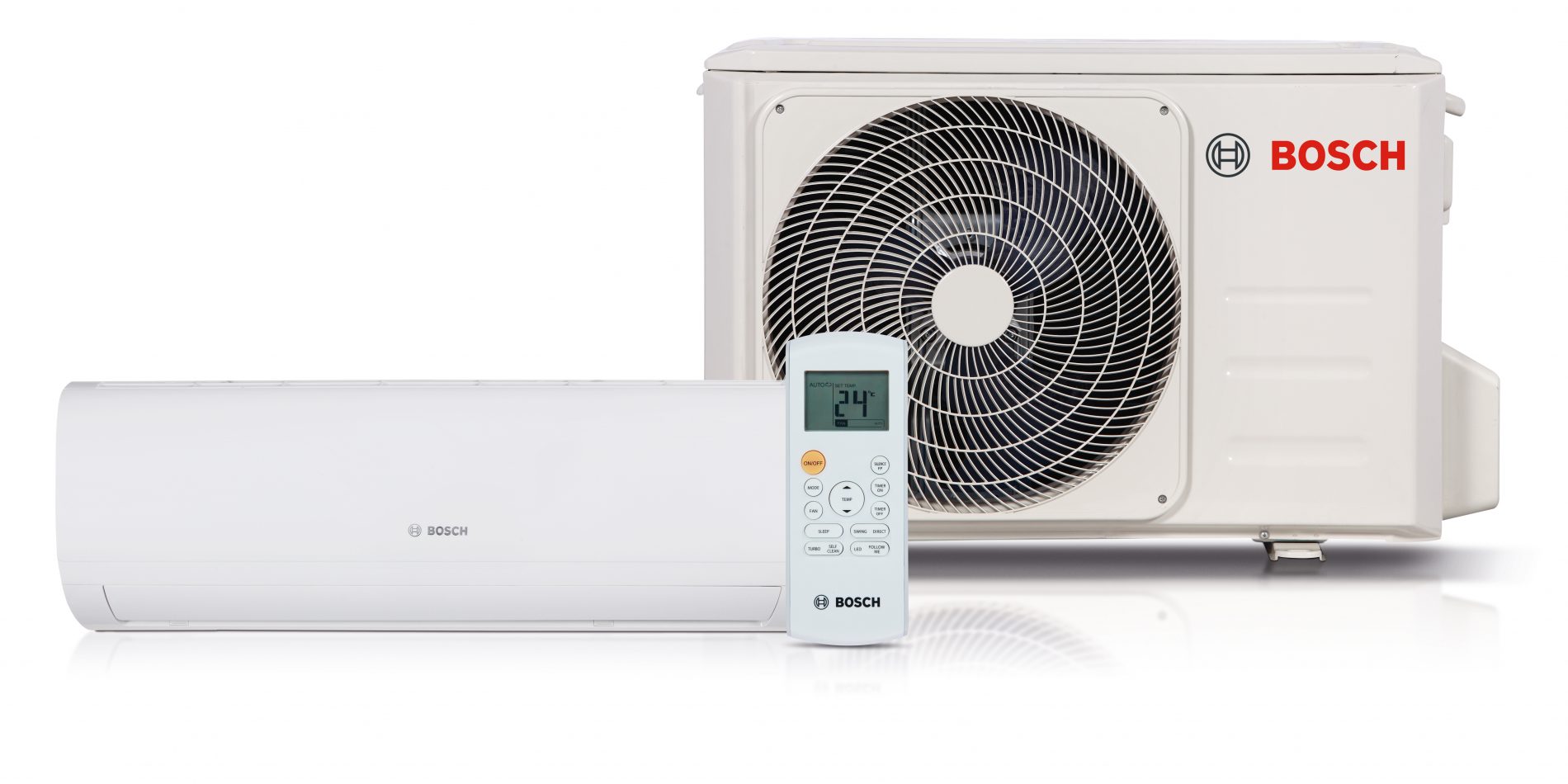 Bosch Commercial and Industrial has announced the launch of its new range of air conditioning splits with environmentally friendly R32 refrigerant for the fast-growing UK domestic and commercial markets. The new range covers Single Split Residential Air Conditioning (RAC), Single Commercial Air Conditioning (SCAC) and Multisplit units with DC inverter technology.
The range is highly efficient with ErP rating of A++ for cooling and A+ for heating for both RAC and SCAC units and A+/A++ for cooling and A for heating of multisplit units.
A key feature of the new range is the introduction of refrigerant leakage detection. This ensures the safety of users and environment while protecting the compressor from being damaged by shutting down the unit and warning users in case of a leak.
Bosch RAC split range is available in four different cooling outputs: 2.6kW, 3.5kW, 5.3kW and 7kW with wall mounted indoor units.
Bosch SCAC range is available in 5.3kW, 7kW, 10.5kW 1-phase; 14kW 3-phase cooling output models with a possibility to choose between Cassette type and Duct type indoor units.
With Bosch Multisplit range, it is possible to connect 2 to 5 indoor units to 1 outdoor unit. It is available with two types of indoor units – wall mounted type and Cassette type. It provides an optimal solution for a wide application range from family houses to small offices. 5.3kW, 7.9kW, 10.5 kW and 12.3kW cooling output models are available.
The range also features a "Follow me" function which transfers the conventional room temperature measuring function from indoor unit sensor to a built-in wired or wireless controller sensor. This allows the unit to accurately maintain the temperature according to the user's location.
The Bosch R32 air conditioning units come paired with a comprehensive after-sales service. This comprises of five years warranty, a contact centre open 364 days a year, and Bosch trained engineers providing national coverage and quick onsite response time.
"Air conditioning in the UK is a fast-developing market, so we are extremely excited to be serving both domestic and commercial markets with our R32 range," says Tim Davies, Director at Bosch Commercial and Industrial. "At Bosch, we are also committed to driving down the energy bills of our customers and lowering the emissions from their properties while optimising their comfort levels."
For more information on Bosch Commercial and Industrial and its range of heating, cooling and hot water technologies, please visit www.bosch-industrial.co.uk. Alternatively, follow Bosch Commercial and Industrial on Twitter (@BoschHeating_UK) and LinkedIn (Bosch Commercial and Industrial UK).