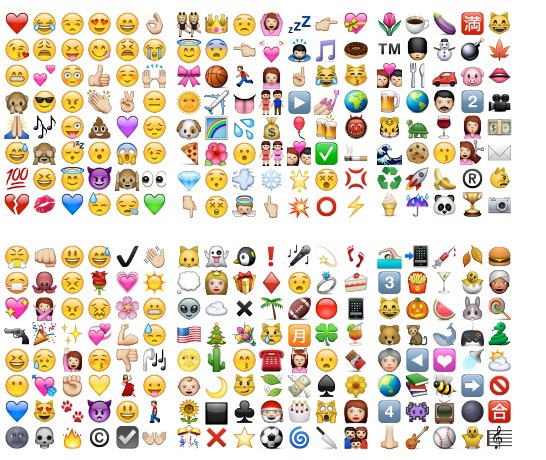 Where would we be without an emoji thumbs-up, an OK-sign or the vital pig nose? Since the release of Apple's first generation iPhone, the iconic language has suffused everyday communication, so much so that scarcely a message is sent lacking these gestural pictographs. Now it seems we might be seeing a lot more of the cheery little graphemes as it has been suggested that they may improve nutritional transparency by representing food allergens on packaging.
A portmanteau of e, meaning 'picture' and moji, meaning 'character', an emoji is a graphic symbol used alongside or in place of a word. The emoji characters originated in Japan in 1999 and, though initially confined to smileys*, emojis are now able to represent a whole array of emotions, hand gestures, objects, animals and anything else deemed vital in everyday language. Emojis were popularised by the iPhone OS 1, the first handset outside Japan to incorporate this pictorial language into its messaging functions. Following the release of their first-generation mobile with this capacity, other manufacturers followed suit, developing their own versions of the electronic communication. Now featured and used on most mobile operating systems, and in different guises on social networking platforms, Facebook and Twitter, emojis look set to make an appearance outside the realm of purely social or technological domains.
Hiroyuki Komatsu, an engineer at Google in Japan has submitted a proposal to Unicode Consortium, the corporation responsible for the textual representation in modern technology, requesting that icons for various food allergens be developed and incorporated into the Unicode Standard character coding system. If his proposal is approved, it could mean the images are displayed on food packaging across the globe. This will be the biggest standardisation project the UK has seen since the 1998 GDA (Guideline Daily Amount %) nutritional facts label was rolled out, and the follow-up RI (Reference Intake %) was taken up.
As it stands, a product which contains milk could be signified by the baby bottle emoji which he describes as "weak alternative" to the prototype he favours, a pitcher pouring milk. In the same way, wheat/gluten could be signified by the bread pictograph. While potentially ambiguous, it is the allergies with no "weak alternative" which Komatsu addresses most vehemently.
As he explains, "Emoji should cover characters representing major food allergens. It enables people to understand what nutritions [sic] are used in foods even in foreign countries and safely select meals."
There are, admittedly, various allergens which cannot be accounted for by the current pictographical system and therefore make it hard for those suffering with allergies to dine easily in foreign countries. Moreover, a codified representation strategy for allergens could improve consumer experience at a national level as sufferers would, undoubtedly, be able to find suitable products more easily. His additions include a universal symbol for common allergies such as peanuts, buckwheat, seafood and soy, as well as some that mightn't be so salient: celery, kiwi, lupin etc. It also addresses the shortcomings of the aforementioned vague symbols in use for gluten and dairy products.
All of the emojis we know today have gone through this process of standardisation, a selection of which denoting food items. New emojis continue to be submitted to the Unicode Consortium and, subject to approval, are incorporated into the iconic language. Though omitted from the Candidate List this year, his may well be considered in the future and, from there, appear on food packaging on an international scale. With an emoji for stuffed flatbread making it to that stage, and the smiling poop emoji being amongst the most popular in use today, it surely can't be long before these worthwhile emojis make their debut.
*a smiley is conventionally understood in electronic communication as a symbol that represents a face, and is used to indicate the writer's emotion.