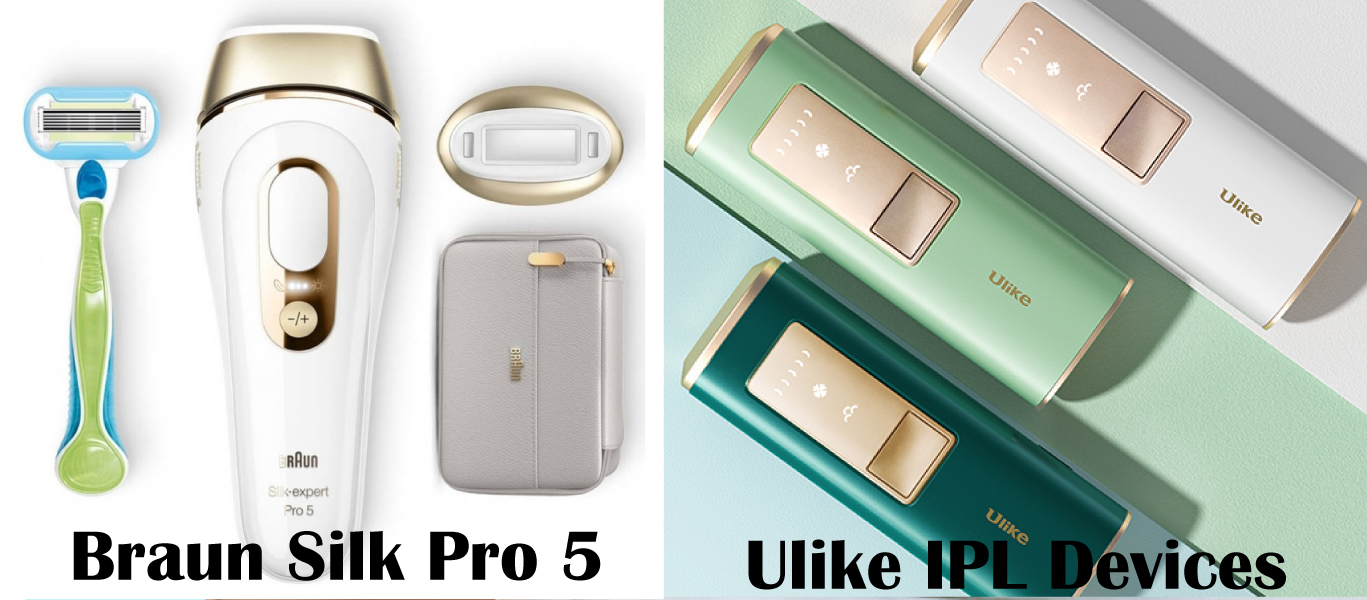 The trend of IPL hair removal started a few years ago when people were fed up with all the old methods of hair removal. Conventional hair removal methods are waxing, shaving, plucking, epilating, and the use of depilatory creams.
All these methods give hair-free skin for just a couple of days and people have to repeat them from time to time which gives an uncomfortable feeling. These methods are really painful and bothersome therefore scientists and researchers are joined together to discover a method that is comfortable for you and gives you permanent relief from unwanted hairs.
Efforts of technologists and researchers brought fruitful results and the discovery of IPL and laser hair removal techniques was made practical and now thousands of people are taking advantage of it and getting rid of unwanted hairs permanently.
What is an IPL Device and How it Works:
Hairs are made up of protein and dark hairs contain a pigment called melanin. IPL device emits an intense light of different energy that is absorbed by melanin pigment where it is converted into heat.
This heat damages the major part of the hair follicle which then stops hair growth. However, this is not effective for light-coloured hairs because they lack melanin pigment. Several sessions can eventually break down hair roots chemically and hairs are removed from targeted areas of the body permanently.
Well if you are also interested in purchasing an IPL device and want to take advantage of this latest technology of hair removal then have a look at the comparison of the two top IPL devices.
Braun Silk Expert Pro 5 IPL device:
Silk Expert Pro 5 Braun laser hair removal device is one of the latest IPL tools that is being offered by the well-known brand Braun. It is beautifully designed for the treatment of large areas of the body and has precision caps for those areas where more precision is needed.
Braun Silk Expert Pro 5 has 10 intensity settings for optimum outcomes where you can set intensity levels as per your requirements. This updated device also has an auto skin detection feature so that it can detect skin tone automatically and select intensity likewise.
It is also approved by the FDA for safe and effective use to remove hairs permanently from all body parts. On the other hand, Braun Silk Expert Pro 5 is also tested by dermatologists for safety and effectiveness.
The slim and silky device of Braun gives you a great user experience. You just need to change the head of the devices according to the part of the body to be treated with an IPL device. Then it is plugged in and the required intensity is to remove hairs permanently.
It only takes 10 minutes to complete the IPL hair removal therapy and it stays for more than one month. You can get visible hair reduction in just 5-6 weeks.
Potential Features of Braun Silk Pro Expert 5:
There are some distinctive features of the Braun IPL device that are as follows;
Braun IPL device has 3 precision heads that are interchangeably used for different parts of the body.

Braun also offers a 100-day money-back guarantee for peace of mind.

It has three distinctive modes for individual requirements.
Downsides of Braun IPL Device:
Braun IPL device does not give immediate results and multiple sessions are required to achieve permanent results.

It is not very cost-effective.
Ulike hair removal devices are innovative and updated devices that give saloon-like results in your home. Ulike is continuously struggling to provide its customers a cutting-edge technology to meet the needs of permanent hair removal solutions.
The most recent Ulike IPL devices are Sapphire Air3 and Sapphire Air+ that has wide treatment window with different intensity settings. These devices have also 3 different modes that are set according to the sensitivity of different body parts.
Another great feature that is being liked by every customer is the Ice-Cooling technology introduced by Ulike Sapphire devices. It lowers the temperature of the IPL head to 50 degrees which reduces discomfort of skin irritation and itching.
Pros of IPL Hair Removal Devices:
The best thing about Ulike devices is their heat protective mechanism to avoid skin damage.

It is a quick method and requires just 7 minutes to complete the whole treatment.

It is a lightweight and cost-effective device because Ulike's official store give various offers and discount to their customers.

Ulike devices show visible results in just 4 weeks.
Cons of Ulike IPL Hair Removal Devices:
Ulike IPL technology only works on limited skin tones and limited hair colours.
The final verdict of the comparison of both Ulike and Braun IPL devices is quite interesting. Both devices are playing well to remove hairs permanently from different parts of the body but Ulike wins in the latest Ice-cooling technology to make their hair-removing experience more comfortable.