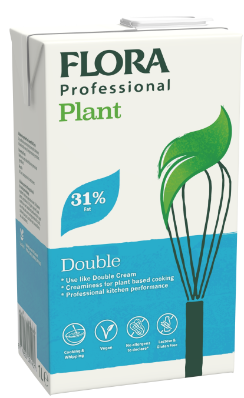 FLORA, the UK's number one spread brand, is helping Chefs cater to increasingly complex consumer diets with the launch of FLORA Plant. The newest addition to the Upfield portfolio performs like dairy cream – perfect for cooking, pouring and even whipping – delivering richness to every dish, but without the dairy.
Last year, demand for plant-based diets increased by a staggering 300%. Nearly half (45%) of consumers say that plant-based dining options are a factor in the selection of a venue.
Alan Black, Head of Marketing, Upfield Professional comments: "FLORA Plant is a game-changer for the foodservice industry. Not only does it cater to those following a vegan diet, FLORA Plant helps chefs overcome the challenge of managing allergens, which if not handled extremely carefully, can lead to a loss in customers, or even worse, criminal prosecution.
"At Upfield, we create great-tasting plant-based foods – and FLORA Plant is no different. It can be enjoyed by vegans and dairy cream lovers alike. We believe following a vegan diet, or a diet that requires the removal of specific allergens shouldn't mean compromising on taste, and with FLORA Plant, operators know they can serve delicious dairy-free dishes to all consumers with total confidence."