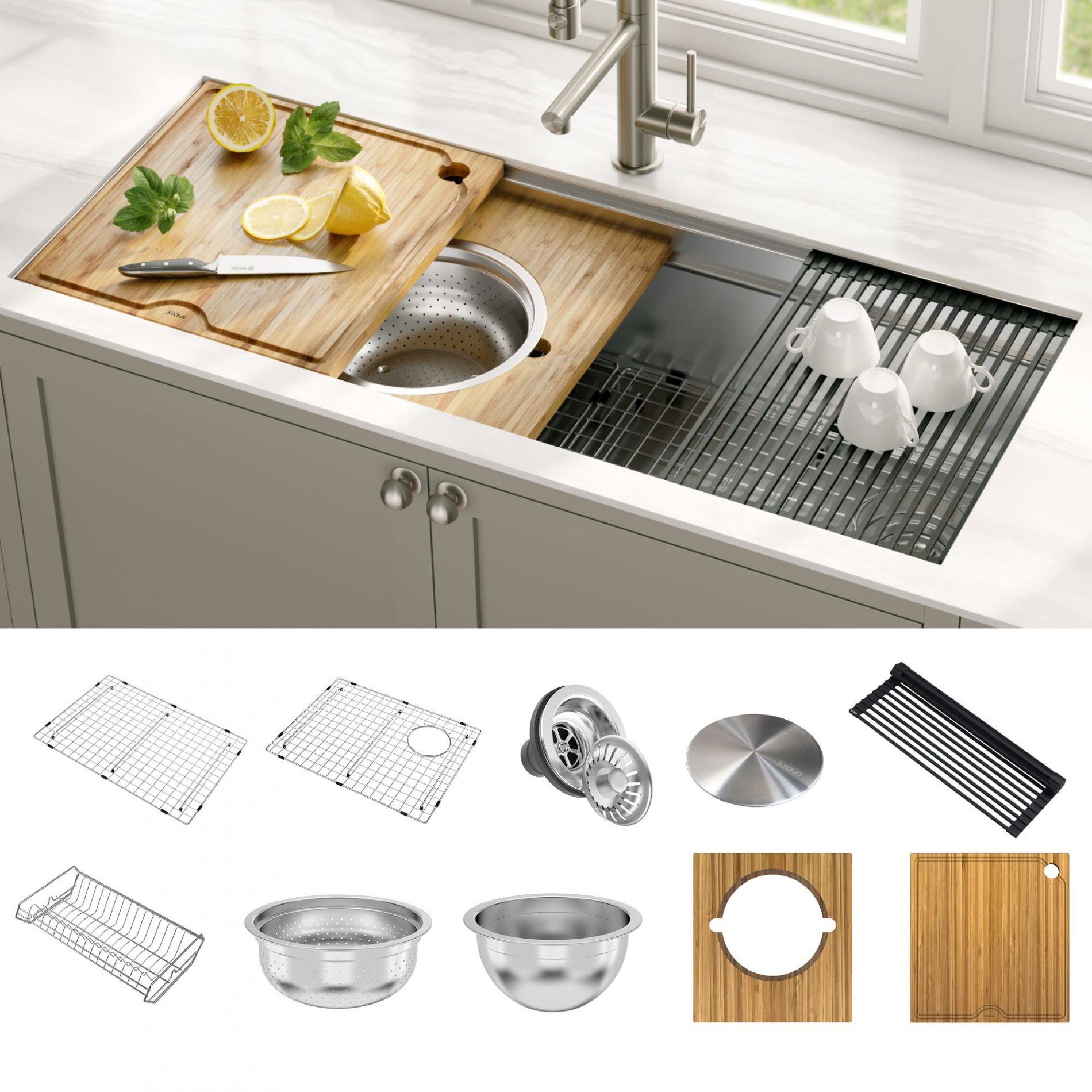 First of all, buying a kitchen sink can be a massive decision; its size, surface, color, and multiple other aspects can significantly influence the kitchen décor and functionality. That's why when you imagine a sink area, your primary focus remains on the sink. But you can make your choice even stronger with some customization. To be precise, accessorizing it with a few add-ons can come in handy for your home and family as these make your daily tasks a tad easy to perform. Some sink accessories may require professional help to install, while others can demand a bit of DIY skills.
Here are a few sink accessories that you can find interesting to make your kitchen sink a complete spectacle in itself in terms of function and looks. Let's explore them at once; finding great accessories for your sink would not feel like work if you know your options well.
Bottom grid
With most sink surfaces, such as stainless steel and granite, you may worry about maintaining their shine and finish. The bottom part where most dishes and utensils go in the sink can be most susceptible to scratches and scuffs due to wear and tear. But you can preserve the beauty of your sink with a well-crafted bottom grid. It would serve as a guard for the sink surface and protect it from the risks of everyday damages. Look for stainless steel material in this. It would not cause rusting and corrosion. Another reason you can opt for it is its ability to keep your sink clean while storing the dirty dishes.
When you place a bottom grid in the sink, utensils don't get the scope to block the drain. As a result, dirty water and food remnants get a smooth passage to clear. Make sure you don't leave it in the sink for long, though. The contact with moisture can be troublesome.
Dish drying rack
Without this sink item, washing dishes can feel like a job that needs two people's involvement. One person would rinse the pots and plates, and the other would dry and store them away. It can be too much of a hassle. However, if you have a drying rack, you can put it on one side and keep your washed dishes on it to help them become dry for storage. You get various options in this. If you want to save space, go for roll-up racks. After use, you can store it easily for its compact size.
However, a drying rack doesn't just serve the purpose of storing freshly washed dishes. You can use it for keeping fresh produce also after a wash. Plus, some of them can be heat-resistant. So if you have to keep a hot pot, you can place it on the rack to protect the countertop.
Colander
During meal preparations, you have to cut a variety of fruits, veggies, and other things. You can prefer to finish this task at the sink for easy accessibility to water and other reasons. However, you may have to find a proper utensil that fits in the sink area and safely stores all the items. Since it can be a hassle, you can invest in a colander to make your job easy. Whether you have to drain water from steamed food or store the cut pieces, you can rely on a strong colander material to fulfill your different needs.
Colanders come in various shapes and designs. You have to identify your requirements and select a suitable piece. Make sure its dimensions are perfect for your sink. And if you wonder this could ruin the beauty of your sink, you need to rethink. The modern colanders can match and enhance the aesthetic appeal of your sink area.
Sink strainer and cap
If you have to continually remove the waste food particles while washing up the dishes, it's time you consider getting a sink strainer. You need to install it in the sink drain to catch all the food remnants that invariably go into the sink.  You can take it off from the drain and tap on its bottom to release the accumulated scraps into the trash can in the end. Investing in this accessory can save you from the trouble of sink clogging.
Soap and lotion dispenser
You would want to keep dishwashing liquid or hand lotion handy when you work on the sink. And a soap/ lotion dispenser can look after this need very well. You wouldn't have to go searching for these at the time of an urgent job. At the same time, your countertop would look neat as you store these essential items in a customized and contemporary style dispenser. Don't stress about the refilling part. Even it doesn't feel like a job with the new designs.
Cutting board
Do you wish if you could cut your freshly washed produce immediately without having to take them from one corner to another? Then, you can have a cutting board that smoothly fits on top of your sink. You can buy a solid bamboo surface for this purpose. Since it tends to be non-porous, you don't have to think about hygiene and health. It would not trap odor and stains. Some designs come with side notches and anti-slip silicone feet to make your cutting and chopping experience safe. With this, you don't have to constantly look for spills on the floor or countertop as the grooves trap them all.
Like these, the choices in kitchen sink accessories are numerous. You can pick them for your daily cooking and prepping work. It would be better to buy these things from the same place as the sink. The store can offer you varieties based on the model of your sink. Besides, you can also trust it for quality if there is a reputed brand behind it. So, prepare a list of all the accessories you want and look for them in the stores. After all, you would want to increase your kitchen efficiency and performance while maintaining its flawless appearance.