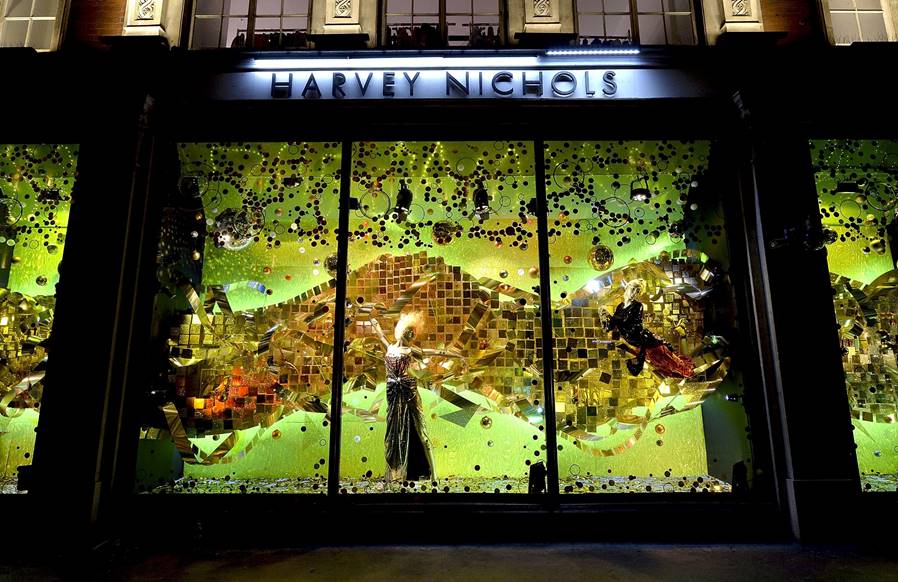 The world's leading luxury retailer, Harvey Nichols, has unveiled the most glamorous window scheme of the year – the Christmas windows. Inspired by festive celebrations, the displays have been designed to entice and capture the attention of customers by using a sparkly metallic colour palette and dazzling product displays to create a celebratory festive feel in the iconic Knightsbridge windows.
A giant Champagne bottle fills the first and second window, before it pops and magically pours hues of gold and silver that fill the remaining windows along Knightsbridge, producing breathtaking displays.
Each window has an eye-catching lime green backdrop brimming with twinkling lights and 3D bubbles bursting out of the windows to delight passers-by. The finest gifts from fashion, beauty, food and wine, are displayed in every window, surrounded by hanging baubles and luxurious gold leaf to excite and inspire our customers when shopping this Christmas.
"Our 2018 Christmas windows are all about the exciting festivities that take place during the season; celebrations, parties and catching up with friends. This inspired us to create a luxurious display of dazzling metallic colours, lights and shapes, filled with hero gifting ideas – helping our customer get into the Christmas spirit," commented Janet Wardley, Head of Visual Display at Harvey Nichols.
To celebrate the new Disney film Mary Poppins Returns, four original costumes designed by Academy Award-winning designer Sandy Powell and worn by the cast will be showcased in Harvey's Knightsbridge windows alongside gilded umbrellas – Poppins' preferred method of travel.
Gold and silver umbrellas run from the windows through the store, taking customers on a journey to the Fifth Floor, where Harvey Café shimmers with a metallic umbrella-strewn canopy, while a cherry tree bursts through the floor to the ceiling.
Customers will be able to enjoy Christmas delights and hot beverages in CANVAS, and to complete the picture-perfect setting, a giant snow globe takes centre stage, where you can have your photo taken within to be printed as memento of your festive day out.