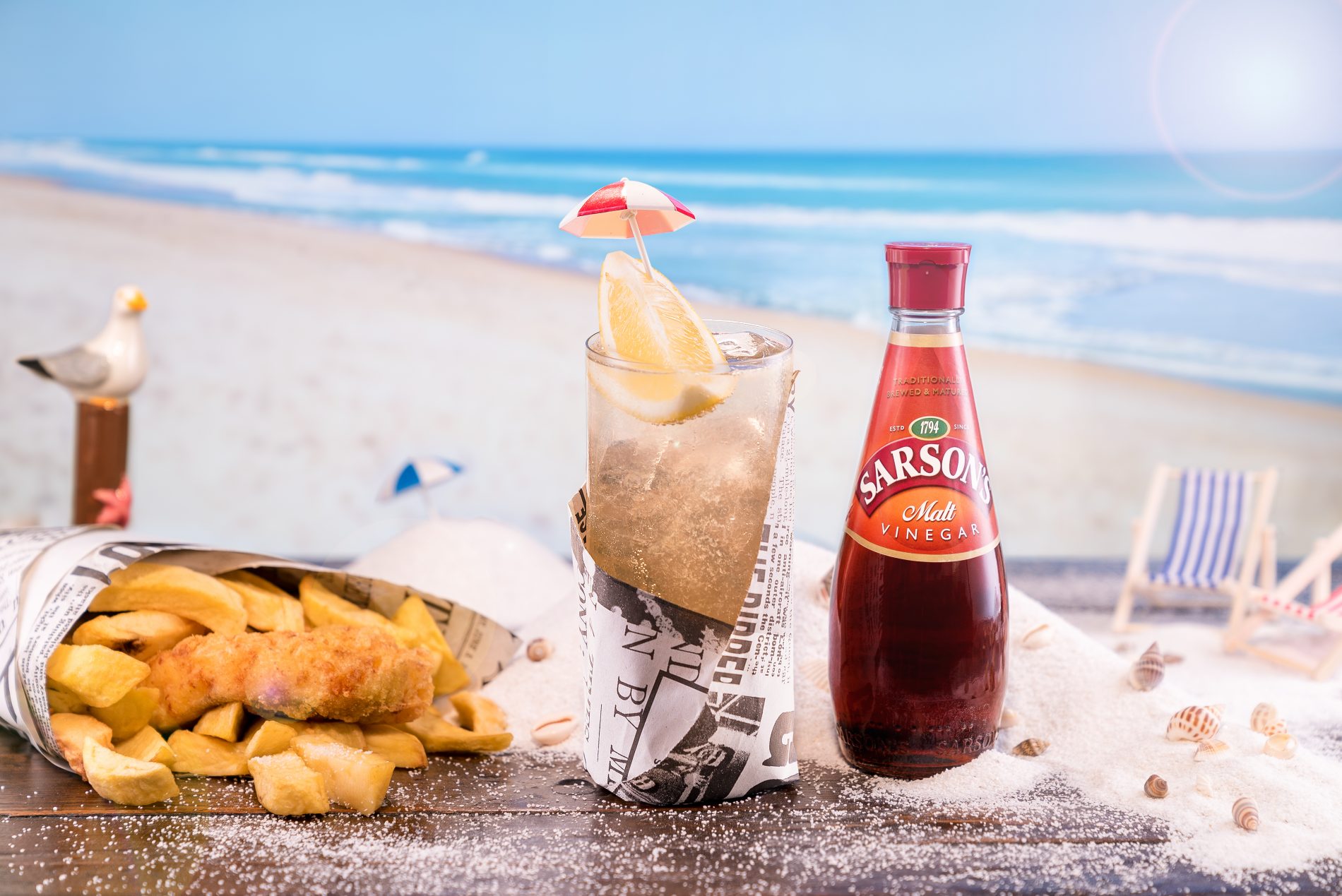 Fish and chip fans can get their hands on a limited edition vinegary treat on Friday (June 7th) as Sarson's, the original malt vinegar, has teamed up with Poppies chippy to reward fishy fans by giving away one hundred free Vin & Tonic cocktails.
This adult only treat has been created by the iconic vinegar brand to celebrate all that is great about the fantasticly flavoursome combination of chips and vinegar. Designed to perfectly pair with Brits' favourite fishy dish, cocktail conoisseurs and fish and chip devotees can all enjoy notes of malt vinegar, capers and even mushy peas with this adventurous cocktail creation. The vinegar's sharpness cuts through the oils from the fish and chips, perfectly complementing the classic British dish.
The creation of the 'Vin and Tonic' cocktail, inspired by the rise in vinegar-based cocktails or 'shrubs', is a toast to the time-honoured tradition of 'Fish Fridays'. However for those who love a Fish Friday take-away any, or every day of the week, they can try their hand at making it in their own home. The all important recipe is below so get creative and don't forget to add a dash of Sarson's.
Vin & Tonic method:
25ml Gin (London dry. Bombay, Tanqueray, Beefeater, etc)
15ml Dry Vermouth (e.g. Martini dry)
15-20ml Lemon Juice (for the post I feel 'juice of half a lemon' will be fine)
25ml Sarson's Shrub
Pour all ingredients over ice and then top with tonic. Garnish with a lemon wedge.
To make the shrub:
250ml Sarson's Malt Vinegar
375ml water
500g sugar
1 bunch of dill
Zest of 4 lemons
60g drained capers OR 200g of cooked peas
Bring the vinegar, water and sugar to the boil. Turn off the hob and put everything else into the vinegar mixture. Let it sit for at least 4 hours, up to a day. Strain everything out, and your shrub will stay fresh for 2-3 months.
The cocktail is available from Poppies Fish & Chips in their Soho and Spitalfields London locations throughout National Fish & Chips Day but be quick – there are only 100 being given away for free.
Sarson's Malt Vinegar 250ml is available to buy from supermarkets nationwide for £0.99 RRP.