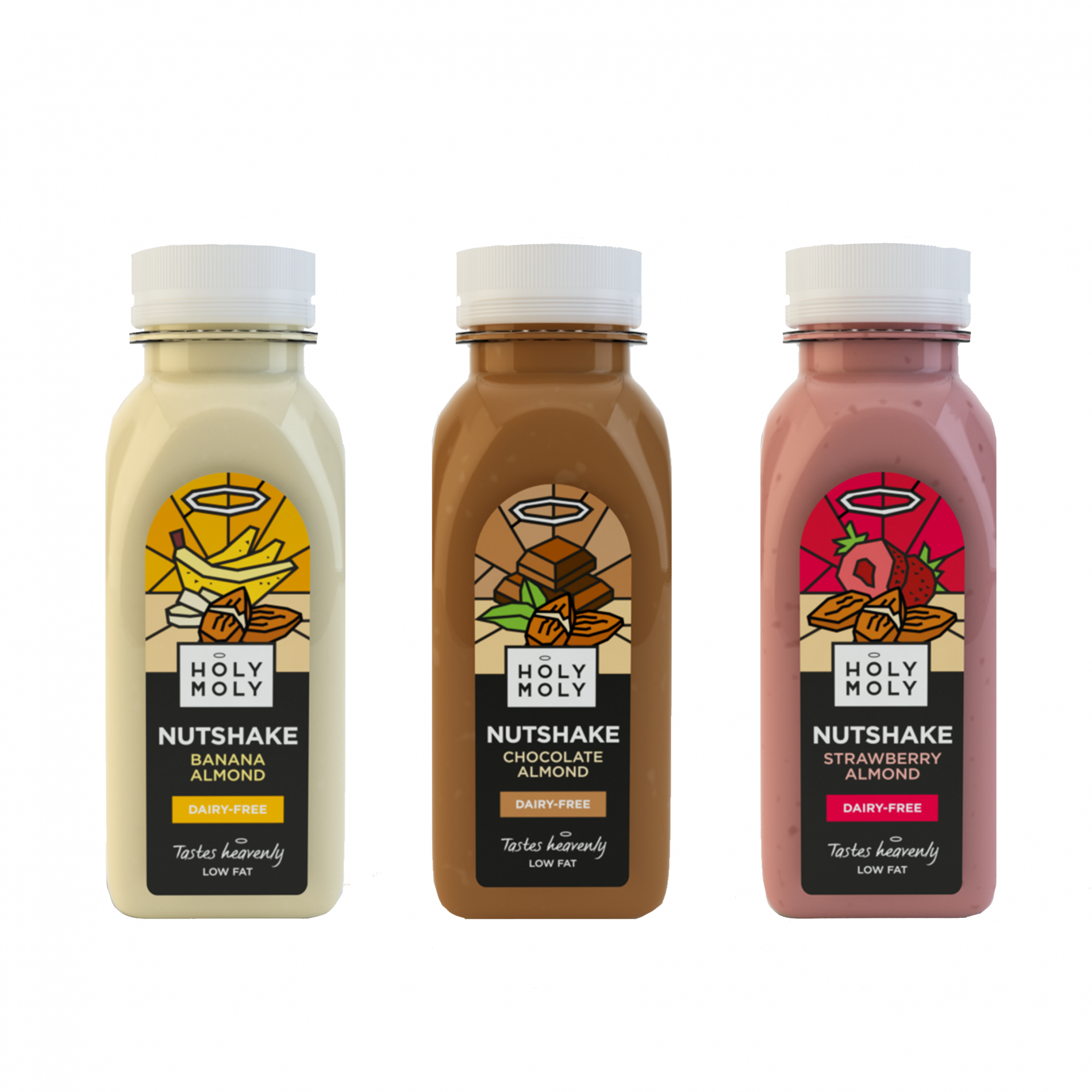 Holy Moly is creating a new category in Britain's burgeoning plant based market by launching at Sainsbury's the UK's only range of cold-pressed Nutshakes: low fat but deliciously creamy plant based milkshakes, made from a blend of raw, unpasteurised almond mylk and fresh fruit.
Holy Moly is a revolutionary British brand that produces heavenly tasting, sin-free food and drink that tastes as good as homemade. Its launch of Nutshakes follows the business' success at disrupting the dips category with its range of smashed avocado and guacamoles. These SKUs are stocked nationwide at Tesco, Sainsbury's, Waitrose and Ocado and revolutionised the market by bringing all-natural products that taste as good as homemade to the category.
The brand aims to now disrupt the ready-to-drink category, providing more choice for consumers and retailers, with this same approach to innovation. There are three editions in the range:  Strawberry Almond, Chocolate Almond and Banana Almond. All three will launch nationwide in Sainsbury's in 750ml and 250ml bottles (750ml: £3.80, 250ml: £2.00). The larger SKUs will be available in the chilled dairy alternatives bay, whilst the smaller bottles will retail in the dairy aisle.
The Nutshakes are vegan, gluten free and low in fat, with an average 73 calories per 150ml serving and around a third less sugar than smoothies and up to 90% less saturated fat than some traditional dairy milkshakes.
Unlike other brands, Holy Moly doesn't heat pasteurise its nut mylk. Instead, it uses a cutting edge cold-press production process that retains the nutritional value of the natural ingredients to deliver the optimum health benefits. This process means that the brand can deliver 30 days' chilled shelf life for retailers, without the need for preservatives.
This new product type will meet surging demand for both plant based products and food and drink that not only tastes great, but provides health benefits. Indeed, consumers in the UK are now spending £20 billion a year on food and drink for health reasons.
There are three Nutshakes in the range, all are available at Sainsbury's stores nationwide and online:
Strawberry Almond (750ml: £3.80, 250ml: £2.00) – Made from raw almond mylk, crushed strawberries and naturally sweetened with dates, this Nutshake is fat free and just 45 calories per 150ml serving. It has the incredible taste of a traditional strawberry milkshake but is made using a healthy and plant-based recipe.
Chocolate Almond (750ml: £3.80, 250ml: £2.00) – A sin-free alternative to the nation's favourite milkshake, this Nutshake is made from a heavenly blend of raw almond mylk, bananas, apples, dates and smooth, rich chocolate.
Banana Almond (750ml: £3.80, 250ml: £2.00) – A fat free Nutshake with no added sugar, it is made from raw almond mylk, bananas, apples and dates.
All three are available nationwide in 750ml and 250ml bottles (750ml: £3.80, 250ml: £2.00) at Sainsbury's, in-store and on its website.