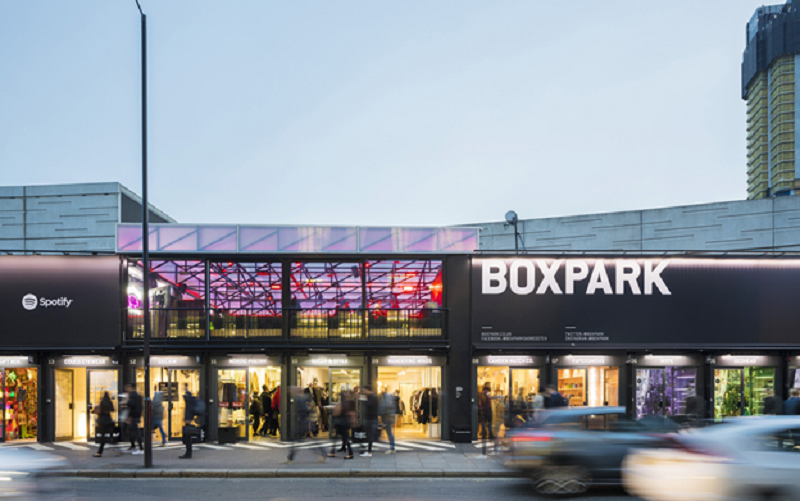 Boxpark in Shoreditch are in the festive spirit with the creation of a festive spirit with an action packed season of celebrations. The London shopping location has announced that they will be holding an exclusive night for discounts, their Christmas Shopping Night, of the 7th December.
The festive shopping event is taking place in association with Deciem, Bedhead, Onepiece, Nordic Poetry, Hypem, Mennace and many other companies. There will also be a wide range of delicious food on offer including The Anthian, and Les Deux Amies. The shopping experience will also include The Secret Santa Shop, a space to provide last minute gift options perfect for colleagues and friends which will be open every day until Christmas Eve.
This month at Boxpark in Shoreditch there will also be wreath making masterclasses, offered by Columbia Creative, and a range of different pop-up shops such as Wax + Wick candles and Rokit Christmas jumpers. Also available at the Christmas Shopping Night will be Loveday lingerie, mulled wine served in the BOXBAR and a wide range of other merry shopping treats. With events and workshops starting on the 5th with Wax + Wick and Moyses Stevens teaming up with candle and wreath making workshops, Guests have the chance to get crafty this Christmas, making for decorations, or for gifts.
Boxpark Shoreditch is located in the epicentre of East London's Christmas celebrations this year with a varied offering to satisfy every Christmas desire. Those looking for more deals after Black Friday will be in for a treat on the 7th December, as shoppers will be allowed to indulge with up to 20% discounts at a range of different stores. Throughout December tenants of the shopping centre will be hosting a range of festive events while also offering shoppers Christmas inspires specials and offers to be enjoyed throughout this festive time of the year.