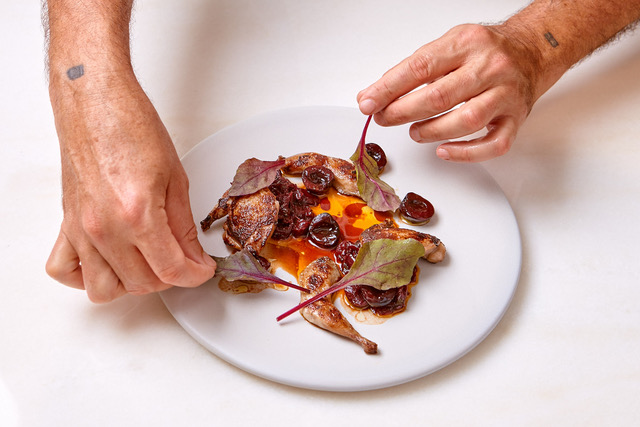 Nuno Mendes, Creative Director of Food and Beverage and the team at Bairro Alto Hotel are proud to introduce five new food destinations that form part of the hotel's wider expansion with three recently added buildings. Each destination offers its own unique identity, carefully curated by Nuno, Executive Chef, Bruno Rocha and their team. A new restaurant (BAHR), gastro bar (18.68), Mezzanine, Terrace and Pastelaria all join the newly refurbished Lisbon jewel, Bairro Alto Hotel.
BAHR (BAIRRO ALTO HOTEL RESTAURANT)
The star of the show is BAHR, a contemporary and elegant fifth-floor restaurant with an open kitchen and striking interiors designed by thestudio. A combination of brass, marble, dark wood and provocative artwork reflect the bohemian aesthetic and carefree feel of the neighbourhood, Bairro Alto and Chiado.
The restaurant seats 65 including the bar with the spacious terrace offering room for an additional 48. The open kitchen is separated from the dining room by a marble counter offering guests views of the chefs at work. Diners sitting on the terrace can enjoy a view that overlooks Lisbon's famous Tagus river. A native to Lisbon, Nuno and his team are devoted to showcasing the very best of Portugal's seasonal produce, with a menu that reads as an homage to the city. For example:
Snacks Smoked Goose barnacles on toast Lettuce hearts with seaweed Bulhão Pato and Ibérico pork chouriço tartare
Starters Cured red mullet from Peniche with roasted red pepper juice and tender onions Escabeche of quail with berry pickles Grilled and glazed cucumber with Alentejo style garlic broth and potato
Mains Wild seabass with turnips and creamy rice canja Grilled ibérico pork from the Alentejo with bivalves, coriander and garlic Aged beef sirloin with garlic purée and chards Confit Hake with Acorda sauce, melted onions and crispy potatoes Desserts Farófia, lemon leaf and cured egg yolk Sweet potato sorbet and "Olmais" olive oil
The wine list is a result of a collaborative work between oenologist Alexandre Guedes and chef Nuno Mendes. It transports guests on a beautiful journey of Portugal's own terroir, championing the produce of smaller growers embodying a low intervention wine making ethos. Subdivided by profile, the wine list presents a comprehensive selection of traditional wines alongside a wide range of natural, organic and biodynamic wines. The "travellers" section celebrates a small selection of world class international wines. Guests can sample these wines at the restaurant table, bar counter or on the terrace.
BAHR's drinks list brings together an inventive range of classic cocktails with a twist. Highlights include the timeless Negroni, reinvented with a blend of fortified wines, Roku Gin and Campari. The classic Sazerac also gets revamped as a sharp citrus concoction of lemon, bitters, apple Absinth and Bulleit Bourbon.
Breakfast: 7-11am Opening hours: lunch from 1.00–3.00 pm; dinner from 7pm–11.30 pm. Seats: restaurant – 50; counter – 15; terrace – 48
BAHR TERRACE A spacious and unobstructed platform, the terrace boasts some of the best views of the sparkling Tagus river. This new terrace on the 5th floor is the extension of the BAHR restaurant. Open to guests and the general public the space will rapidly become one of the city's most scenic and popular spots. BAHR Terrace is open for breakfast, lunch and dinner.
Opening hours: breakfast from 7.00–11 am. Bar & all-day dining from 12.30 pm to 1.00 am.
18.68 Due to open in November 2019, 18.68 is a gastro bar located in the historic building home to Portugal's first fire station, on Largo Barão de Quintela. Seating 38 guests, the space boasts high ceilings, Portuguese limestone floor and counter, and walls lined with dark wood. Upscale yet no-nonsense furnishings of leather benches and traditional chairs are reminiscent of a modern Parisian brasserie – classic with a pinch of irreverence. The cocktail list will be accompanied by a bold menu of raw, contemporary snacks that pair beautifully with the drinks, and are designed to be shared.
Largo Barão de Quintela, 12 Opening Hours: Tuesday to Saturday from 10.00 am to 6.00 pm (From November)
MEZZANINE On the mezzanine floor is a bar, seating area and lounge, all lined with curved wood and handpicked literature for guests to read. A central hub within the hotel lets guests and visitors meet and enjoy the calm and cosy ambiance, perfect for reading, short meetings, or get-togethers with friends. In addition to the bar, the Mezzanine's menu changes throughout the day. Nuno Mendes and his team have crafted an "all-day dining" destination with a healthy menu featuring snacks, soups, salads, open sandwiches and desserts. Pickled and raw vegetables, herbs and flowers with a herbal hummus and dill oil; Roast cauliflower, herbs and shoots, coriander and lemon; Quinoa and seasonal vegetables with yellow pepper and fresh cream, Pastrami of aged beef with courgettes, lemon, onion pickle and rye bread; and Roasted fresh cheese with honey and olive oil are a few examples. In addition to this menu, the Mezzanine serves creative bottle batches cocktails and a full afternoon tea.
Opening hours: Breakfast, Monday to Friday from 7.00–11.00 am; Saturday and Sunday from 7.00 am to midday. All-day dining: from 11.00 am to 11.00 pm
PASTELARIA The hotel's small Pastelaria serves Nuno's own modern take on classic Portuguese pastries, with Climpson & Sons coffee to drink. A Portuguese swirled pastry receives the savoury treatment as 'Alheira sausage and honey pastry swirl' and sweet potato doughnuts are served with prawn rissole cream. Cakes are freshly baked throughout the day to take away or eat in. The Pastelaria opens onto Rua do Alecrim, inviting the local community to join its cosy atmosphere.
Rua do Alecrim, 129 Opening hours: every day from 10.00 am to 6.00 pm Seats: 7
ROOFTOP – FOR HOTEL GUESTS ONLY This stunning 6th floor space is dedicated to hotel guests, giving them an exclusive view of the city and the Tagus river. Guests can order from a menu of light meals like those from BAHR's terrace or dishes from the restaurant itself.
Opening hours: every day from midday to midnight.