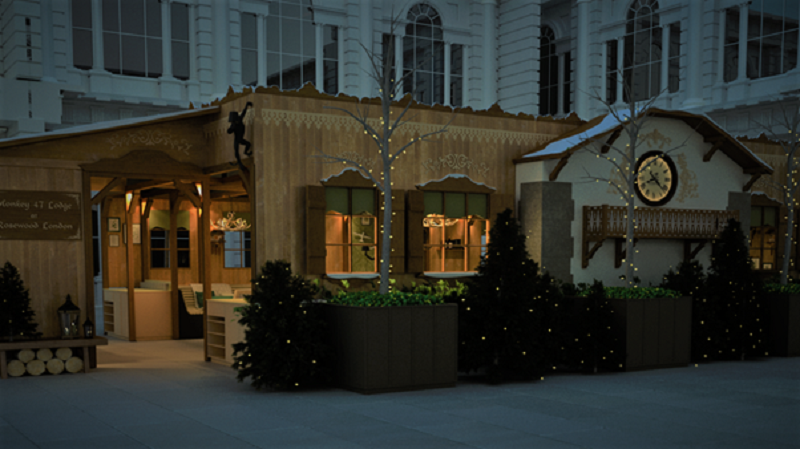 Rosewood London has announced that they are launching the Monkey 47 Winter Lodge. Located in the hotel's iconic courtyard, the cozy Winter Lodge has been created in partnership with Monkey 47 gin in order to transform the courtyard into an enchanting winter forest. The Lodge and surrounding area has been inspired by verdant trees and given a mythical charm, evocative of the famous German Black Forest.
Throughout this winter season, the Monkey 47 Winter Lodge will be serving warming winter fare as well as offering respite from the Christmas shopping crowds as well as Jack Frost's chilling grasp.
The magical Winter Lodge is located in the heart of central London and has taken inspiration from British Commander Montgomery "Monty" Collins and his Schwarzwald dry gin brand called 'Max the Monkey', and their range of Gin. The company has been named after a monkey that was sponsored by the company founder in the Berlin Zoo. Monty moved to the Black Forest after World War 2 and opened a country guesthouse. In order to retain his British roots while living away, he began to make his own Gin. The forest around him had a wide range of juniper, bramble leaves, lingonberries and a number of other botanicals that led to his creation of the now popular Black Forest Gin recipe.
Many years after Monty Collins, the gin recipe led to the current owner of the company, Alexander Stein to create a similar product using a combination of 47 different botanicals. Over a third of the ingredients needed for this drink come from the Black Forest. This is how Monkey 47 was created.
Inside the Monkey 47 Winter Lodge drinks will be available that are guaranteed to evoke the Christmas Spirit. The menu will include a range of hot and cold gin cocktails that have been inspired by German desserts, or in some cases paired with British ones. For example, Monty's Strudel Cocktail is available either hot or cold and is paired with homemade apple pie.