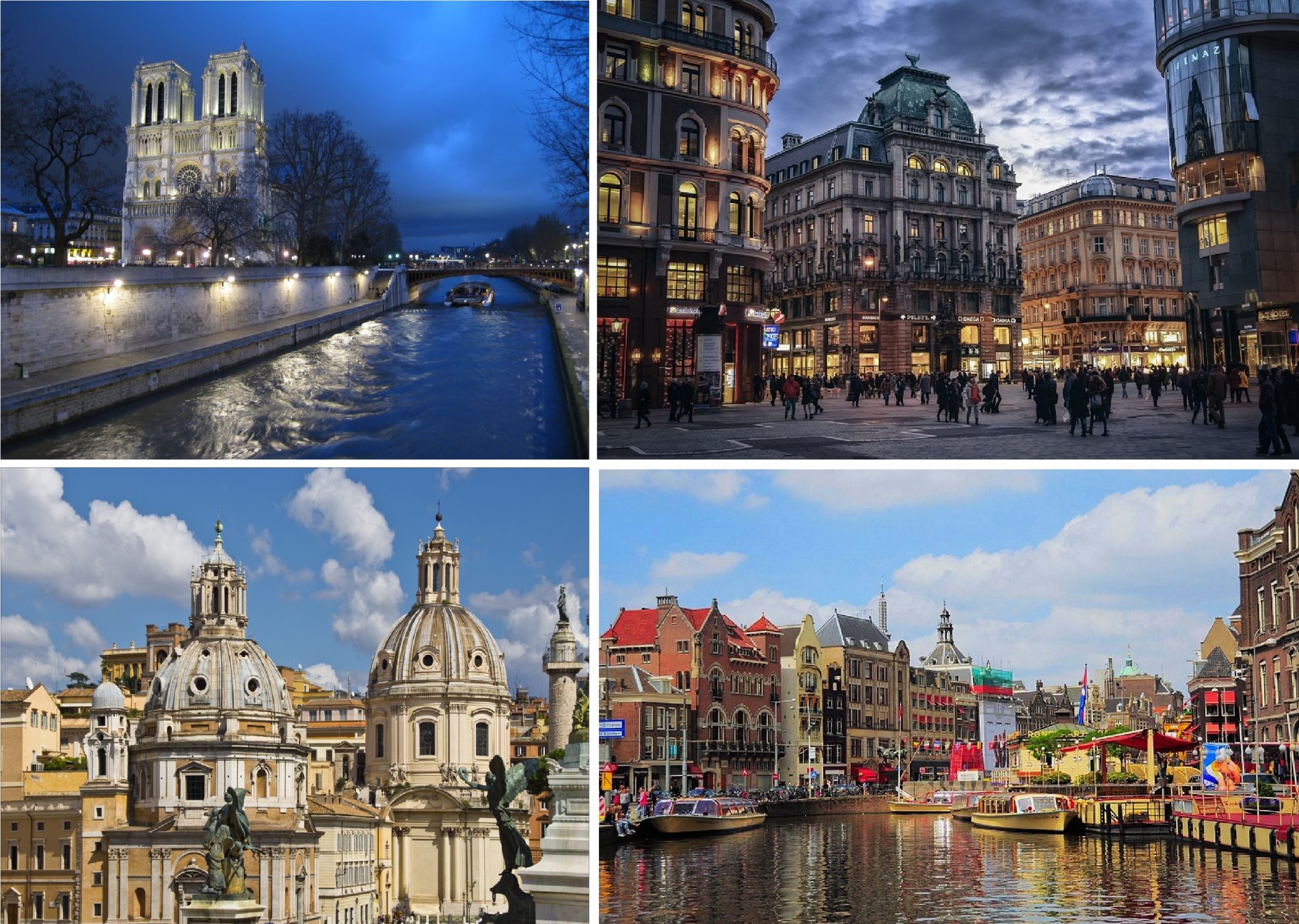 One of the great things about traveling to Europe is that you typically don't have to pick a single destination. Because many of the countries are relatively small and transportation between them can be easy and affordable, it's often easy enough to see a lot of different cities and countries in one trip. So rather than pointing to one destination in this piece, we are pointing out some of the prettiest capital cities you may want to include on a tour through Europe.
Paris, France
Likely the least surprising inclusion on this list for most readers, Paris is simply beautiful beyond compare. At least one travel site has ranked it as Europe's prettiest city in general (meaning not focusing just on capitals), and it would be very difficult to argue – even though there are hundreds of gorgeous smaller towns around the continent. Paris combines noteworthy monuments and landmarks with picturesque side streets, and even the average office or apartment building in the city can be ornate and artistic when you take a closer look. Throw in some pretty spots along the Seine and the view from the top of the Eiffel Tower, and you really can't do any better.
When traveling in Paris, your itinerary should be less about doing specific things (though you'll want to throw in a couple, like the Eiffel Tower) and more about simply experiencing the city in a broad, non-specific sense. Talk to the locals about the cafes and restaurants you should try, wander through the pretty neighborhoods, and trust a restaurant's recommendations on local wine. In a way, let Paris come to you rather than seeking it out too earnestly.
Vienna, Austria
Situated on the Danube River in the East of Austria, Vienna has long been famous for its beauty. Seemingly always a center of artistic expression in Europe and at times the home to various influential royals, it's been built up over time with stunning museums, palaces, and other public buildings embracing a range of architectural eras and styles. While Vienna does not have the world famous landmarks of, say, Paris or London, it's a city in which sightseeing can be truly extraordinary.
Beyond sightseeing, and checking out places like the Hofburg Palace and St. Stephen's Cathedral, there are a few priorities to embrace in Vienna. One is the local music. More than any of the other arts, music has helped to shape Vienna, and the city's concert venues and opera houses are frankly incredible. Another is the museums. While it sounds touristy, places like the Vienna Natural History Museum and the Belvedere Museum should not be missed.
London, England
London is another fairly predictable selection here, but also a unique one. There may not be another city in Europe – perhaps the world – that feels so simultaneously old and new. Parts of London are simply oozing with beautiful and authentic history; other parts are decidedly modern, showcasing some of the most artful engineering and high-tech constructions on the planet. All of it, young and old alike, is beautiful, and of course it doesn't hurt that the city is also absolutely packed with specific, gorgeous attractions: the royal parks, the Tower Bridge over the Thames, Westminster Abbey, Trafalgar Square…. The list, in London, is long.
Somewhat in keeping with the young-and-old theme, another very cool aspect of London's beauty is that its modern entertainment and attractions are as appealing as its older and more traditional ones. Just as some might flock to old opera houses or the recreation of Shakespeare's Globe Theatre, others will enjoy nights out at London's thriving modern casinos, which thrive in the buzzing cultural centre of Leicester Square despite casino sites and betting platforms that have become omnipresent online. While some will aim for long-established, renowned restaurants and charming old pubs, others will enjoy ultra-modern dining spaces and trendy cocktail bars. Some will tour the Tower of London, and others the nearby Ferris wheel, the London Eye, that smoothly revolves over top of the city. There's no end to the juxtapositions, and there's beauty throughout.
Rome, Italy
Rome is a city whose beauty really doesn't require much of an explanation or clarification. It is in the truest sense a city that belongs to history, with standing structures still remaining from the Roman Empire and various influential kingdoms and eras since its fall. While London has grown as a modern city around its older attractions, Rome seems to have done more simply to keep its more modern areas from being any sort of distraction or detraction from the more ancient beauty. And of course in Rome you get the opportunity to visit the striking, miniature country of Vatican City as well.
As opposed to a place like Paris where doing your own exploration can be very effective, Rome is a place where you'll want to take a guided tour – and there are many to choose from. This is the best way to get a sense for some of the ancient buildings and how they have helped build the city. You'll want to check several landmarks off your list (the Colosseum, the Trevi Fountain, the Forum, etc.). And naturally, some authentic Italian food and wine should also be high on your list.
Amsterdam, Netherlands
Amsterdam is more famous for its unique layout than for anything else. Sometimes compared to Venice, it's a city built over and around an intricate network of canals. This has helped it to develop into a truly beautiful city over time. Much of the town has a low skyline, with rows of buildings right on the water, pretty parks here and there, and quaint walkways and bridges all along the various canals.
Activity-wise, Amsterdam has always had a reputation as a place where people can explore their vices, and this remains the case – though not nearly as much as it once was. Many will still make it a priority to flock to the famous coffee shops (which also sell legal cannabis), and some will venture into the infamous Red Light District if only just to see what it looks like. However, there's more to Amsterdam than these types of attractions. Regular pastry cafés in the city tend to be fairly special as well, and the city's main museum district, featuring the Rijksmuseum, is as nice as any similar district in Europe.