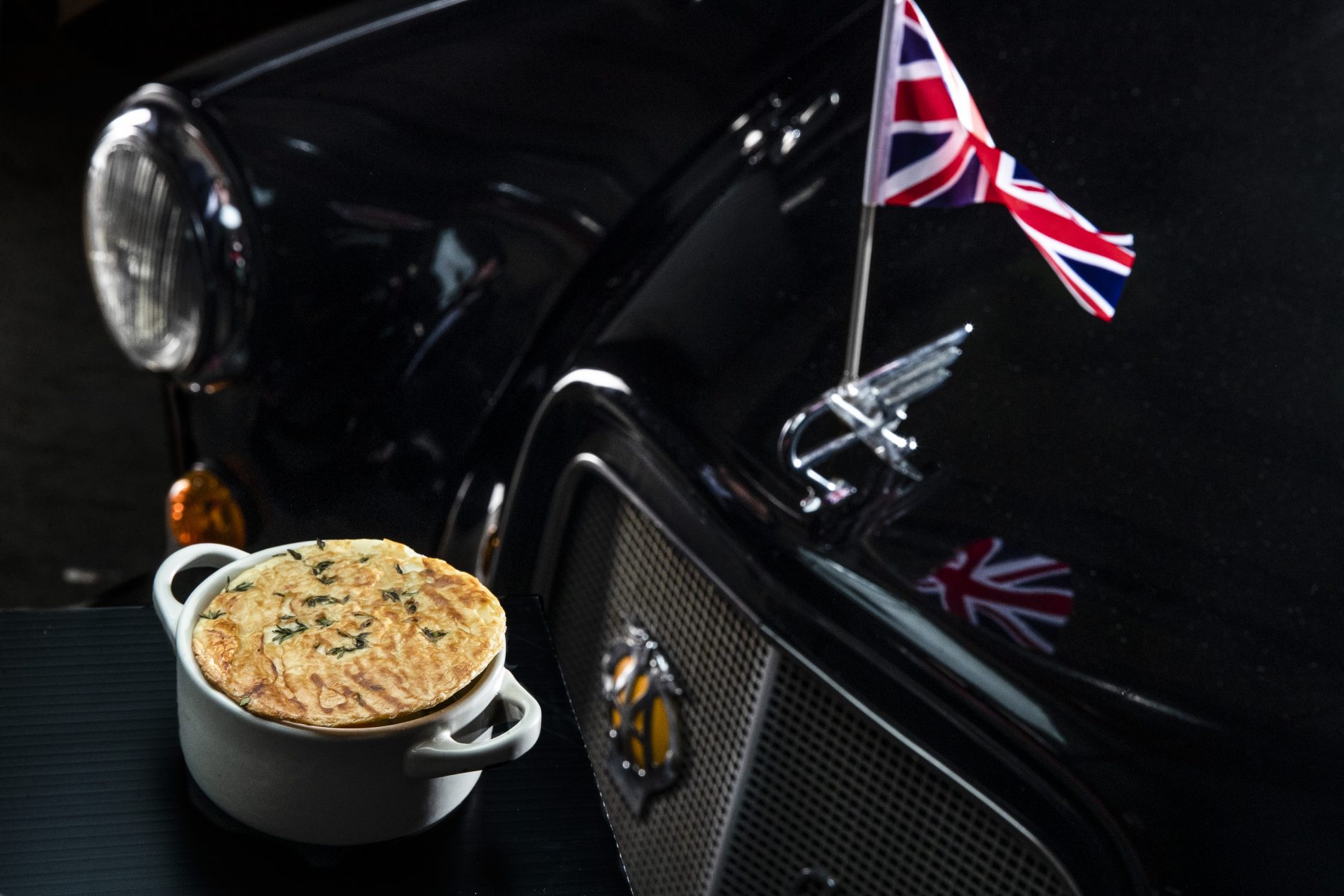 After the sell-out success and viral international coverage for his 'Once Upon a Time' Disney-inspired menu, Lancashire (UK) born, Sydney based chef, Nelly Robinson has leaned back into his roots (you can thank his pub-loving dad) and embraced the cooler weather in Australia, with his latest British pub-inspired degustation and the return of the famous nel. Sunday 'roast' lunch.
The British-themed, pub-inspired degustation menu encompasses a comfy, pub vibe while still expressing the signature nel. style of quality ingredients, unique flavours, theatrics and flair. Under Nelly's touch, ubiquitous soup and bread becomes a tomato soup infused marshmallow rolled in savoury tomato powder, and the potato and truffle pie is more a homage to its pie forerunners, with the inclusion of earthy truffles, pickled sweet potatoes, roast potato foam and crackling puff pastry rings.
But it doesn't stop there. Nelly is putting his spin on all the traditional classics, such as the full English breakfast, steak and chips, chicken Kiev and even the fish finger sandwich. For dessert you can expect lemon tart, the meltingly delicious ginger parkin and, of course, a Victoria sponge. But again, don't assume they'll look (or taste!) the way they might at The Red Lion or The Queens Arms.
When asked why he chose the more staid British pub theme after the stunning success of the cult Disney-esque offering, Nelly says, 'It's getting cold outside and we need food that is comforting. British food is perfect for the dark nights and cold days.'
'To be full and cosy is like being given a warm winter hug', he says. 'We created this menu so people can relive their memories in food and in life.'
Diners can experience Nelly's homey and utterly unique dining encounter at Sydney based restaurant nel. from 4 July 2019. And they should! As Nelly says, 'The UK has amazing gastro pubs that do really incredible food. I remember being rolled out of the pub because I was just too full.'
Nelly continues his love of all comfort foods this winter with the introduction of his new Sunday 'roast' lunch into nel.'s regular repertoire. Think Sunday at Nan's house, with the smell of roasting meats and family and friends lounging around, laughing and joking.
This is exactly what Nelly envisions for his Sunday 'roast' lunch. A place where diners can have the succulent roast meats, Yorkshire puddings and sticky toffee puddings that remind them of the long family lunches of years past. With English music playing and the warm, friendly sounds of contented diners, this will be a winter experience to warm guests up.
From Sunday 7 July 2019, diners can enjoy a Nelly style roast at nel. The roast will change weekly, but always comes with all the trimmings – just like Nan made.