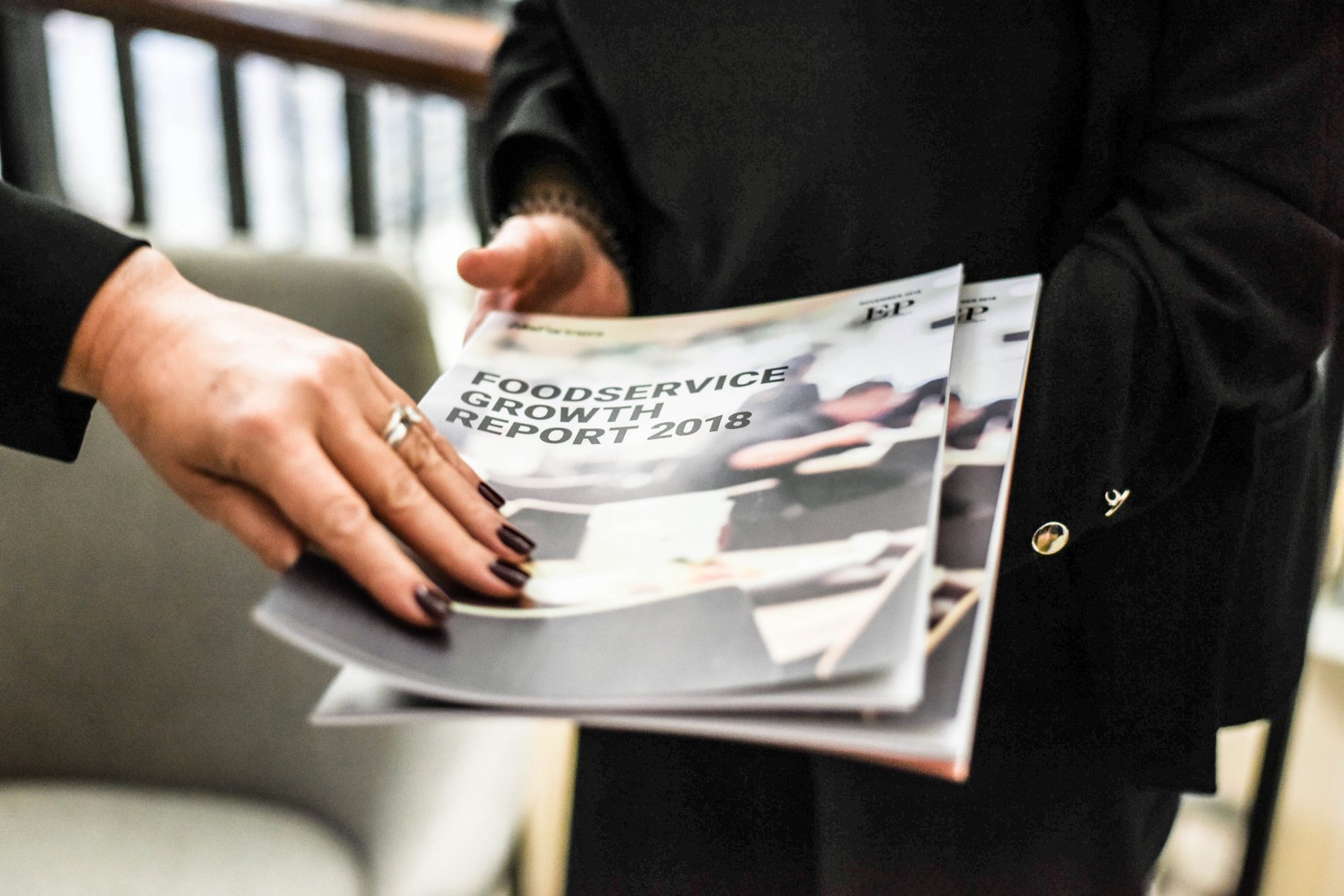 Thought leader in business thinking and opinion, EP Business in Hospitality, has unveiled the annual Food Service Growth Report for 2018, in partnership with AlixPartners the global consulting and advisory firm.  Now in its sixth year, the report brings together the food service community to showcase the fastest-growth (*by profit) independent food service companies in the UK today.
The report was launched via a presentation at The Royal Society of Arts in London, where over 130 key industry players heard insight from Graeme Smith, Managing Director at AlixPartners, Chris Sheppardson, CEO at EP Business In Hospitality and Kevin Watson, Managing Director at Amadeus. 
For this year's much-anticipated league table, the top spot went to Graysons Hospitality (moving up 16 places from 2017) closely followed by new entrant, Smart Group in second place and then Innovate, which moved down two places from the previous year and secured third place.  New entrant The Proper Food and Drink Company landed fourth place this year and making the top five in fifth place is Cucina (moving down a place from 2017).
The report servesto demonstratethe strength of the market, its competitiveness, depth and breadth. Profit growth is measured by compound annual growth over three years, based on statutory accounts. Qualifying companies have a turnover of at least £10 million in their latest accounts and profit of at least £250,000.
During the presentation, Graeme Smith at AlixPartners highlighted the core issues impacting the sector such as Brexit uncertainty, inflation, tendering, mergers & acquisitions, education education, education and international expansion.
"It's becoming increasingly difficult for companies to plan ahead during times of uncertainty. Consumer demands continue to evolve and that puts additional pressure on food service players. Whether driven by diet, health or productivity, change is happening and brings with it more challenges, but the industry itself has many opportunities to grasp those challenges and respond appropriately," said Chris Sheppardson, CEO at EP Business in Hospitality in response to that.
This year the report also included fascinating insight from:- Nigel Harris, Owner, The Proper Food and Drink Company; Emma Thorn, Investment Director, Bridges Fund Management; and Tom Cox, Director, AlixPartners.