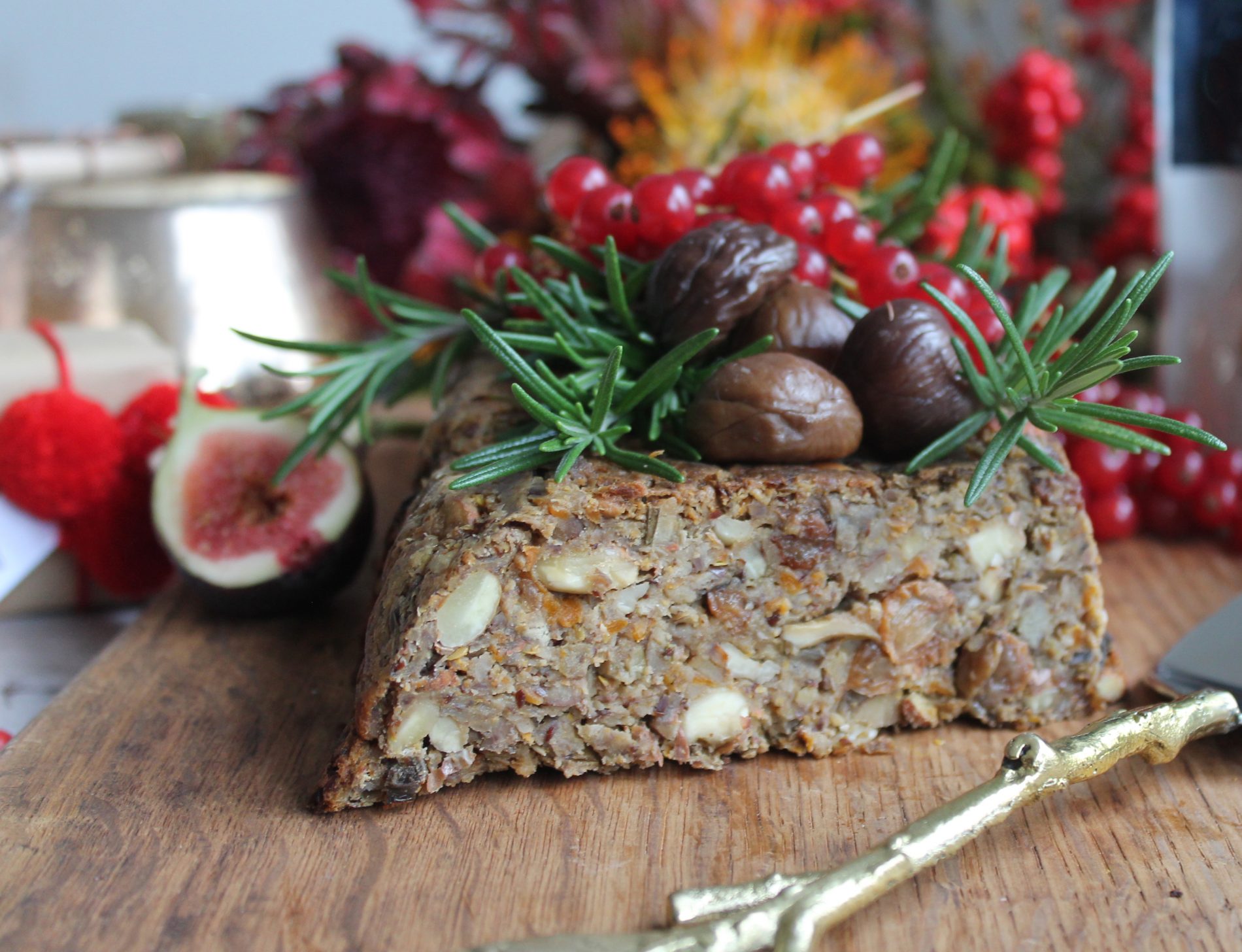 Chestnut, Mushroom and Sage Roast
Ingredients
For the roast
250g of chopped chestnut mushrooms

3 chopped medium carrots

1 finely chopped white onion

3 cloves of garlic

½ cup of roughly chopped almonds

½ cup of sultanas

½ cup of brown rice flavour

3 tablespoons of flaxseeds + 6 tablespoons of water

1 tablespoon of fresh chopped rosemary

1 tablespoon of fresh chopped sage

1 teaspoon of nutmeg

1 teaspoon of sea salt

1 teaspoon of black pepper
Instructions
Start by preheating the oven at 180 degrees Celsius.

In a small bowl mix the flaxseeds with water. Leave them onto one side for 5-10 minutes until they assume a gloopy kind of consistency.

In a casserole pan heat up 1 tablespoon of coconut oil. Add the chopped onion and the chopped carrots and gently fry them for 5-7 minutes until the onion have softened. Add the grated garlic cloves. Cook for a further 2 minutes. Add the chopped mushrooms, rosemary, sage and nutmeg and cook for another 10 minutes.

Chop 1 pack of chestnut in bite size pieces. Put them on one side. With a fork mash down the 2nd pack of chestnut until you have a crumbly flour.

Add the chopped almonds, sultanas, the flaxseeds, salt and pepper, chopped chestnut and the chestnut "flour" to the pan. Mix everything well together.

Remove the pan from the heat and add the brown rice flour, combine everything well together.

Line a bread tin with parchment paper. Pour the mixture into the tin and press it down with a spatula or with your hands.

Bake in the oven for 1 hour.

Half way through cover the top with some foil to prevent the top from burning.

Once the roast is cooked remove it from the oven and slice it before serving.