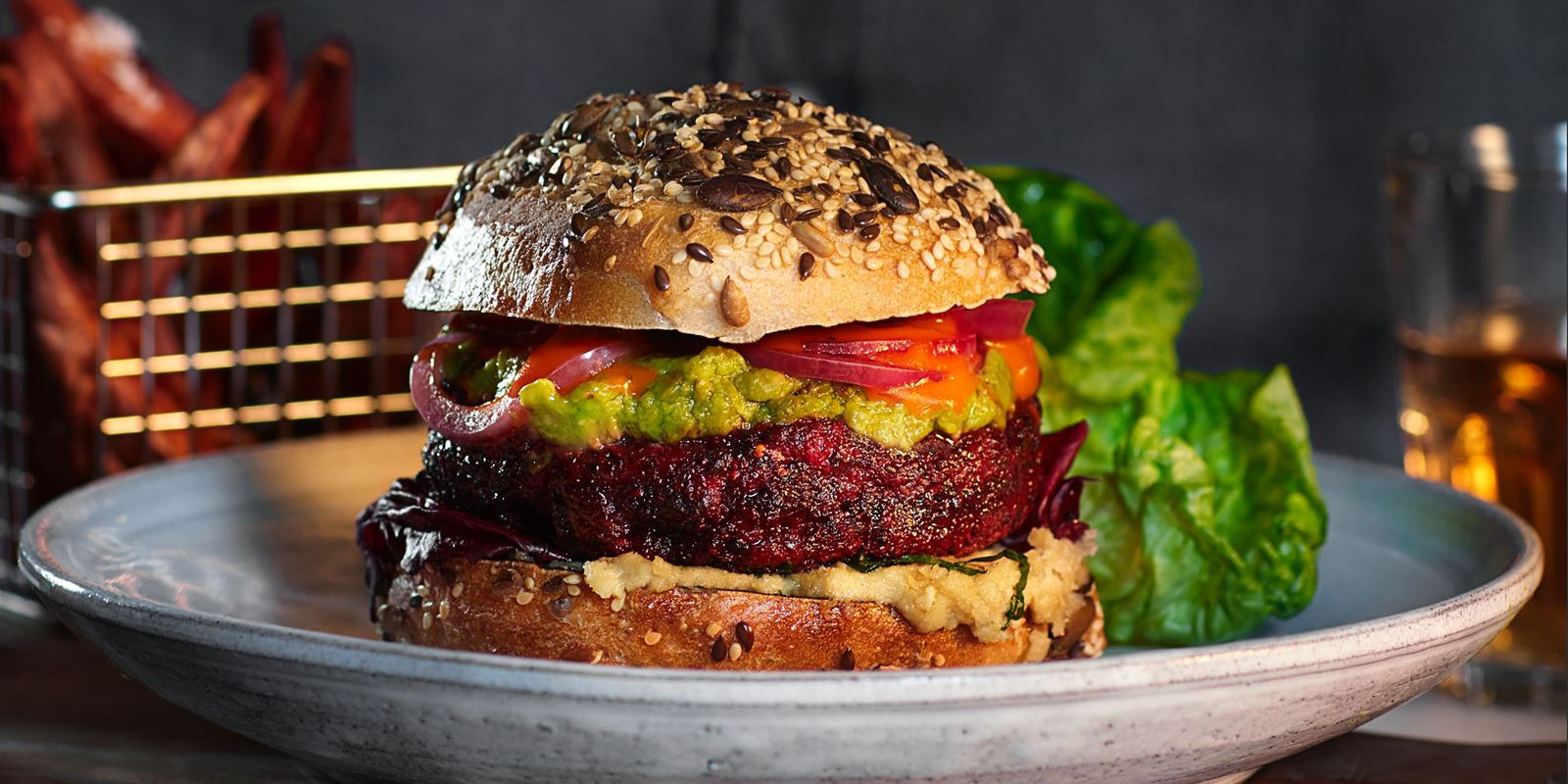 With the National Burger Day under a month away (Thursday, the 23rd of August), AEG has released its very own Vegan Burger recipe for its vegan customers, as well as the meat eaters who want something lighter on a hot summer day.
INGREDIENTS
Patty
200ml dry chickpeas, soaked overnight
2 cloves garlic
1 onion
2 raw beets
1 handful fresh basil
1 tablespoon tahini paste
2 tablespoons olive oil
one lemon juice and zest
1 teaspoon smoked paprika
1 teaspoon brown mustard seeds
1 teaspoon ground cumin
1 teaspoon ground coriander seeds
1 teaspoon dried thyme
salt
Creamy cashew-mustard dressing
200 millilitres cashew (soaked for at least one hour, or preferably overnight)
1 tablespoon white wine vinegar
2 tablespoons water
Season with salt
3 tablespoons olive oil
1 teaspoon French mustard
To serve
sourdough bread roll with seeds
lettuce leaves
pickles
Method
Patty – 1. Preheat oven to 175°C.
Peel the garlic cloves.

Peel and slice the onions.

Peel and cut beets into coarse pieces.

Place garlic, onions, beets, tahini and oil into a mixer and blend into a smooth puree.

Drain the chickpeas. Rinse well in colander. Add the chickpeas to the mixer and blend into a mushy pulp.

Pour into a bowl. Grate in the zest from the lemon. Cut the lemon in half and squeeze the juice into the bowl. Add spices and salt to taste.

Cover a baking tray with parchment paper. Shape mixture into burgers and place on the tray.

Bake the burgers for 20 minutes.

Brush with extra oil and place in a grill pan or on the barbecue to get an extra smoked touch.
Creamy cashew-mustard dressing – 1. Drain and rinse the cashews. Add them to the mixer with fresh water, vinegar and salt. Blend the mixture until it becomes smooth but with fine grain.
Add the oil while running the mixer until the dressing reaches a mayonnaise-like consistency.

Season with mustard, salt and vinegar.
To serve
Cut the bread roll in half lengthwise and sear with a gas burner. Arrange the lettuce leaves on the bottom bun, add pickles and place the patty on top. Spoon the dressing over the patty and place the remaining bun on top. Arrange the chips in a garnish bowl or basket and serve with extra dressing on the side.