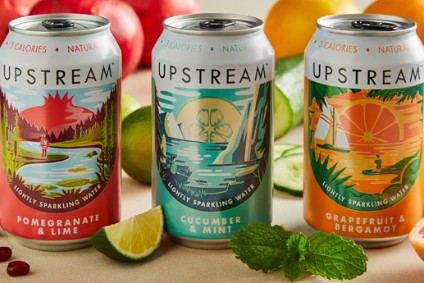 Brand to fill the gap in a 'tasteless' market, while holding an environmental cue .
A brand-new premium flavoured sparkling water has launched and is set to take the 'grab-and-go' market by storm. Boasting zero sugar, natural flavourings and only three calories per can, Upstream provides a healthier, great-tasting alternative to sugary carbonated drinks and fruit smoothies.
The distinctive lightly sparkling water launches in three refreshing flavours: Grapefruit & Bergamot, Pomegranate & Lime and Cucumber & Mint. All three unique flavours contain no preservatives, added sugar or artificial colours and come in a 330ml easy-to-recycle aluminium can, perfect for the on the go market and growing consumer demand for environmentally conscious producers.
With the introduction of the sugar tax last year, Upstream sits in the exciting emerging new subcategory of zero sugar premium flavoured waters, with adventurous flavour combinations providing a much-needed taste led option for consumers.
Today,15% of premium water in the UK is now being produced in cans, and sales of sparkling water is expected to increase by 37% in the next three years. Upstream is a standout in this growing market bringing great taste to the category, which up until now has been perceived as the main barrier in driving brand loyalty.
The name and design of Upstream embodies the brand's promise that the drink will offer a moment to refresh, step back and appreciate the positive things in life while the striking design and refreshing taste sets Upstream apart from its category competition within the grab-and-go and convenience sector.
Susanne Wright, Head of Marketing for Upstream, said:
"We wanted to create a zero sugar, low calorie flavoured water that didn't compromise on quality and offered a daily dose of refreshment. As the demand for convenience products
continues to rise, our goal was to deliver an appealing offer with great flavour, which isn't currently available in the canned water market.
"The health-conscious consumer market is growing, and consumers are demanding something different. Upstream offers retailers the opportunity to tap into the zero sugar and low-calorie trend and ultimately drive sales."
Upstream is a premium product, sold at RRP of 99p/330ml can. For more information about stocking and distribution, please contact [email protected].