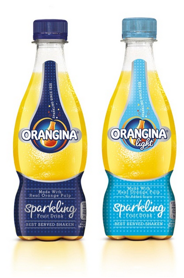 Orangina, the original and real orange sparkling soft drink, today reveals it is back with a bang by inviting the UK to 'Shake It Up'. Since 1936 Orangina has been hailed for its sparkle combined with real orange pulp and zest, and famously requires a shake to unlock the flavour before opening. It's the perfect thirst-quencher to make any day feel that little bit special.
Everything you would expect from your citrus favourite remains the same, Orangina has re-vamped the bottle into a slick 420ml number that retains elements of its nostalgic design, but with a new twist. Famous for its bulby-shaped bottom, the Orangina bottle has kept its rounded base, ensuring it is easily recognisable and is the perfect shape to wake up the orange pulp and distinctive Orangina taste once shaken. And for those looking for a lighter option but not willing to compromise on taste, a light version the bottle is also available – the same delicious taste, just with less calories.
Plus, Orangina enthusiasts needn't worry, the original glass bottle will still be available in a 250ml version at restaurants and bars nationwide, the perfect accompaniment to lunch this summer; poured over a glass full of ice and served with a twist of orange peel.
Orangina will invite the nation to 'Shake It Up' this summer by encouraging Brits to try new and exciting experiences, showing them that they can have that special feeling any day of the week and to make every day different.
However you decide to shake it up, the new 420ml PET bottle, available in both light and original, will be stocked in major outlets such as Waitrose, Sainsbury's, WHSmith Travel and Superdrug from mid June, with a RRP of £1.20. The original glass bottle (in 250ml) will be available in cafes and restaurants nationwide including Café Route and Côte Brasserie, at a RSP of £2.25.