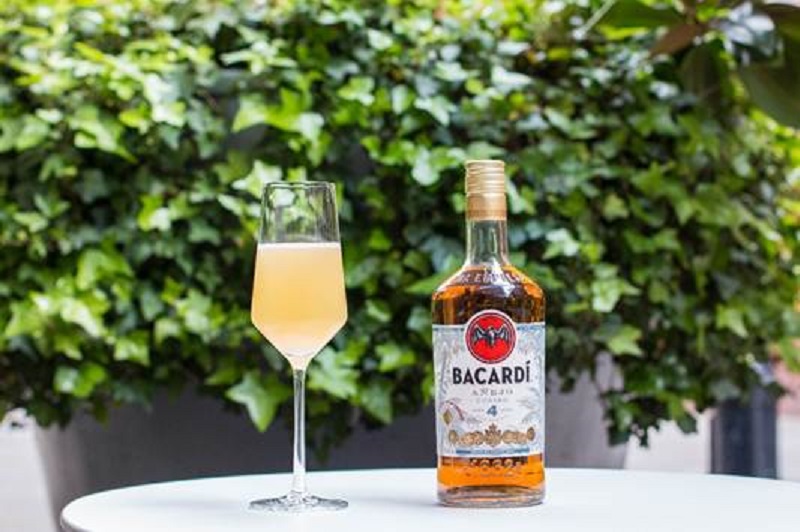 The Den at St Martins Lane hotel, in collaboration with the newly launched BACARDI Añejo Cuatro rum, will be opening its doors this summer to The Den Terrace. Bringing the outside in, The Den will become a tropical oasis filled with palm trees in the heart of London's Covent Garden.
Inspired by BACARDI Cuatro and the Caribbean glamour, The Den Terrace will be open from the 15th of May until the 30th of September, offering Londoners the perfect escape for the summer. The mirrored entrance leading to the terrace and The Den lounge will be lined with palm trees and ferns, as well as the BACARDĺ print vinyl on the walls providing the perfect backdrop for photo opportunities.
Plants will take centre stage throughout, with cacti, banana trees and Kenetia palms decorating and enclosing the space as a natural haven. The terrace itself will have an arch of fern foliage as the focal point, alongside an array of greenery from flower pots to mini cacti on the tables. The décor and surroundings are designed to make guests feel they have left Covent Garden and entered the tropics, especially when relaxing with a BACARDĺ Cuatro cocktail in hand.
To complement the new décor, luscious drinks will be added to The Den's usual menu. An exclusive drinks list will feature several rum-based cocktails, including the Cuatro Air Mail comprising of BACARDĺ Cuatro rum, Champagne, honey, lime and a dash of orange. The Den's afternoon tea will still be available, but it will include a few delicious extras, such as Piña Colada Cake, coconut dacquoise, pineapple confit, coconut mousse with BACARDĺ Cuatro and Mai Tai Baba Almond Cake, infused with orange bitters & BACARDĺ Carta Negra rum, Cointreau and lime cream.
Those looking for the perfect summer place, where they can indulge into a few cocktails and a delicious afternoon tea (priced at £39.50) should visit and enjoy this hidden oasis in the centre of Covent Garden.