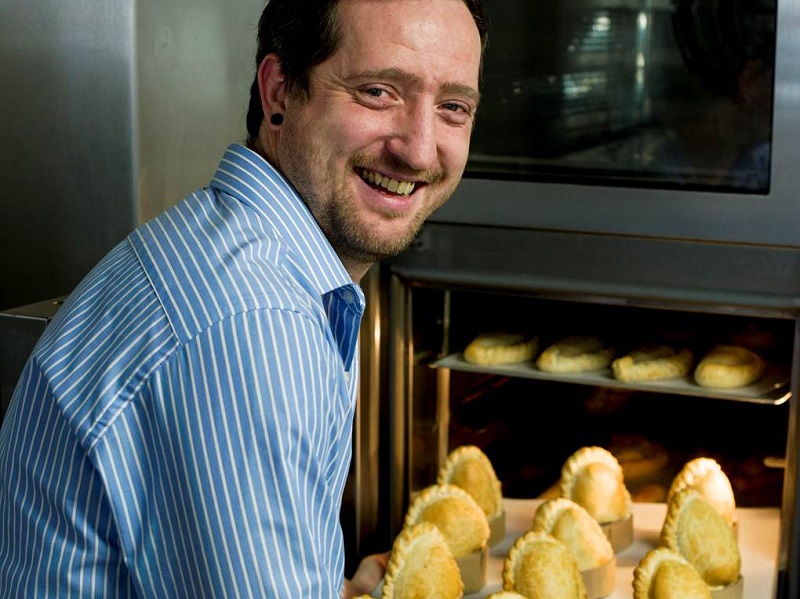 The award winning Cornish Bakery has created a world's first with the launch of an egg-citing new product – the Cornish Pasty Easter Egg.
The Cornish Bakery showcases its love of the Cornish pasty, with the traditional foodstuff of hardy Cornish miners now achieving superhero status in the minds of many fans across the globe. Working with a butcher's wife in Mevagissey, The Cornish Bakery's founder Steve Grocutt made the company's first traditional pasty in the first ever store in 1994.
Continually innovating with unexpected flavours and also creating different sizes of the traditional Cornish product.  The Cornish Bakery pasties now include contemporary taste sensation combinations including the Pork, Apple and Cornish Cider, the Thai Chicken and the Spicy Chickpea and Potato Pasties, all of which are available in Cornish Bakery's in towns, villages and cities across England.
And now, The Cornish Bakery has gone one further, innovating with the crimped 'crescent' shape of the traditional pasty, to create an egg-shaped option for those who can't bear to replace their daily pasty with chocolate this Easter.
Founder Steve Grocutt says, "We are continually mixing our tradition with proper Cornish innovation, and we have so many evangelical pasty fans that they're constantly asking us what we'll come up with next.  So given that we do have lots of customers who would not want to forsake their daily pasty, we've created our new pasty Easter egg, which is now on sale in our bakeries."
Steve continues, "For Easter 2017, we'll launch this as our Traditional PGI Protected Pasty with our winning mix of steak, swede, potato and onions.  If this takes off like we think it will, with customers replacing their chocolate Easter eggs with pasty ones, we may make all our famous pasties in the Easter egg shape for the two weeks of the celebrated Easter holidays."
The Cornish pasty was originally created for the rugged miners, working in the depths of the tin mines. They needed the sustenance of super speedy convenience and quality fuel for the hard day's grind.
Bound in pastry, their traditional meat and potato pasties were kept warm in the darkened depths, and were the highlight of the day, warmed upon a shovel by the fire and feasted upon by roughened men with toughened hands. The crimped crust was originally tossed into corners for the 'knockers', the elfin-like spirits, for miners hands were often covered with arsenic and poisonous dirt.
In an ancient pasty there's a fair chance miners might find half as savoury beef, swede and potato and the other half as a sweet and seasonal dessert, making this the perfect two course meal in one.
Steve Grocutt continues, "The mixed ancient pasty option of half savory and half sweet is also an option that we may consider for future Cornish Bakery Pasty Easter Eggs. There's so many places we could go with this awesome new product line so watch this space."