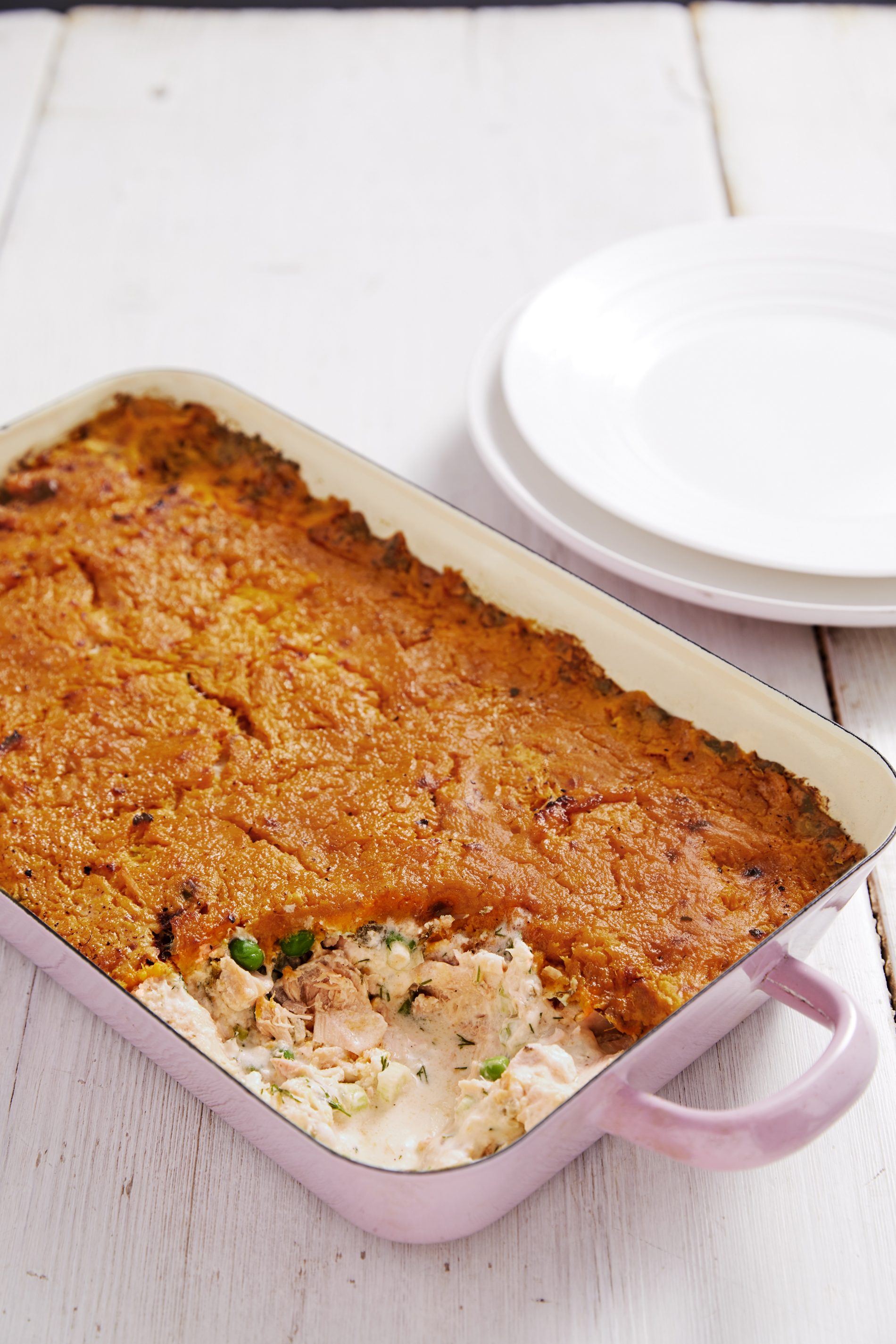 Prep time: 10 mins

Cook time: 45 mins

Serves: 4
Ingredients
Potato Topping
800g sweet potatoes

25g unsalted butter

Good pinch of freshly grated nutmeg

Pinch of sea salt and freshly ground black pepper
Fish Filling
2 tbsp cornflour

300ml semi-skimmed milk

700g mix of haddock and salmon, skinless, cut into bite-sized chunks

150g frozen peas

½ bunch of spring onions, sliced

Fronds from 1/3 bunch of fresh dill, finely chopped

100g low fat crème fraiche

Freshly ground black pepper
Recipe Allergens:  fish and milk.
Method
1.

Preheat the oven

to 200

o

C (fan 180

o

C), 400

o

F, Gas Mark 6.

2.

Bring a medium pan

of salted water to the boil and cook the potatoes together for 10-12 minutes or until tender. Alternatively, steam the potatoes, in which case they tend to take on less water, making for a stiffer, drier (and better) sweet potato mash.

3.

As this cooks

, put the cornflour in a wide pan with a little of the milk and stir until dissolved and smooth. Then add the rest of the milk while stirring all the time.

4.

Place on a low

to medium heat and while continuing to stir all the time, bring to a simmer and cook for a few minutes until slightly thickened. Then add the fish, peas, spring onion and dill and cook gently for about 3 minutes, stirring regularly to prevent it from catching on the bottom

5.

Carefully stir

in the crème fraiche and salt and pepper, to taste. Remove from the heat and tip onto a 2.5 litre ovenproof dish (min measures 25cm square and 6cm deep).

6.

Once cooked

, drain the potatoes well and tip them back into the pan. Mash until smooth with the butter, nutmeg and enough salt and pepper to taste.

7.

Place spoonful's of the mash

potato all over the top of the fish filling and spread it out evenly with a fork. Grate over a little more nutmeg if you fancy it and pop on a baking tray in the oven for about 20 minutes until the top is just catching colour and the fish filling is piping hot. Serve at once.
*This recipe was developed by Aptaclub at part of their Eating for 2 Campaign, together with Chef Lorraine Pascale.