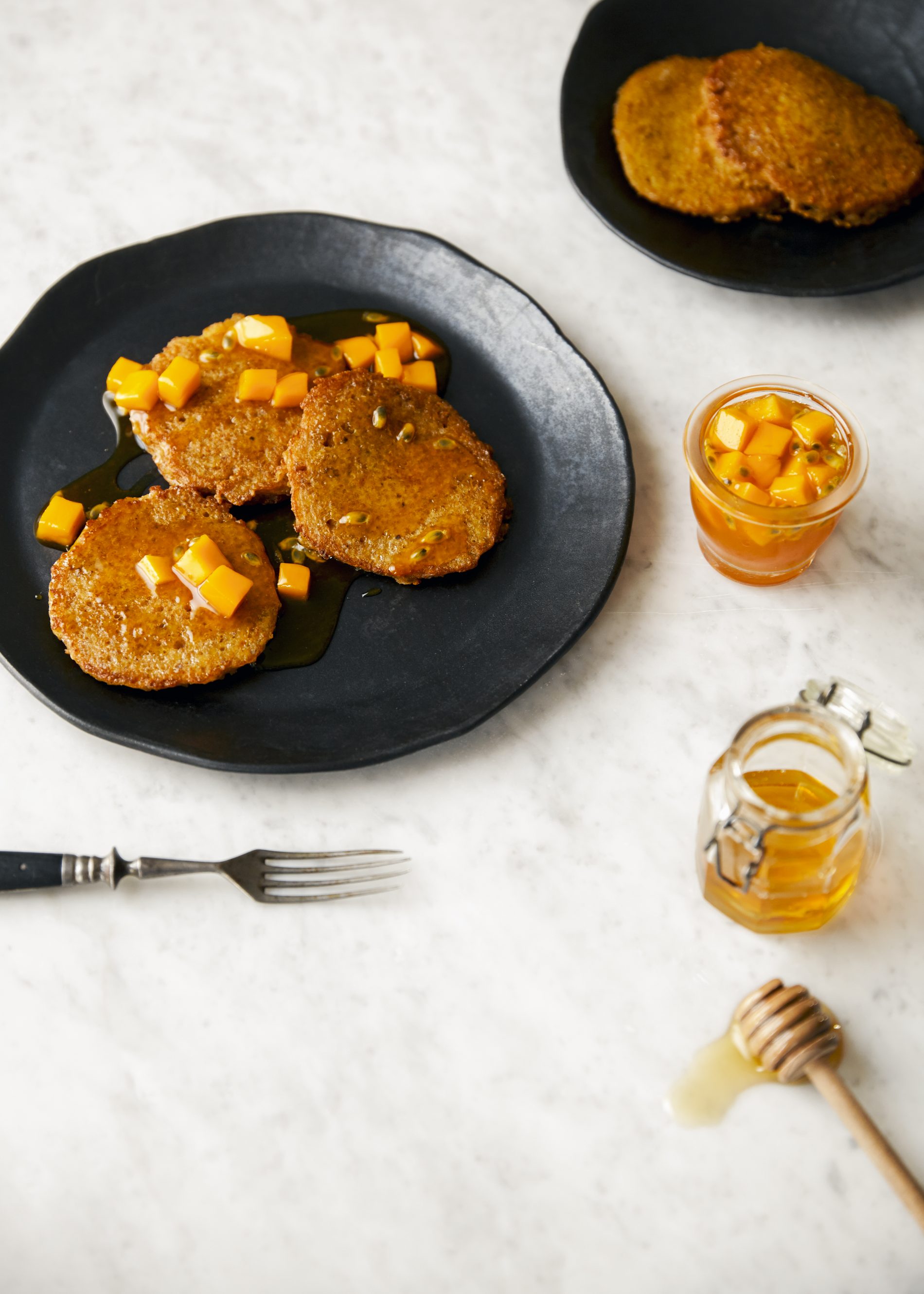 Ingredients
30g caster sugar
50g melted butter, plus 50g for cooking the pancakes
Grated zest of 1 medium sized lemon
3/4 tsp vanilla extract or paste
20g cornflour
1/2 tsp baking powder
2 eggs
For the mango sauce
300ml orange juice
150g caster sugar
2 passion fruit
1 small ripe mango, peeled and finely diced
Instructions
1. Simply rinse the dried quinoa in a sieve under cold water using the ratio of one cup of quinoa to one and a half cups of water. Bring to the boil before covering and leave to gently simmer until all the water has been absorbed (approx. 15 mins)
2.Then start the pancake mixture. Get a medium sized bowl. Add the eggs, baking powder and cornflour. Whisk together until there are no lumps at all. Add the remaining ingredients including the slightly cooled quinoa then whisk together. Leave to sit.
3.To make the sauce, pour the juice into a medium sized pan. Add the sugar. Bring to the boil then simmer rapidly until it has reduced by two thirds (100ml) the sauce should be the same consistency as light maple syrup, as it cools it will be closer to the consistency of jam. Take the pan off the heat. Cut the passion fruit in half and scoop the seeds into the pan. Stir in the diced mango.
4.Dip a piece of kitchen paper into melted butter then moisten the bottom of the pan. Get the pan good and hot then turn it down to a medium heat. Pour in a serving spoonful of the mix to make pancakes of 8cm in diameter. In a 28cm pan I could comfortably do 4 pancakes at a time, if you don't have a pan this large just do one or two at a time in a smaller pan.
5.Cook the pancakes for 30-40 seconds each side and transfer them to a plate over a pot of just simmering water if you want to keep them warm, or set them aside to reheat later. Serve the pancakes with the mango and passion fruit sauce.