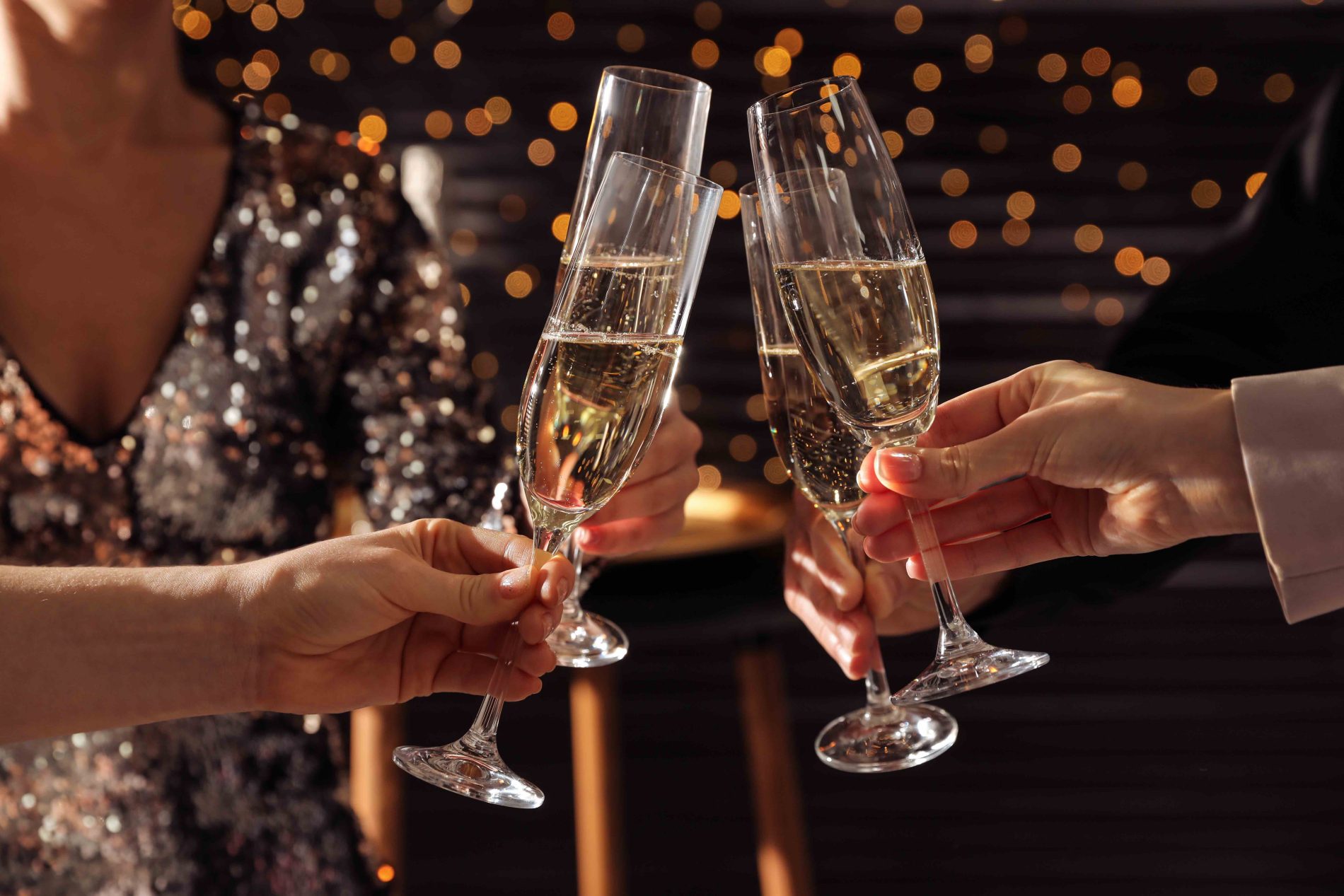 Red wine comes in a close second, followed by white wine, champagne, Bucks Fizz, and cocktails. Non-alcoholic options also make the cut.
The Maynard, an iconic boutique hotel and restaurant in the Peak District, has revealed that 21 percent of Brits will be supping prosecco with their Christmas dinner this year. This is very closely followed by red wine (20%), then white wine (18.79%), champagne (16%), Bucks Fizz (10%) and cocktails (9%).
It's not all about the alcohol, with 8 percent saying that they will be enjoying alcohol-free wine or a sparkling drink, such as Nozecco – soft drinks, juices, and other options. Beer looks to be the least popular option with only 2 percent of the 2,000 online survey respondents stating that it is their choice to accompany Christmas dinner this year. 
When asked for more detail, the main reason given for choosing prosecco over everything else it that it feels like a fun, special treat without being too heavy (or expensive). Food pairing is also a factor. Several explained that prosecco's mild taste means that it won't overpower the many different flavours on their Christmas dinner plate.
One respondent explained:
"Prosecco looks so beautiful in the glass, reflecting the lights and sparkles of the table decorations, and still always feels like a luxury on Christmas Day. I love how the acidity cuts through the duck fat of the roasted potatoes. And being so light, there's always room for one more glass!"
Another said:
"I enjoy the bubbles and it makes Christmas dinner feel extra special."
Most white wine drinkers said that they would be opting for a sauvignon blanc (30%) or a pinot grigio (23%) this year while the favourite red is either a merlot (24%) or a pinot noir (19%).
As with prosecco, food came into play with the red and white wine choices as well. The majority of white wine fans (85%) are planning to have turkey on the Christmas dinner table and will drink white wine to complement its flavour, while the red wine drinkers are going for either beef (75%) or turkey (62%), believing that the richness of a red wine is the best match.
When it comes to the non-meat eaters, almost 100% (93.5%) said they will be enjoying a nut roast for Christmas dinner, with the vast majority (88%) pairing prosecco with their main meal.
"My own family background is in wine, so we always pay close attention to our drinks list and ensure that there is an interesting and extensive range of varieties to suit every dish and taste," explains founder of The Maynard, Rob Hattersley.
"It has been fascinating to hear what people are planning to drink with their Christmas dinners this year, and why. It's clear that prosecco has continued to grow in popularity, most likely due to the fact that it's light and the flavour is unlikely to clash with any of the rich, delicious foods that we all enjoy on Christmas Day.
"It's also good to hear from the non-drinkers, and what they are planning to enjoy on Christmas Day," he added. "Increasing numbers of people are choosing alcohol-free options, all-year round as well as during the festive period. It's great to see that the drinks market has become more inclusive over recent years, and it is now possible to enjoy something festive, tasty and fun with or without the alcohol. There is something for everyone."
The Maynard is an award-winning, iconic hotel and restaurant, occupying a breath-taking setting in the Peak District's Hope Valley. It was first established in 1857 and has been visited by the likes of Sir Paul McCartney and Dame Shirley Bassey.
Rob (39) sold his house to purchase the venue in 2020, then almost went bankrupt after opening just six weeks before the first pandemic lockdown. Fortunately, with the help of his team, he pulled through and it has been transformed into an award-winning restaurant and boutique hotel.
The menu at the restaurant features seasonal, local, fresh food that is beautifully prepared but not at all fussy. It has been designed by executive chef, Adrian Gagea, who trained under Raymond Blanc.
For more information, visit the-maynard.com.