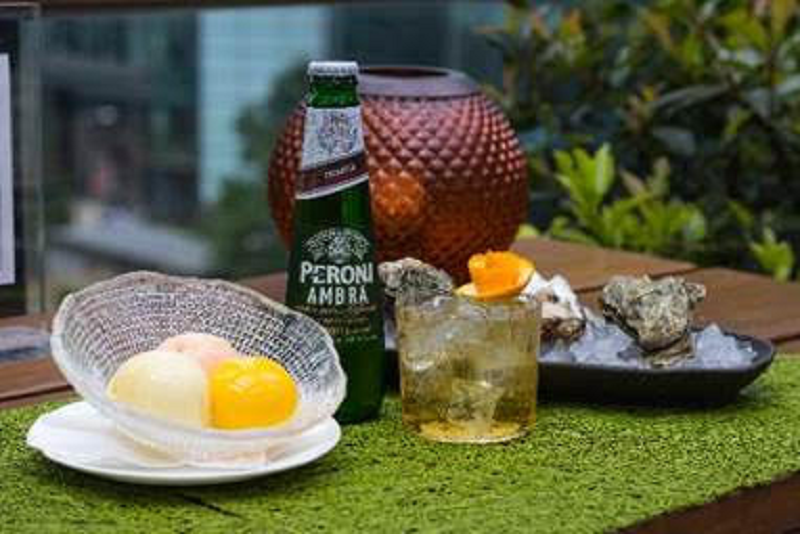 This summer Plateau has revealed that they will be teaming up with the popular beer brand Peroni in order to bring an Italian twist to the Canary Wharf area of London. Plateau is a D&D London Restaurant that is located in Canary Wharf and delivers visitors amazing modern French cuisine with an amazing view of the local area. Found at One Canada Square tower, the restaurant offers a cityscape view that is unique in London and transports the visitor to more spectacular city wide views like those found in New York and Tokyo.
This year, in order to celebrate the launch of Peroni Ambra, the partnership between the popular Italian beer brand and the London restaurant to deliver an Italian tasting menu served to complement the new beer. The Head Chef at Plateau, Jeremy Trehout has managed to create an amazing food pairing which has been designed in order to complement the summery refreshing flavours of the new Peroni Product.
Peroni is an Italian creator of Beer which has been working for year n order to bring their customers fresh and enjoyable beverages. The new Peroni Ambra has been developed as the perfect summer drink that is said to offer a unique taste of Italy. The Ambra combines the crisp taste of the Peroni Nastro Azzurro and the sharp flavours of the Chinotto, which is a rare and authentic Italian citrus fruit. The Chinotto is a rare fruit which is found in the Liguria area of North West Italy and give the Peroni beverage a fresh citrus kick.
The new Aperitivo created by Peroni will be on offer at Plateau for customers at the restaurant to enjoy alongside a range of sweet or savoury small dishes. On offer as a pair to the new beer is fresh oysters, smoked salmon and sweet sorbets, which will be served alongside the other popular summer bar snacks on offer at Plateau.