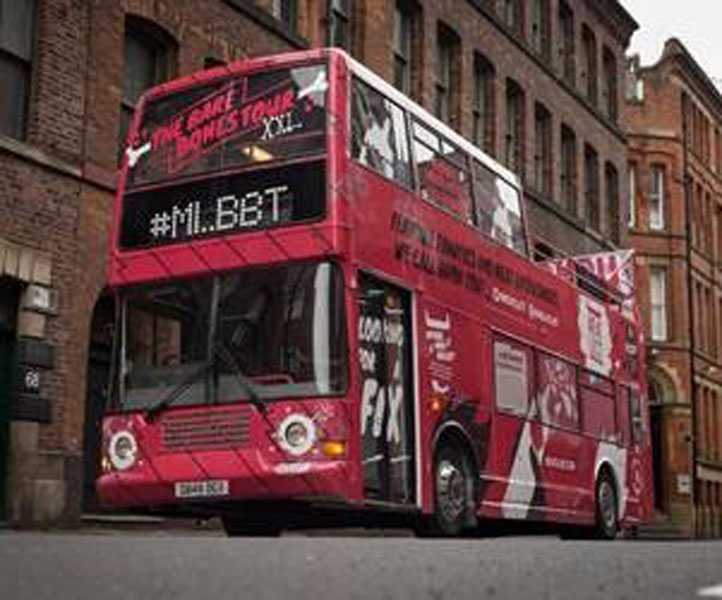 Ben Spalding takes the helm of the Meat Lust Bare Bones Tour, a double decker bus transformed into a fully working BBQ shack
Eight Meat Lust Bare Bones Tours announced in London in early February 2017
London tour pa­­rtners include The Ribman, Bleecker, Foxlow, Clutch Chicken and The Bowler Meatballs
Street food-inspired Meat Lust boasts four flavoursome sauces that punch hard and don't apologise
London, January 2017 – Flavour fanatics, Meat Lust, have today announced the launch of The Bare Bones Tour – a double-decker bus, transformed into a fully-fitted BBQ shack on wheels, featuring never-before-seen dishes from award-winning on board chef Ben Spalding.
The Meat Lust Bare Bones Tour will serve up mouth-watering, Meat Lust-infused taster plates from Ben Spalding alongside exclusive off-menu dishes at London's most acclaimed restaurants and street food hotspots – including Mark Gevaux (A.K.A Rib Man), Clutch Chicken, Bleecker, Foxlow and The Bowler Meatballs. Ben's on-board menu and the bespoke partner dishes will be announced in late January 2017.
The £30 'taster-ticket', on sale in early January, will entitle guests to four taster plates smoked on-board by Ben Spalding, an off-menu dish at each of the five partner stops (RibMan, Clutch, Bleecker, Foxlow, The Bowler Meatballs) and four craft beers paired to taste by local London brewery, Gipsy Hill Brewing Company. Head Chefs from each of the partners will also come aboard to interact with the guests and answer any questions they may have about the dishes.
Scott Dixon, Director of The Flava People and third generation flavour fanatic, commented: "Meat Lust is all about diverse, memorable and hard-hitting flavours, so when we first discussed the Bare Bones
Tour it was important for us to work with the very best – uncompromising talent from the thriving London food scene who share our passion for bold and unforgettable dishes. We couldn't be happier with the London line-up and we're already excited by the thought of hitting the road and discovering incredible dishes in cities across the UK."
Launched in April 2016, Meat Lust's street food-inspired sauces: BBQ Mop, Chinese BBQ, Buffalo and Green Sweet Chilli are currently available in around 1,500 stores across the UK including Sainsbury's, Tesco, ASDA and Morrison's as well as all good butchers and independent retailers.
You can find your local stockist in our store locator here – https://www.meatlust.com
@MeatLust   www.meatlust.com  #MLBBT