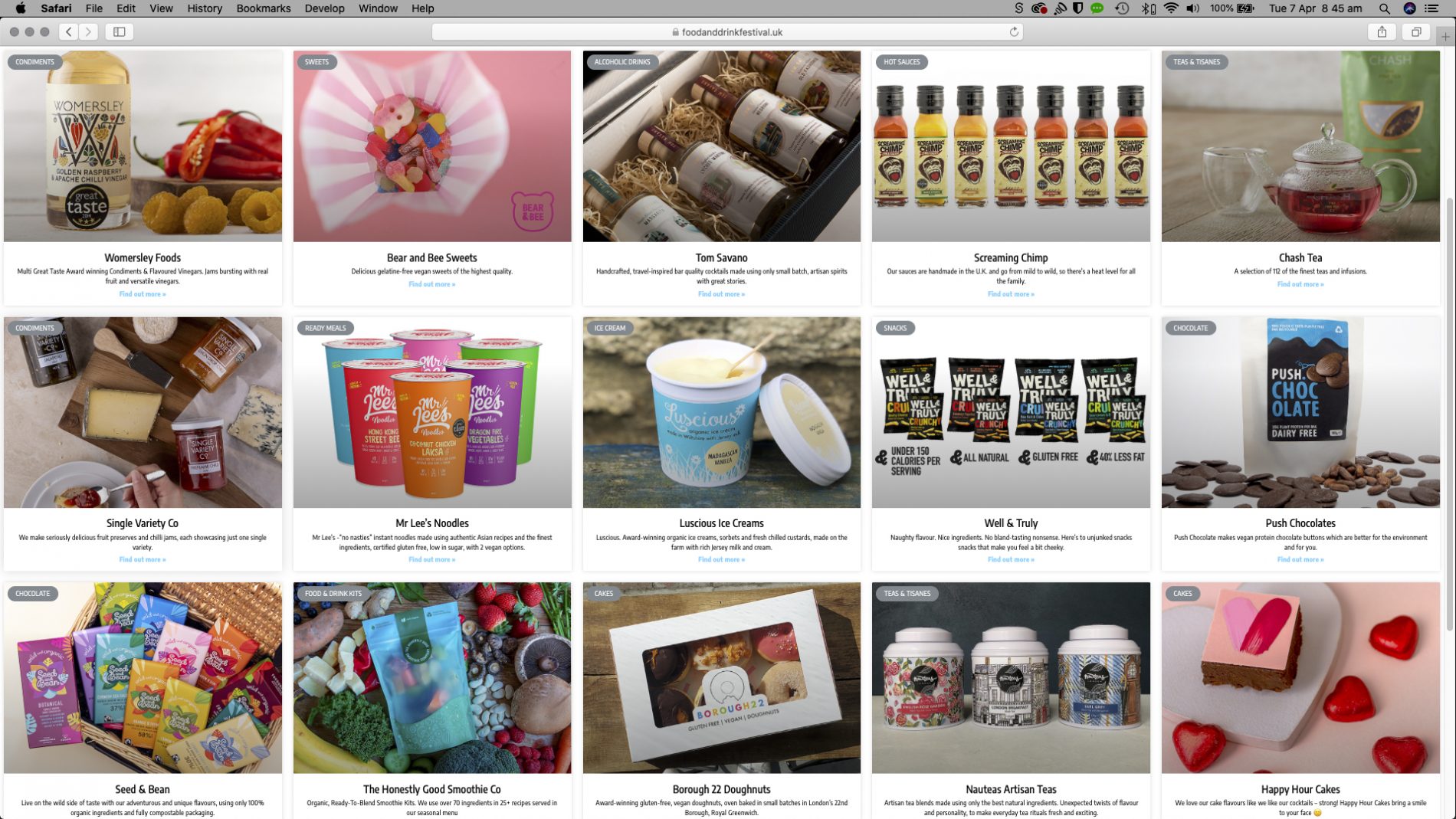 In these are challenging times for small food & drink producers, Food & Drink Festival Online has launched for the public to discover and buy from these businesses and support the grass-roots community. Many depend on a busy summer of festivals and shows to meet customers and sell their products, but with events cancelled for the foreseeable future, many food and drink producers are trying to keep their businesses afloat.
Food & Drink Festival Online is a new way for the public to discover these inspiring producers and buy direct from the safety of your home. The site is free for businesses to sign up to, just visit foodanddrinkfestival.uk and register your business. It will give producers a better opportunity to stay financially afloat during this difficult time.
Food & Drink Festival Online is the brainchild of Katia Sokolskaya founder of Nauteas tea company and Richard Reeves of digital agency SLICE&DICE. The site has been created and launched in a matter of days as a response to the Covid-19 pandemic and its impact on food & drink businesses. Each business has its own profile page for people to browse before visiting the producers' website to buy their products. Dozens of businesses have signed up to the site with many offering special offers and discounts and more will be added every day.
Katia says: "These are extraordinarily challenging times for many small businesses. Spring and Summer festivals and shows have been cancelled, leaving artisan producers with very few routes to market. However this situation opened up an opportunity for us to create a festival online, so now everyone can discover incredible produce without leaving their homes. With this project, we want to support and give a free platform to all the hard-working and passionate producers and entrepreneurs."
Richard Reeves of Slice&Dice says: "The new site is designed to showcase the amazing cornucopia of amazing food and drink producers in the UK and we hope that the public will continue to support them by buying direct from them online, despite not being able to visit shows and events."
The Food & Drink festival Online 2020 website is from the U.K.'s cornucopia of wonderful small food & drink producers.