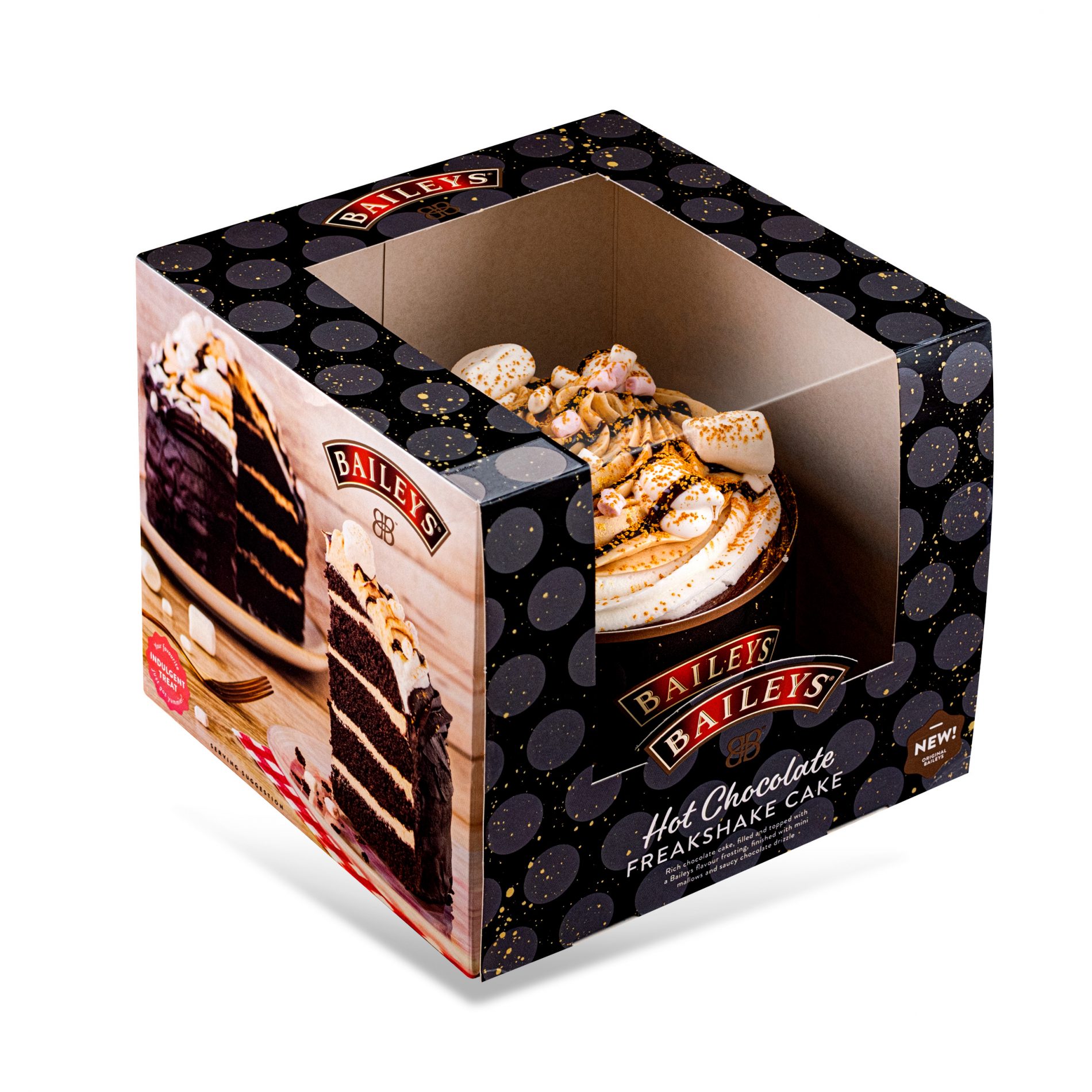 Finsbury Food Group Extends Successful BAILEYS Range
Following success of the launch last year, Finsbury adds new seasonal SKU
Finsbury Food Group, the market leader in licensed cakes, has added to its successful range of BAILEYS Original Irish Cream Liqueur cakes with the introduction of a BAILEYS 'Hot Chocolate Freakshake' cake.
Available from September, the BAILEYS 'Hot Chocolate Freakshake' cake is a rich chocolate cake, filled with the iconic BAILEYS Original Irish Cream, topped with layers of delicious chocolate sauce, frosting and sweet mini marshmallows. The cake is scrumptious enjoyed on its own or paired with an actual hot chocolate for the full 'freakshake' experience.
Another new addition are the BAILEYS Salted Caramel Mini Cupcakes, a bitesize chocolate cupcake with BAILEYS salted caramel frosting and a caramel drizzle. YUM! The cupcakes are designed to play into the growing trend for consumers who are looking for smaller cake options that can be easily shared.
Finsbury and Diageo, owner of the BAILEYS brand, launched their cake partnership last year which resulted in the first 'adult only' alcohol infused cakes introduced to supermarket shelves. The first products, launched to huge success, were the BAILEYS Freakshake cake, closely followed by the BAILEYS Yule Log. The entire BAILEYS cake range focuses on bringing together Finsbury's expertise as the creators of luxurious, indulgent cakes with the iconic taste of BAILEYS Original Irish Cream.
Created by market leading cake manufacturer, Finsbury Food group, every cake in the range has been designed to act as a 'grown-up treat' with products that suit different treating occasions, whether that's an indulgent Friday night in, a luxurious showstopper at a dinner party or simply unwinding after a long day.
Declan Hassett, Senior Licencing Manager for Diageo commented: "We worked closely with Finsbury to create the perfect range of Baileys indulgent treats to show that there is more than one way to enjoy the utterly pleasurable experience of Baileys in the comfort of your own home. BAILEYS is all about taking the time to treat yourself and your friends, this range definitely lets you do that."
Jack Cook-Broussine, Brand Manager for Finsbury Food Group, said: "We've led the market for many years with our ability to blend together our passion and expertise in cake with some of the best-known brand names in the grocery sector.  BAILEYS is a fantastic new partner for us and gives an opportunity to show our capabilities for creating high quality, innovative cakes to supermarkets across the country."