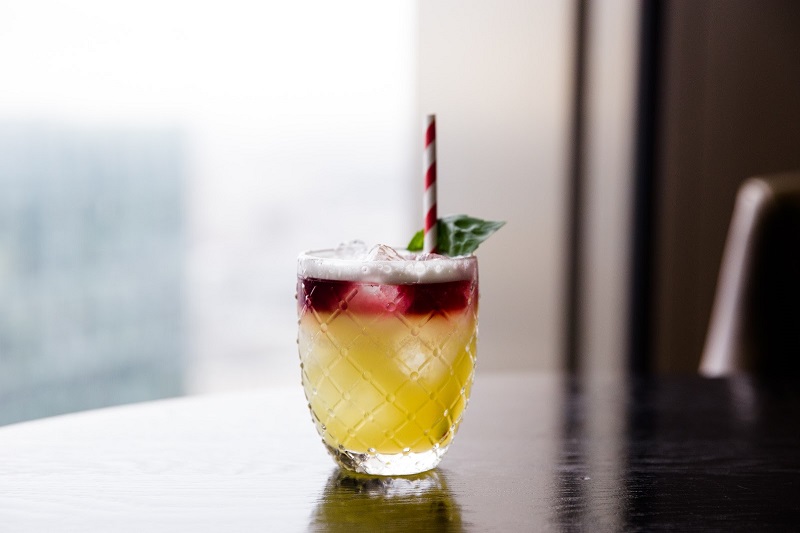 Starting with Thursday, the 12th of April, Jason Atherton's Michelin-starred City Social will be known as Social 24. The new name will also be joined by a new drink and food offering, as well as a resident DJ on Thursday and Friday nights from 9pm. Located on the 24th floor of Tower 42, the new menu hopes to attract late night diners and drinkers to the City.
The new cocktail menu was curated by Group Bar Manager Jay Doy and it will maintain the same flair and creativity as the previous menu. Inspired by London's landmarks, 'The Shard' (£12) is made with Bacardi heritage, lime, watermelon, passion fruit, Sekforde rum mixer and Mojito granita, while 'The Monument' (£13) cocktail pays homage to its fiery history with Don Julio, fire roasted pineapple syrup, dragon fruit, jalapenos, charcoal and cinnamon.
The 'St Pauls' (£12) cocktail, served inside a pineapple glass, represents Sir Christopher Wren's integration of the fruit into his architecture and is made with Absolut Elyx, pineapple, sage, chartreuse, communion wine and a wafer. Meanwhile, 'The Thames' (£12) is presented in a tea glass and is made with Reyka, Sea rosemary, watercress, apple, celery sugar, citrus and seaweed. There will also be an interesting selection of beers, spirits and non-alcoholic cocktails available, as well as a wide list of wines and champagnes to choose from.
Alongside the drinks menu, Executive Chef Paul Walsh also created a new food menu for Social 24. There will be a 3-course set 'Social Lunch Hour' menu priced at £28 and including Heritage beetroot salad, goat's cheese and watercress; Cotswolds chicken and Madeira terrine with grilled sourdough and a choice of Vanilla crème brûlée or Valrhona chocolate mousse. In the evening, an a la carte menu will be on offer, with a selection of small and large dishes, such as Frenchman Creek oysters with dashi, melon and yuzu; Smoked pork empanadas with harissa and red onion compote and Buccleuch Estate beef fillet with duck fat chips accompanied with béarnaise or peppercorn sauce.
Social 24 will be open from midday until 2am, Monday through to Friday, and from 4pm on Saturdays, providing the City with a chic, late-night bar.