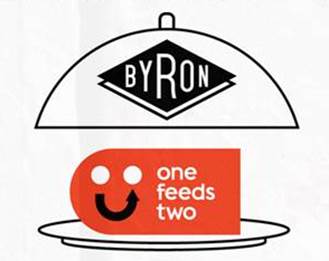 The launch on Tuesday of the new partnership between Byron and the charity One Feeds Two® saw Byron customers provide over 40,000 school meals for children living in some of the poorest parts of the world. Byron has announced that it will be matching customers' contributions, taking the total number of school meals provided to over 80,000.
To kick off the new partnership, for one day only, customers could buy any of Byron's proper hamburgers for just 25p – the cost of one school meal for a child in need – with takings from sales of all burgers sold going to One Feeds Two® in reflection of the charity's innovative 'buy one, give one' model.
Customers keen to show their support for One Feeds Two waited patiently outside the group's 55 restaurants throughout the day, eating their way through more than 40,000 burgers – a record for Byron.
On behalf of those customers who were not able to make it to a restaurant to take part, Byron will be making an additional donation, doubling customers' contributions to give a total of more than 80,000 school meals.
The day's activity was just the start of an ongoing partnership: from today, for every Special Hamburger sold, Byron will provide a school meal at the cost of 25p.
JP Campbell, co-founder of One Feeds Two, says: "We have been overwhelmed by the support the nation has given us through this partnership with Byron. The school meals provided will help so many of the world's poorest children access education and give them an opportunity to better their lives."
Tom Byng, Byron's founder, says: "We have been blown away by the show of support from our customers for One Feeds Two, and I would like to thank them – and our brilliant restaurant teams who made it all possible – for all the good work they have done. One Feeds Two® carries out vital work every day: we are proud to help support them in our restaurants and look forward to helping more children as our partnership continues."