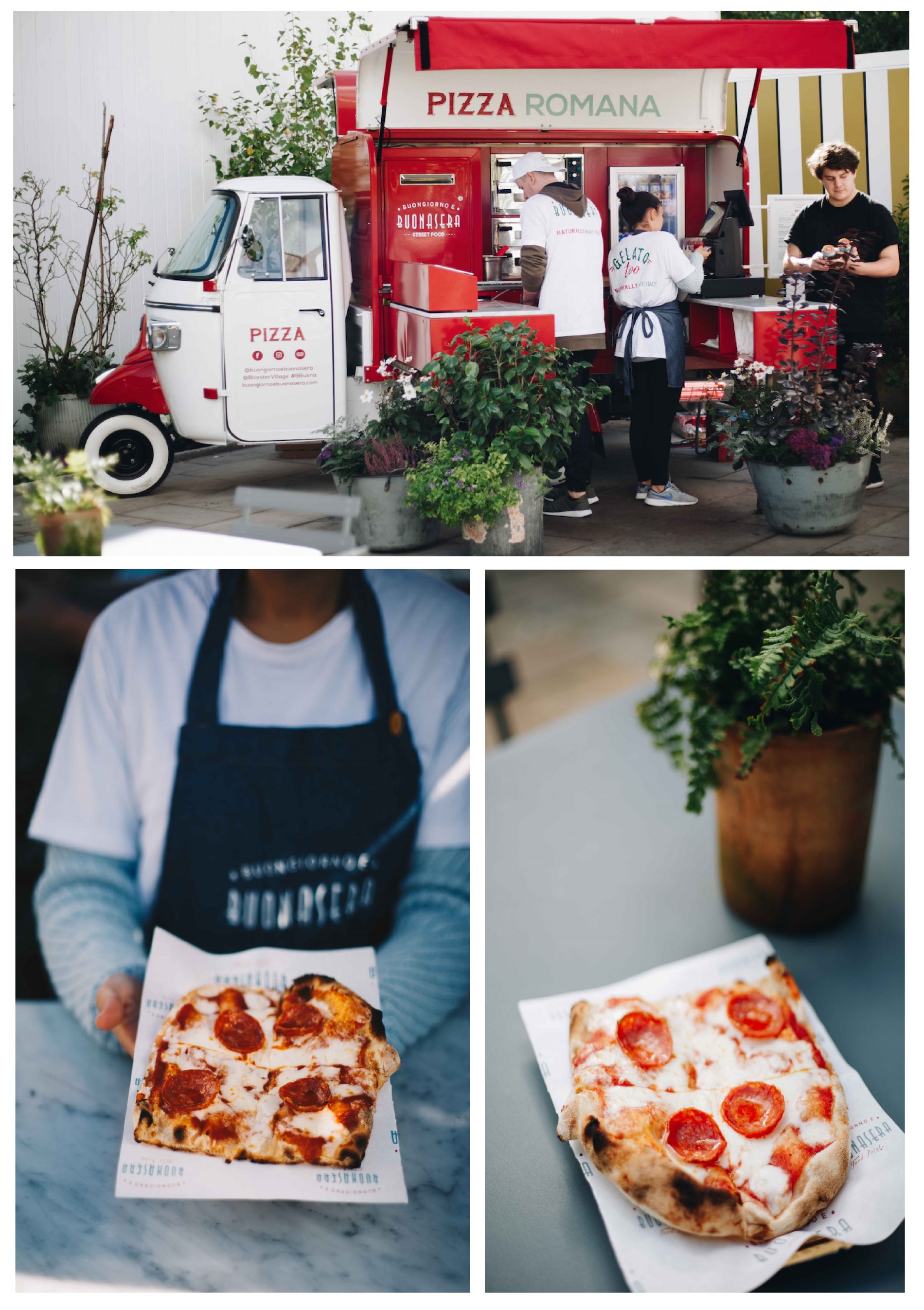 Buongiorno e Buonasera, one of Oxford's favourite Italian eateries, has come to Bicester Village, serving pizza to hungry shoppers all day every day. The authentic Italian pizzeria has parked up its customised Piaggio Ape, which promises to deliver the same quality of pizza and friendly service that is available in its dine in eateries.
Buongiorno e Buonasera opened in 2016 in Oxford, serving authentic Romana pizzas that offer customers a lighter alternative to the doughier Neapolitan style. Their signature oval shaped dough base is made from organic, non-GMO wheat, soy and rice flour and is left leavening for 48 hours – the result is pure, tasty and light.
The Bicester Village menu includes the Margherita and Salami Romana pizza, as well as the Paesana pizza (mushroom, olives and onions) and the Veggisima pizza (a vegan pizza with peppers, mushrooms, artichokes, carrots, onion, asparagus and courgettes). The Piaggio Ape will also offer a weekly special and a range of soft drinks.
"We are delighted that our first mobile offering will be taking up residence in Bicester Village, Oxfordshire, close to where the Buongiorno e Buonasera journey began four years ago," said founder and CEO, Alessandro Bianchetti.
This new move represents Buongiorno e Buonasera's fourth site, with two eateries already in Oxford, one in the city centre and one in the residential area of Headington. Moreover, earlier this year, Buongiorno e Buonasera moved onto the London food scene, and delighted the capital's pizza lovers when their new pizzeria opened its doors on Baker Street, Marylebone.
Buongiorno e Buonasera will be trading alongside an extensive list of well-known retail and restaurant names at Bicester Village, including Lola's Cupcakes and Farmshop Restaurant & Café, as well as shops such as Ted Baker and Under Armour.