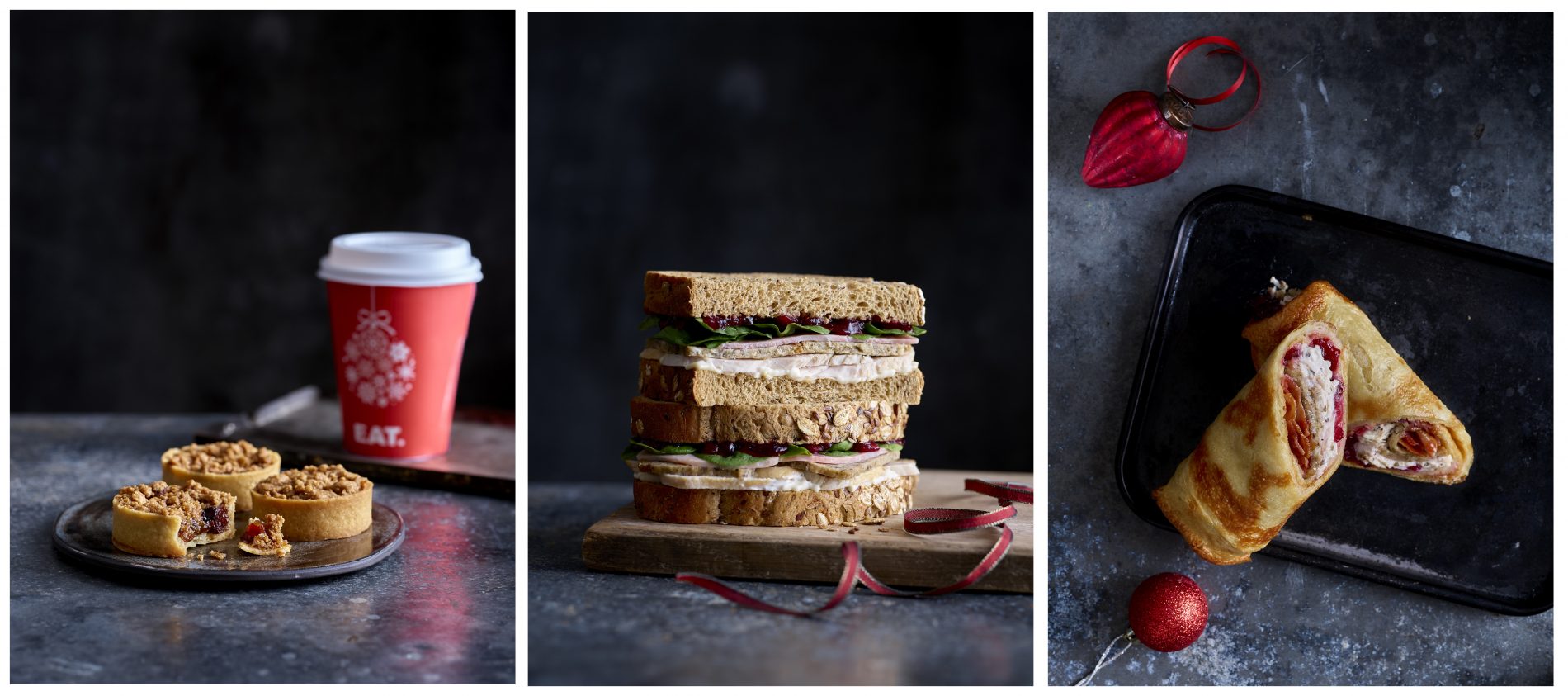 EAT.'s executive chef, French-born Arnaud Kaziewicz, a MasterChef: The Professionals finalist, is bringing together the tastiest ingredients from the Christmas larder to create a fully festive menu to suit a wide spectrum of tastes. Using quality ingredients sourced from the best suppliers and drawing on his experience of working in some of the UK's most renowned Michelin starred restaurant, this year's Christmas range is EAT.'s best yet.
Highlights of the new seasonal Christmas menu include:
ROAST IN A YORKSHIRE PUDDING WRAP (from £4.99): The ultimate Christmas treat – succulent turkey, sage & onion stuffing and crispy bacon with sage mayonnaise and cranberry sauce, all rolled up in a giant Yorkshire pudding.
KERALAN TURKEY CURRY (from £6.25): A delicately spiced Keralan Curry with all the Christmas Dinner favourites – turkey, parsnips & potatoes. Served with jasmine rice and topped with zingy lime pickled vegetables.
THE CORONATION ON ONION SEED BLOOMER (vegan, from £3.75): A vegan triumph, the Coronation bloomer pairs delicate Indian spice with crunchy cauliflower and sweet raisins sandwiched between onion seed bloomer slices.
PIGS IN BLANKETS POT (from £2.75): EAT.'s classic pigs in blankets pot with a little Christmas helping of cranberry sauce on top.
PIGS, MASH & GRAVY (from £5.75): Pigs in blankets, creamy mashed potato and lashings of gravy.
FESTIVE MAC N CHEESE (Vegetarian from £5.50): Creamy mac n cheese with a festive topping featuring cheddar, sage & crispy fried onions.
PIGS IN BLANKETS ROLL (£3.99): A very festive breakfast (or lunch or dinner)! A crusty roll packed full of pigs in blankets, lashings of wholegrain mustard mayonnaise and sweet ale onion chutney.
FESTIVE FULL WORKS ON MALTED WHEAT BAGUETTE (from £4.25): The full works in a malted wheat baguette. Turkey, stuffing, bacon, cranberry sauce, chicken mayonnaise & spinach topped off with crispy onions.
FESTIVE FULL WORKS MULTI-SEED BLOOMER (from £3.99): Butter basted turkey, sage & onion stuffing, smoked ham, mayonnaise, cranberry sauce & spinach on multi-seed bloomer.
BRIE, CRANBERRY & STUFFING ON ONION SEED (Vegetarian, from £3.99): A veggie festive favourite. Creamy Brie and crunchy nut stuffing with sweet peppery cranberry sauce and spinach on onion seed bloomer.
TURKEY & CRANBERRY (from £3.50): A simple classic. Butter basted turkey and cranberry sauce on malted bread.
THE MINCE PIE (from £1.50): The only mince pie you will need this Christmas. Delicately thin and crispy all butter pastry filled with 18 month aged mincemeat and topped with a cinnamon crumble style topping.
MINI YULE LOG (£1.75): A decadent all butter chocolate cake filled and topped with Belgian dark chocolate buttercream and scattered with milk chocolate flakes & sweet snow dusting.
MINI STOLLEN BITES (from £1.75): A mini take on the German Christmas classic. Bite sized stollen packed with vine fruits, glace cherries, cranberries and marzipan.
SALTED MAPLE CARAMEL & GINGERBREAD CAKE (from £2.65): A ginger sponge cake layered with ginger buttercream, caramel, maple drizzle & little chocolate gingerbread men.