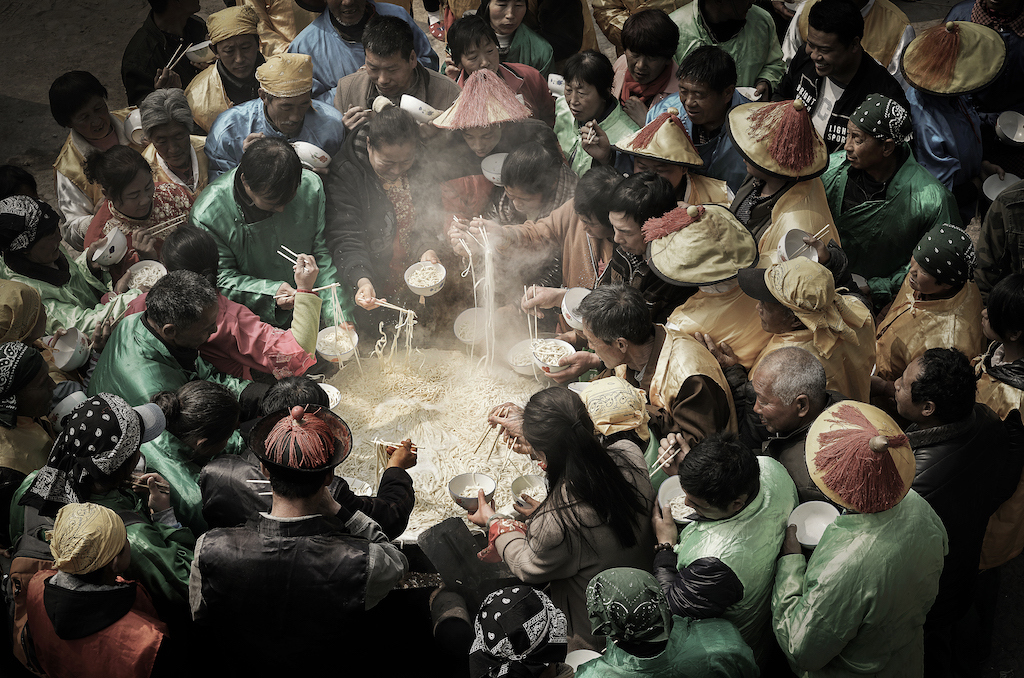 A magnificent shot, Cauldron Noodles, of a celebration of the goddess Nuwa, taken by Chinese photographer Jianhui Liao, has seized this year's crown at Pink Lady® Food Photographer of the Year 2019, the world's leading celebration of food photography and film.
Liao was presented with the £5000 prize by Andy Macdonald, who has headed up Pink Lady® in the UK, headline sponsor of the Awards. The announcement took place in front of an audience of four hundred guests at a glittering Champagne Taittinger reception packed with celebrities from the food and photography world, at the Mall Galleries, London on Tuesday 30 April 2019. Host for the evening was the legendary musician and cheesemaker Alex James.
"The competition was fierce," says Macdonald, "there were 9000 images entered from 77 countries – more entries and more countries than ever before – and the standard was phenomenal."
Jianhui's shot won the Food for Celebration category sponsored by Champagne Taittinger. "It stood out from the rest in its category, however, for the way in which he made the subject matter, a community feast, so beautiful and atmospheric."
Andy Macdonald, shortly to stand down as head of Pink Lady® in the UK, was also presented with the Outstanding Achievement Award, in recognition of his great contribution to the world of food photography, as headline sponsor from the Awards' inception in 2011.
The global judging panel this year, chaired by internationally-renowned food photographer David Loftus, included Claire Hyman, British Photography – The Hyman Collection, culinary superstar Alice Waters, Lucy Pike, Head of Pictures, WeTransfer, His Excellency Ali Bin Thalith, Secretary General, HIPA.