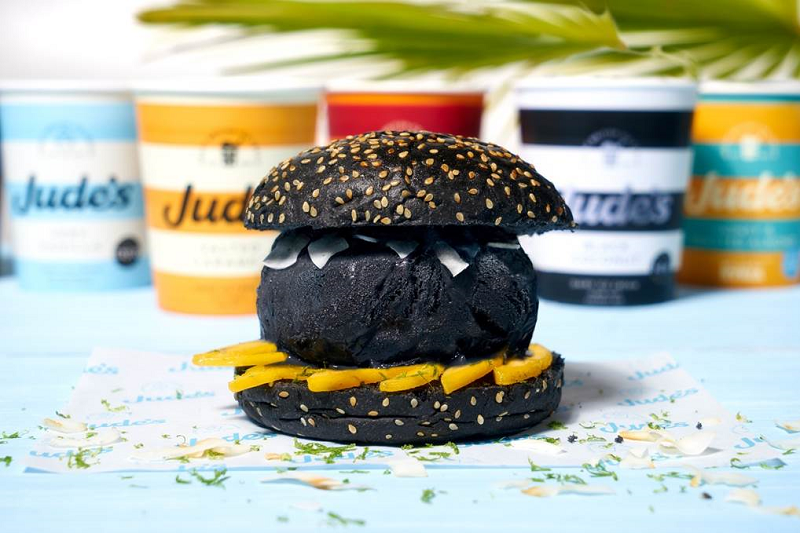 In honour of National Burger Day, on the 24th of August, and to celebrate the August Bank Holiday, Jude's the ice cream makers have created a Black Coconut Ice Cream Burger. The ice cream company based in Hampshire will be offering this unique creation at The Jude's Ice Cream Parlour which can be found at the Pear Tree Café in Battersea Park.. This limited edition dark delight will be on offer between Thursday the 24th of August and Monday the 29th of August.
Available for just £6, each of the burgers will be crafted using the newest flavour creation from Jude's. Ideal for those who love Instagram and other similar social media sites, the shocking black icecream is the latest product to join the Jude's flavour collection. Black Coconut is the shocking new flavour on served by the ice cream makers, made from creamy coconut milk and ash to give the ice cream it's amazing colour, the treat is currently one of the edgiest things to try in London.
Jude's has built up a reputation for creating amazing new ice cream flavours and combinations, and has proved to be popular with criticas and the public alike. The company started off with a single man in Hampshire creating ice cream with the milk from local cws. Now the company has won more than 40 Great Taste Awards. As well as creating delicious ice cream, the company also work hard to give back, and 10% of all of Jude's profits are given away as donations to charities that work with young people.
The Black Coconut ice cream is serves as part of the Black Coconut Burger sandwiched in between a toasted and also black brioche bun. To offer a flash of colour and a sharpness to the creamy coconut ice cream, the "burger" will be served with freshly sliced mango, a lime juice glaze and a sprinkling of coconut curls.