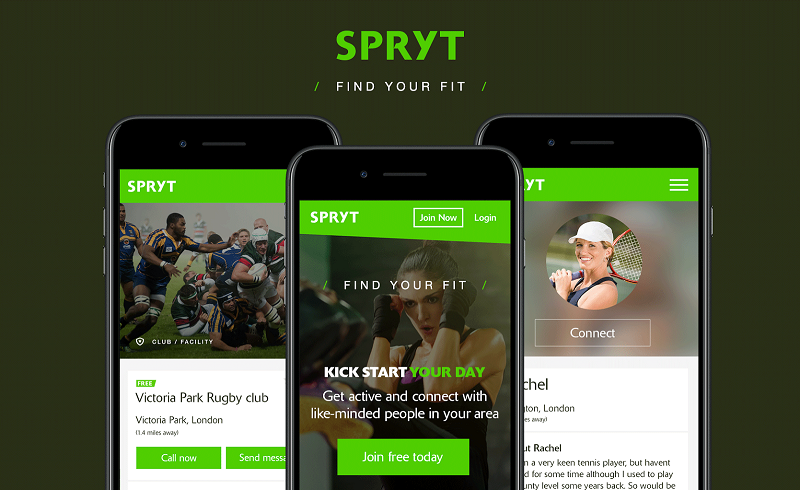 SPRYT, a newly established marketplace for sports and fitness has launched with the intention of connecting like minded people. The aim of the platform was to open communication between those looking to get fit and active. The platform can also connect people with coaches, clubs and sporting facilities in order to promote community sports teams and encourage people to exercise.
One of the co-founders of SPRYT, Paul Lyes had the idea for the platform after moving to London from South Africa. Moving into an area full of people you don't know is daunting, however those in that position looking for a sports team or club, getting the right information could be difficult. Paul Lyes had difficulty finding and getting involved in a cricket team because he didn't know anyone, and in the end joined a team that was miles away because he knew another player. The idea behind SPRYT is that on any phone, a user has access to information about where local teams, facilities and instructors are for more than 80 different sports and fitness activities.
SPRYT is being advertised as going over and above the capabilities of other similar platforms such as ClassPass, Bvddy and Bidvine as the users of this new platform are able to select from a range of different sports and activities in order to get fit and meet other like-minded people. Also os part of the platform, the extensive list of 100,000 clubs, coaches and venues will be able to target those in the database that could be potential members r clients.
The creation of this platform is building on a current trend for fitness and wellbeing. The Government are wanting to encourage more and more people it to looking after themselves. Schemes such as the This Girl Can and Active 10 are focused on getting people active no matter what they look like, it's about doing something that keeps you healthy that you enjoy. Access to a platform that can help the user and the venue is another great way to find a new activity or sport that you love.