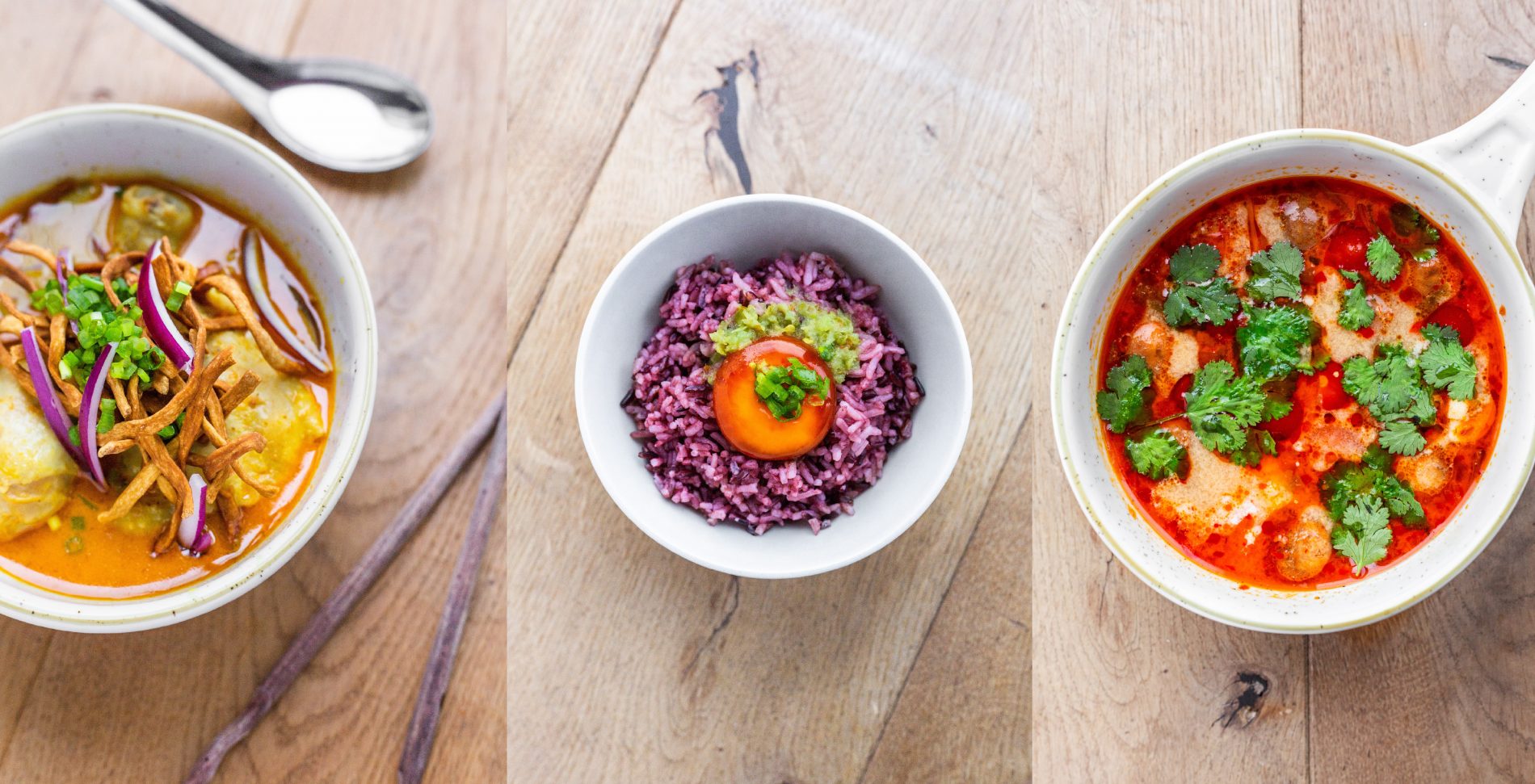 Reinvented Thai food will be hitting the streets of Soho this December in the form of new restaurants, Wild Rice and Mamasan. Wild Rice will be the ground floor restaurant focusing the menu on small plates to share, showcasing traditional, bold and vibrant Thai flavours, paired with seasonal British ingredients to create reinventions of classic dishes. The underground basement casual concept will be Mamasan, offering street food dishes such as Thai fried chicken and bubble tea alcoholic and non-alcoholic cocktails.
The Wild Rice interiors will feature an entire wall of windows inspired by the richly coloured timber buildings that are ubiquitous with the old town of Bangkok. The Mamasan décor will be themed on Chinatown in Thailand, with lanterns, neon signs and colourful lights for a vibrant but mysterious atmosphere.
Wild Rice and Mamasan are the first restaurants from the young Thai duo, which was conceived from their love of trying new things and believing that tradition is ever changing and being constantly recreated. The Wild Rice menu features authentic Thai dishes passed through family generations that have been reinvigorated and refreshed. Dishes will change seasonally and be ever changing on the menu with lots of healthy options. Wild Rice will cater for all dietary requirements including offering vegan and vegetarian dishes as well as gluten and dairy free alternatives.
Dishes include:
Goi Pla Thai Ceviche 
raw seabass, lime, red chilli, fish sauce, toasted rice 
'Yum' Chargrilled Beef Salad 
grilled beef, garlic, cherry tomatoes, fish sauce, red chilli, lime 
Pulled Chicken Leg 'Khao Soi' Soup 
turmeric, shallot, galangal, coconut 
Plaa Salmon 
Salmon sashimi, chilli, lime leaf, lemongrass, lime 
Thai Avocado Salad 
avocado, courgette, garlic and lime dressing 
Pad Thai Woonsen in Claypot 
Vermicelli, beansprout, carrot, peanut, tamarind 
Mamasan offers casual dining with an innovative drinks list in the downstairs Soho space inspired by the Yaowarat Thai bars in Bangkok. The signature dish will be their Southern Thai Fried Chicken, available as wings or boneless thighs marinated in various Thai spices such as coriander root, garlic and soy sauce and topped with crispy shallots. On the side guests can order the Crispy Fries dusted with Thai seasoning such as the Spicy Larb Fries with toasted rice, lime and chilli.
Wild Rice can hold a maximum of 36 covers seated and Mamasan can seat 25. Both restaurants will open on 3rd December for a two-week soft launch period where guests will receive 20% off the food bill. The restaurant will fully open from 1st December, six days a week and Mamasan dishes will also be able to order for takeaway.