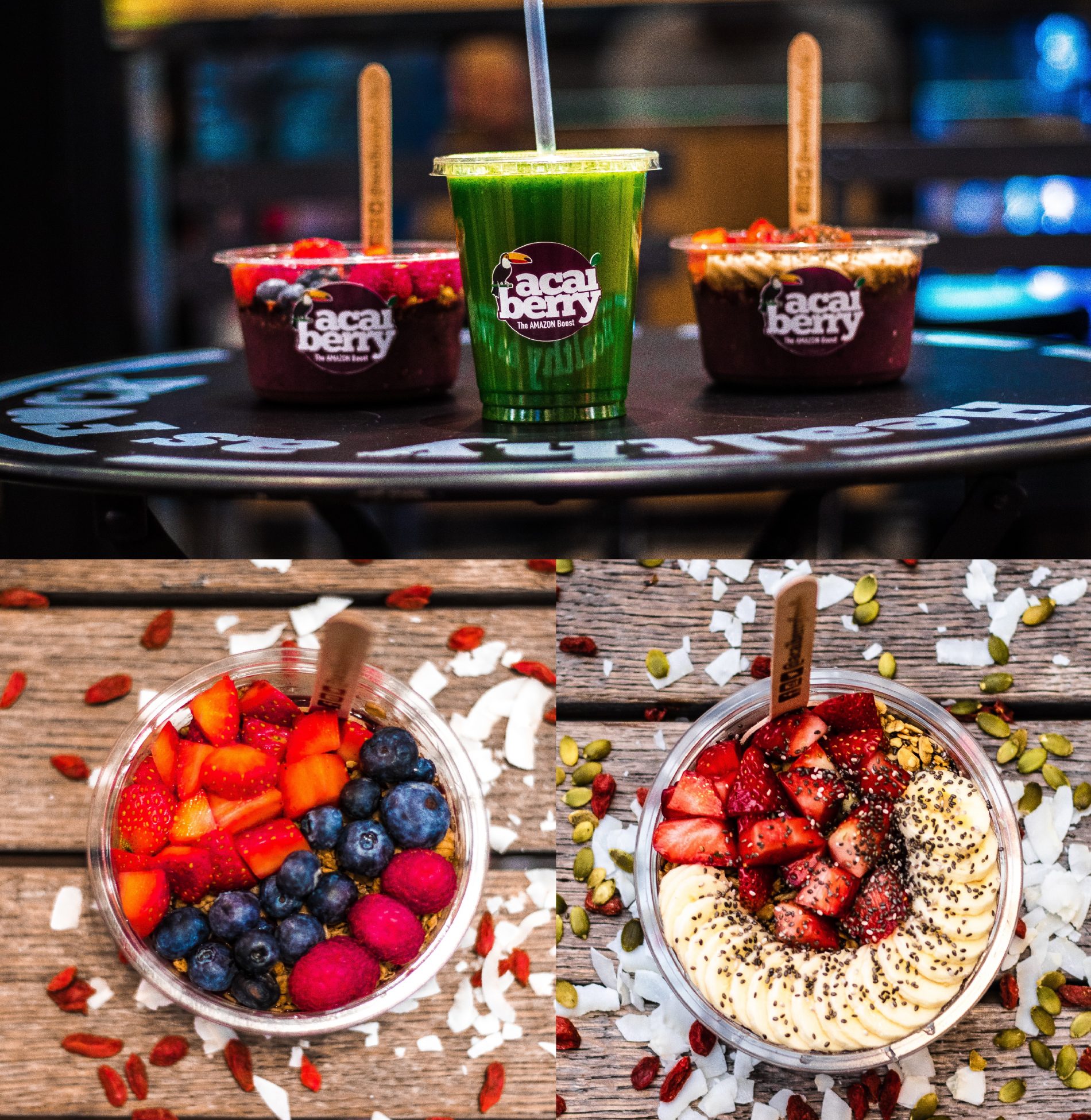 The Brazilian superfood brand Acai Berry, which gained overnight popularity when David Beckham happily posed for Instagram photos with the co-owner as he tucked into a delicious acai bowl, has opened a new superfood bar on the King's Road, Chelsea to kick off the New Year.
The store will operate a 'pay what you like' policy on the 2nd February, where instead of paying the normal price for food and drink, customers will be asked to make a donation to charity with 100% proceeds going to homelessness charity, Shelter.
The acai brand, which boasts the purest and finest grade Amazonian acai available on the UK market right now, opens the new store following the huge success of its current superfood bars in Argyll Street (Oxford Circus), Kingly Court, Carnaby Street and Ibiza Spain.
Astounded that acai – a firm food staple in Brazilian and American daily diets – hadn't taken off in Europe, Brazilian-born friends Marcus Carmo and Renato Damiano made it their mission to bring acai to the British people, in a fun, tasty and healthy go-to form.
Firm in the knowledge that acai was a favourite amongst A-list celebrities, Marcus and Renato soon saw their superior grade acai endorsed by high profile clientele and world class athletes such as Usain Bolt and Phillipe Coutinho, amongst others, who appreciated the enormous health benefits of eating delicious acai on a regular basis.
Packed with antioxidants and bursting with nutrients, the acai berry has long been embraced by Brazilians for a multitude of health benefits. A great source of omega fats, minerals and amino acids, acai contributes to a strong immune function, maintenance of healthy skin and protection of cells from oxidative stress. And with winter weather in full force, there is no better immune booster!
Acai Berry offers customers the purest, highest grade of acai currently available in the UK, with the berries being picked, pulped and then frozen within just five hours to ensure all nutrients are locked in.
At Acai Berry, customers can enjoy acai (which is vegan, gluten-free, non GMO) for breakfast, lunch or dinner, in a bowl or as a snack or a smoothie. They also sell delicious acai-packed protein balls, brownies and organic coffee.
The deep red superior grade acai puree forms the base of bowls to which customers can add their own choice of toppings such as granola, fresh fruit or peanut butter.
Starting with a small stall on Brick Lane two years ago, Acai Berry has grown to include two London shops and a pop-up bar in Ibiza. The new bar in Chelsea's King's Road is set to be the brand's biggest venture yet with some exciting new menu additions including the Tropical Funky, served for 2 people inside a fresh pineapple bowl, filled with pure acai superfood, topped with fresh sliced strawberries, kiwi & organic coconut flakes or for the fitness fanatics a Kale Kick of pure acai superfood, organic coconut water, fresh kale and banana or for the healthy hedonists out there, the Hangover Heaven with acai, natural coconut water, sliced banana and granola.