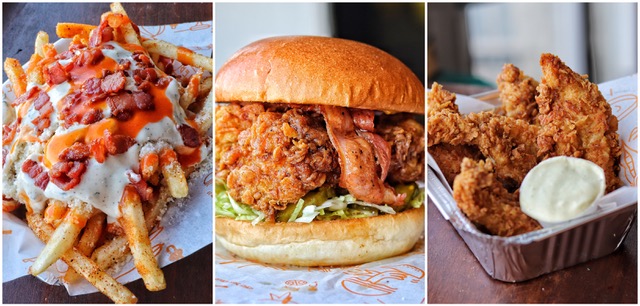 Street food favourites, Other Side Fried, have opened their doors to their very first bricks and mortar restaurant in a converted railway arch in Brixton. The launch marks a homecoming for founders, Matt and Tommy, who started the brand when living together in the area and took their fried chicken burgers to Brixton night market in their converted food truck.
Now, the two are bringing an updated menu of signature burgers, strips and sauces – with the addition of the team's very first vegan burger and vegan Dirty Tots! The site will also serve a drinks menu of Camden Hells lager on tap and NICE white wine cans as well as whisky and coke, gin & tonic cans. 
Designed as a 16 cover takeaway restaurant, the site will join Other Side Fried's kiosks at Leicester Square, Pop Brixton, Peckham Levels and Camden Market – and will mark the fifth anniversary of the brand. 
On 6th December, Other Side Fried will be giving away 500 FREE Buffalo burgers from 12pm to people who subscribe to their newsletter here. First come, first served! 
Other Side Fried Buttermilk fried chicken kings will open a permanent home in Brixton on 2nd December *MENU CONFIRMED* 

MENU BURGERS Classic Fried chicken, mayo, lettuce 
Buffalo Fried chicken, hot sauce, ranch sauce, lettuce and pickles 
Kiev Fried chicken, parmesan, kiev mayo, lettuce and pickles 
Vegan go vegan! Fried CHIK'N, ranch sauce, hot sauce, pickles, lettuce 
OSF Fried chicken, bacon, double american cheese, bacon, OSF sauce, pickles, lettuce 
Honey Bacon Fried chicken, bacon, smoked honey butter, pickles, lettuce 
SIDES Chicken strips 3 piece buttermilk fried chicken tenders 
Fries With cajun salt 
Dirty fries Bacon, parmesan, ranch sauce, hot sauce 
Vegan dirty tots Tater tots, "bacon" bits, ranch sauce, hot sauce 
DESSERTS OSF Brownie Salted caramel