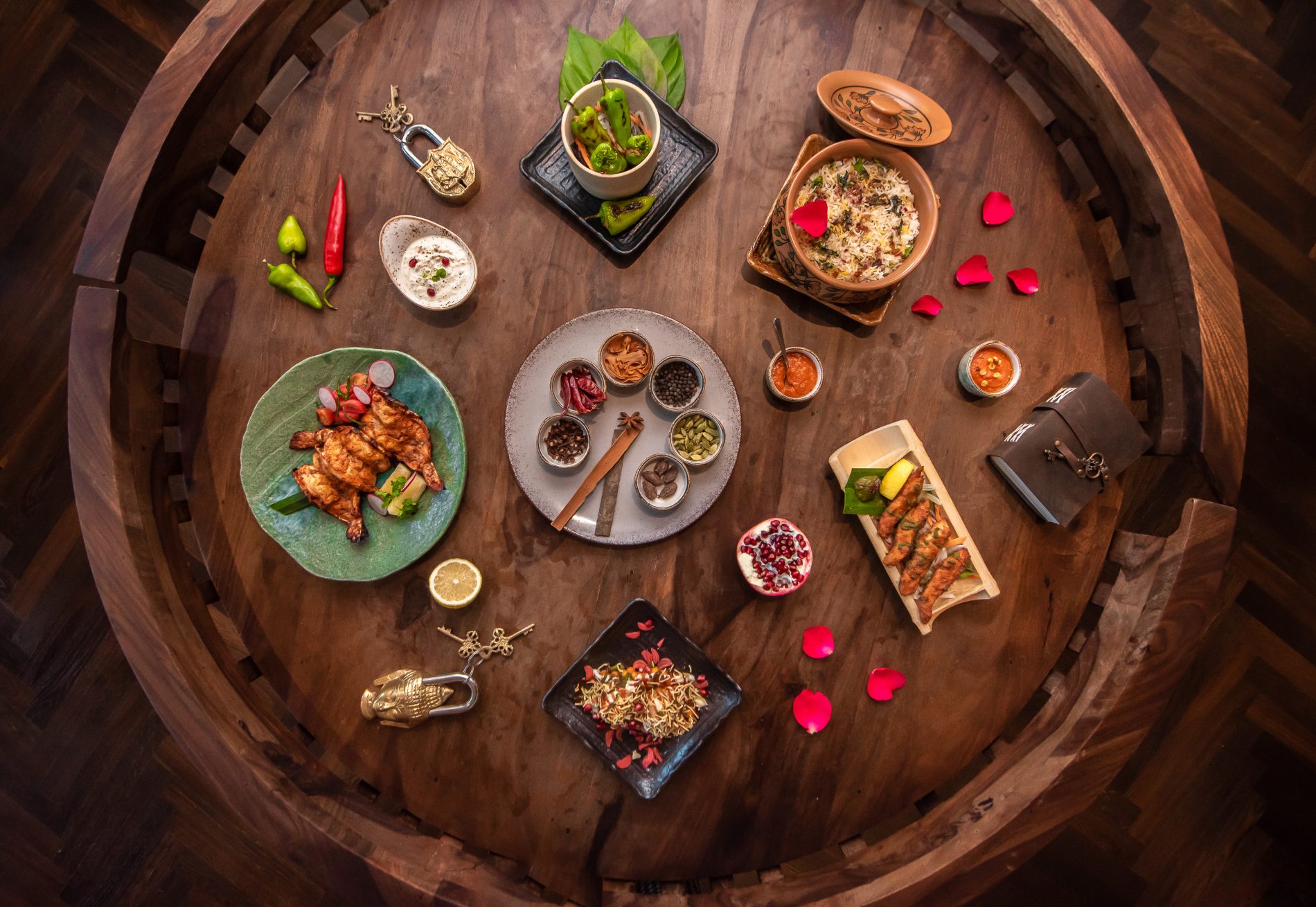 Chokhi Dhani, a restaurant, bar and terrace in Battersea that provides the most authentic Indian experience in London, is launching bottomless Thali, so guests can indulge in unlimited helpings of a range of traditional Rajasthani dishes. 
Priced from £32.00 to £35.00 per person and available for lunch on Thursdays and Fridays from 12.00pm – 3.00pm and evenings on Tuesdays and Wednesdays from 5.00pm – 10.30pm, customers can choose from two different Thalis, each including curries, dal, roti, chutney, rice and tandoor cooked items. 
Chokhi Dhani's bottomless Thali offering features a number of typical Rajasthani dishes, that will provide a delicious education in the flavours of the ancient princely state of Rajasthan. 
In India's Ayurveda tradition, there are six different flavours: sweet, salt, bitter, sour, astringent and spicy. The Thali delivers all these in a single serving, perfectly balancing each flavour profile. 
Bottomless Thalis are a quintessentially Indian meal, due to their variety and generosity of portion. The menu will offer both a standard and vegetarian option including:
The Vegetarian Royal Platter, the 'Maharani Thali' (£32.00), featuring:
The 'Maharaja Thali' Platter (£35.00) features meat-based dishes, including:
Individuals that opt for the bottomless Thali will also receive a complimentary keyring featuring grain of rice art handmade by artisans in the Chokhi Dhani villages in India. 
Chokhi Dhani's restaurant has only recently opened in London but it is an established brand in India. It launched in the subcontinent in 1989, when visionary Founder Gul Vaswani set out to preserve and celebrate dying Rajasthani culture by creating small 'villages' to promote their traditions, as well as provide a platform for emerging talent from entertainers to acrobats and folk dancers based around Rajasthan. 
The team also launched Kalagram in 2007, an initiative to promote the art culture of India, aiming to retain and preserve age old traditions of creating artworks and handicrafts using simple tools and techniques. The villages allow artists and craftsman to flourish and grow by providing a place to make and sell handmade souvenirs, apparels and jewellery.
Chokhi Dhani showcases the same fine food, vibrant atmosphere, exceptional service at its 200 cover restaurant as it does in its villages in India. It features two floors, a stunning riverside location, an outdoor, covered shisha terrace and a private dining room for up to 16 guests. 
The bottomless Thali is priced at £32.00 for the vegetarian Thali and £35.00 for the meat based Thali  per person and available for lunch on Thursdays and Fridays from 12.00pm – 3.00pm and evenings on Tuesdays and Wednesdays from 5.00pm – 10.30pm. This offering is for individuals only and sharing isn't available.  The complimentary keyrings are only valid for a maximum table size of 10 people.