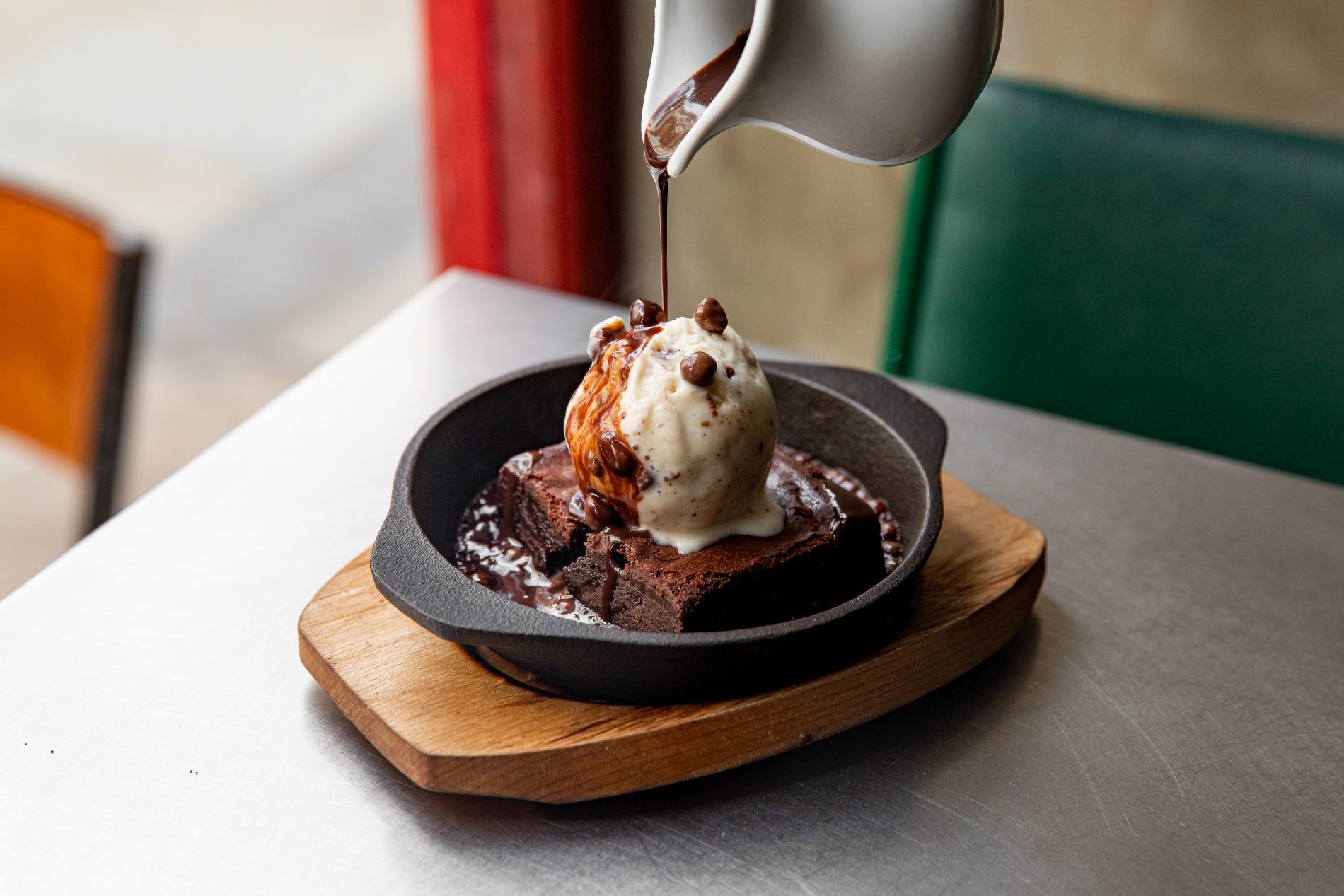 Soho's Indo-Chinese restaurant Fatt Pundit has announced a one-off collaboration with the award-winning Snowflake Gelato, who have given the restaurant's iconic Sizzling Brownie a luxury gelato makeover, launching this October. 
Following the popularity of their signature dessert which has become an Instagram sensation due to its theatrical presentation, Fatt Pundit teamed up with SOHO neighbour, Snowflake Gelato to make their best-selling dessert, even better. The Fatt Pundit x Snowflake Gelato Sizzling Brownie special is perfectly rich chocolate brownie, topped with a bespoke scoop of Snowflake Gelato's vanilla gelato with chocolate covered honeycomb pieces, served tableside in a cast-iron pan before being drizzled with a generous helping of hot chocolate sauce.
Snowflake's gelato is made with 100% natural ingredients using organic Jersey Milk and cream from Somerset, before adding the world's great flavours – in this case rare vanilla from the Sava region of Madagascar. Snowflake combine the best of both worlds, working directly with British farmers for locally sourced ingredients, then mixing them up with the love, passion and traditional methods their Italian chefs bring.
"We're so excited to be teaming up with our Soho neighbour Snowflake Gelato. As we live through these strange times community spirit is more important than ever, and we all need to do everything we can to support locally and bring Soho back to its glory. The flavour they've created for us is incredible, we can't wait for people to try it," said Co-Owner Huzefa Sajawal.
Launching Thursday 1st October, the Fatt Pundit x Snowflake Gelato special will be available on the menu until Thursday 31st December and is priced at £8.50.