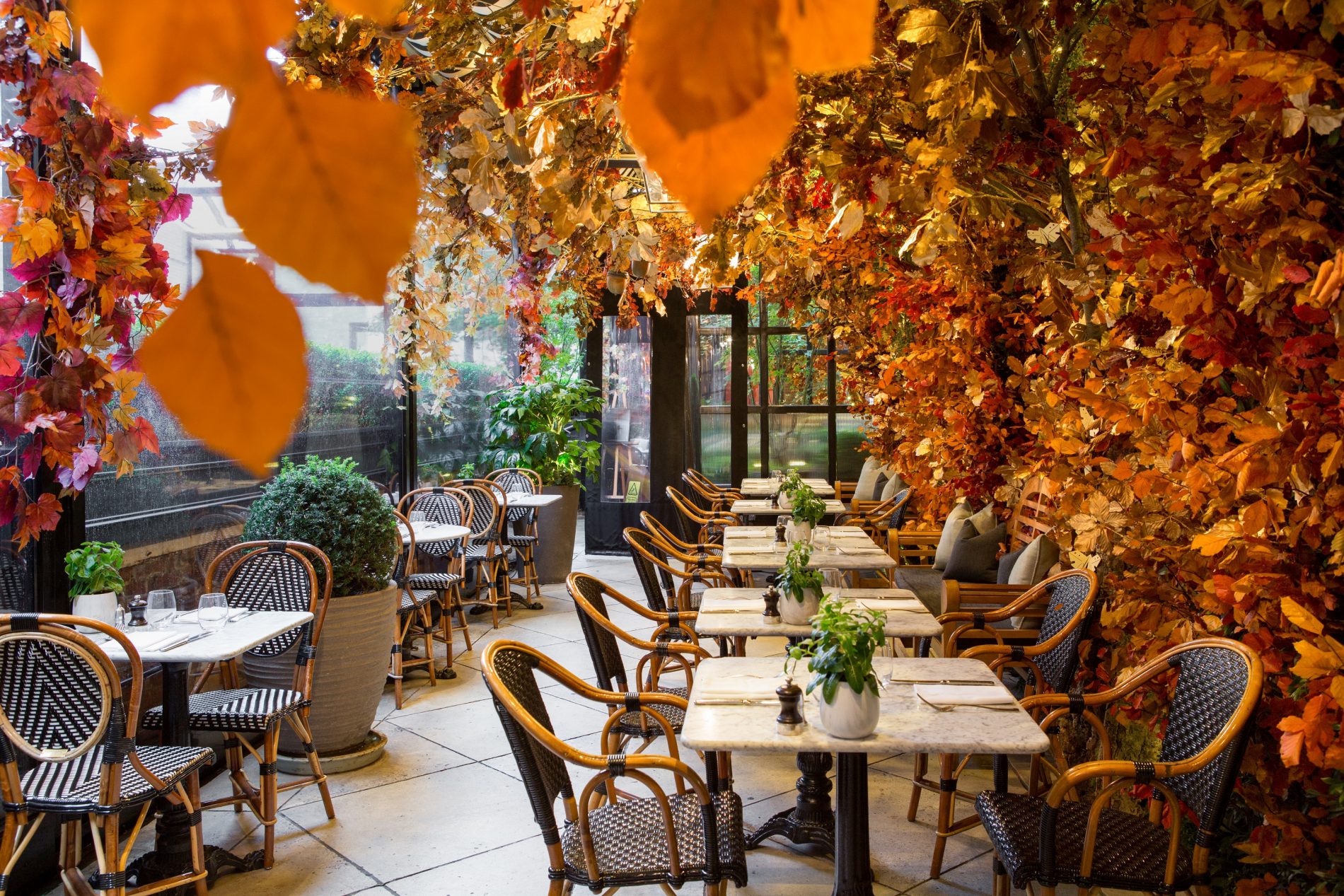 Autumn has arrived and Dalloway Terrace has been transformed once again. This new incarnation embraces the gilded hues of the season with a new shining floral installation to celebrate the golden hour with Æcorn – the world's first range of non-alcoholic aperitifs.
Now adorned with an abundance of gold-coated leaves and festooned with shimmering brushed gold butterflies, the stunning terrace – described by Vogue as "one of the world's most Instagrammable restaurants" – has been transformed by London florists Wild at Heart. Evoking an enchanting autumnal afternoon spent beneath a glorious oak tree; Dalloway Terrace is a gleaming oasis resting under a canopy of preserved autumnal Oak and Beech leaves, natural cork bark and golden silk leaves, in which to enjoy golden hour with Æcorn.
Whetting the appetite with a pre-dinner drink has long been understood to prepare the palate and stomach for a meal, improving our enjoyment of food. Informed by 17th century English herbal remedies and inspired by the European aperitif tradition, the Æcorn collection is made from 100% English grown Pinot Noir, Chardonnay and Meunier grapes. These grapes are pressed early and blended with appetite stimulating herbs, roots and bitter botanicals to create a range of complex and bold non-alcoholic aperitifs.
This season Dalloway Terrace has worked with Æcorn Aperitifs to create a menu of aperitifs and present perfect pairings to awaken the appetite. New tipples to be enjoyed on the golden terrace this autumn include Æcorn Elderflower Spritz (floral & crisp, made with Æcorn Dry, Elderflower Cordial & English Sparkling Wine and perfect with Superfood Salad or Burrata with Seasonal Tomatoes, £12), Sweet But Sassy (fresh and citrusy, made with Strawberry-infused Æcorn Dry, Three Citrus Shrub, Non-Alcoholic Violet Bitters, SASSY Le Cidre Rosé and perfect with Grilled Organic Salmon or Chicken Broth, £12). Non-alcoholic options on the aperitivo menu are Nogroni® (complex & intense, made with Seedlip Spice
94, Æcorn Bitter & Æcorn Aromatic and perfect with Steak Tartare or Wild Mushroom Risotto, £10) and Golden Hour (bitter & refreshing, made with Æcorn Bitter, Clementine Juice, LE Soda and perfect with Paillard of Chicken, £10).
Dalloway Terrace's Head Pastry Chef, and Afternoon Tea of the Year 2018 finalist, Chris Dodd, has devised a menu of autumnal creations inspired by Æcorn's three distinct aperitifs. The new Afternoon Tea menu at Dalloway Terrace reflects the best that autumn has to offer. Delights to be enjoyed on the new menu include 'Conkers on a String' (Chestnut and Milk Chocolate Cream, laced with Æcorn Aromatic) and a Sage & Lemon Tartlette (with Æcorn's 'Dry' Liqueur). Guests are also invited to indulge in a Bay & Orange 'Nogroni' Trifle, and share a 'Pine Cone' (made from both Cru Udzungwa 70% Dark Chocolate and Pine Mousse with a Liquid Chocolate Centre).
New additions to the savoury menu include an array of autumnal treats, including Smoked Trout Rillettes on Guinness Bread, Sage Chicken Mayonnaise on Pumpernickel Bread and Cucumber Ribbons marinated in Aecon Dry Liqueur. The Afternoon Tea is available daily between 12pm and 4pm and is priced from £40pp.
Alongside Dalloway Terrace's autumnal Afternoon Tea, Executive Head Chef Byron Moussouris has also made some seasonal changes to the restaurant's menu. Additions such as Black Fig Salad with San Daniele Ham, Gorgonzola, Piccante, Walnuts & Carta di Musica (£12.50), Rack of Lamb with Charred Squash, Peas & Salsa Verde (23.50) and Hot Smoked Trout Salad with Horseradish & Soft Egg (£14) allow guests to enjoy a true flavour of autumn.
Also new on the menu at Dalloway Terrace are a selection of comforting and indulgent autumnal desserts, complete with a suggested wine pairing. New options for this season include Vanilla & Hazlenut Cheesecake with Ruby Plums (£8) perfectly paired with Muscat de Beaumes de Venise (£5), Apple Crumble Pie with Clotted Cream (£8) which can be beautifully complimented with Tokaji (£9) and Black Forest Sundae served with Hot Chocolate Sauce (£6). Finally, guests at Dalloway Terrace are able to fully embrace the changing weather by snuggling into wollen blankets.