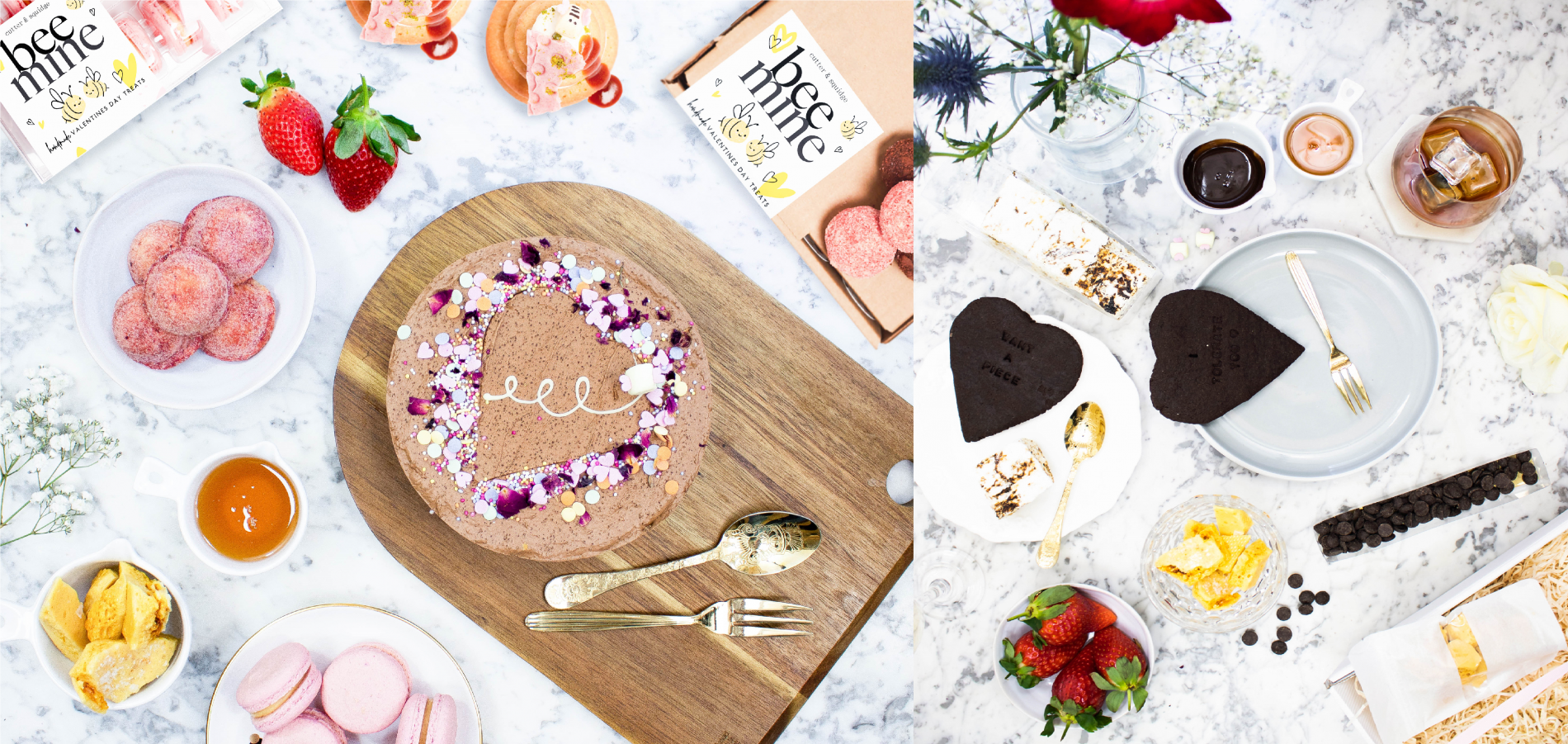 Cutter & Squidge, the sister-owned all-natural Soho bakery behind the 'Biskie' and 'The Potion Room' afternoon tea experience, is launching its second boutique at The Royal Exchange in the heart of the City of London. Throwing open its doors on 11th February 2019, just in time for Valentine's Day, customers will be greeted with an exquisite selection of vibrantly decorated artisan bakes including freshly baked cakes, Biskies, brownies, macarons, cake truffles, cookies and more. All are made from natural ingredients with a 'less is best' approach to fat and sugar in classic Cutter & Squidge style.
Cutter & Squidge will be joining a prestigious line-up of luxury brands including Fortnum & Mason, Smythson and Jo Malone at The Royal Exchange in one of London's most iconic buildings. With a clean, bright and welcoming aesthetic, the boutique has been designed to put cakes front and centre with a tantalising window-facing display counter, and to provide a relaxed haven for customers to unwind with a coffee or one of their signature rainbow tea lattes away from the bustle of the street.
Through its online ordering and delivery service, Cutter & Squidge already counts among its customers many City-based businesses and office staff. Its new location will mean it can extend its click and collect service to these customers, making office birthdays, celebrations and last-minute gifting that bit easier to organise within the Square Mile.
The Royal Exchange boutique will launch featuring Cutter & Squidge's 2019 Valentine's Day range, including:
Bee Hive Valentine Biskie: What better way to tell that special someone you're 'meant to bee' than with a Cutter & Squidge signature Biskie in the shape of a bee hive? Thick layers of pistachio and salted honey lightened buttercream are sandwiched between a stack of soft vanilla Biskies. Finished with a drizzle of salted caramel, pistachio crumb, a pink white chocolate shard, and a fondant bee. £4.10 each or £22.90 for a box of 8. Available in store and for London delivery from 5th February. In store personalisation on every 4 box and above will be available in The Royal Exchange. Pre-order from 28th January.
Valentine's Chocolate Fondue Love Kit for Two: It's all about sharing and likely to get messy – that's love. Featuring a make-at-home warm chocolate ganache (just add cream) and a luscious selection of dipping items including slogan cookies ('I'LL NEVER DESSERT YOU', 'I TOLERATE YOU', and 'WANT A PIECE'), pink vanilla cake bites, honeycomb and toasted marshmallows. £22.90 (also available as Love Kit for One – £14.90). Available in store and for nationwide delivery from 22nd January. Pre-order from 18th January.
Valentine's Chocolate Fudge Cake: Go large on the romantic gestures with a decadent 6" fudge cake with the option of a personalised message. Share with your love this freshly baked gooey chocolate sponge liberally coated in our fudgy chocolate ganache frosting. Finished with pretty dried rose petals and sprinkles in the shape of a heart and a fondant love bug. £19.50 (or £24.50 with keepsake tin). Personalisation available in store at Cutter & Squidge Royal Exchange, Soho and for online orders. Available in store and for nationwide delivery from 5th February. Pre-order from 28th January.
Created by sisters Annabel and Emily Lui, Cutter & Squidge gained recognition in the London food market and pop-up scene with their 'Biskie', an Instagram-ready cake and cookie hybrid creation, sandwiched with lightened buttercream, handmade jams, caramels and other delights. This success lead to the opening of their flagship Soho store in September 2015.