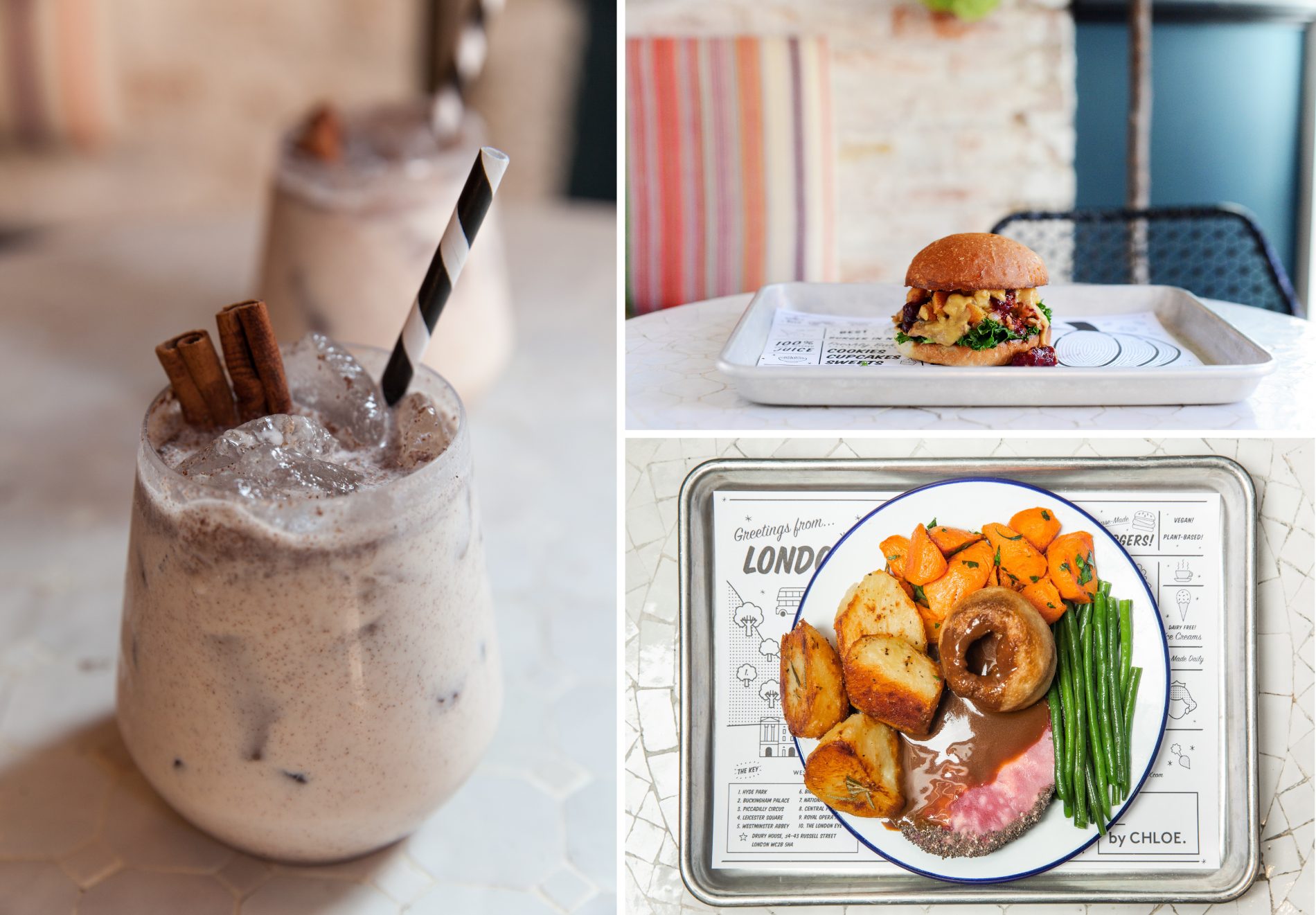 Popular vegan hang-out by CHLOE. have launched three fun festive items in celebration of the holiday season; 'No-Egg-Nog' cocktail, 'Gobble Gobble' burger and Christmas lunch alternative 'Royal Roast' all available from now until the end of December.
'No-Egg-Nog' provides a vegan twist on the classic Christmas drink and is made with almond milk and run, spiced with a blend of pumpkin pie spice and turmeric and served over ice with a cinnamon stick.
The 'Royal Roast' is a plant-based option of a classic turkey roast dinner even including a vegan Yorkshire Pudding. Celeriac is used as the centrepiece and is baked in salt, rolled in chia seeds and tinted with raw beetroot. Accompanying roasted vegetables include glazed carrots, green beans, thyme potatoes and served with rosemary gravy. This dish is extremely easy to recreate by the home cook and you can find the recipe in the notes below.
Guests are invited to experience all the classic flavours of the festive period packed into a potato bun with the 'Gobble Gobble' burger. This celebration dish is made with lemon-caper seitan, sautéed kale, rosemary gravy, harvest stuffing and fresh cranberry sauce all packed into one bite.
Pricing
No-Egg-Nog : £10.00
Royal Roast : £9.95
Gobble Gobble : £10.95
No Egg-Nog Recipe
4 cups almond milk
0.5 grams ground turmeric
0.5 grams teaspoon salt
4.76 grams pumpkin pie spice
To serve one glass
Fill with ice
Fill with eggnog
Add 28.4 ml Rum
Stir well
Sprinkle cinnamon on top
Serve with cocktail straw
Royal Roast Recipe
Ingredients
50g Chia Seeds
200ml Water
1kg Sea Salt
25g Plain Flour
400g Whole Celeriac
100g Cooked Beetroot
Method
1. Mix half of the chia seeds with water until they puff up, drain and place to one side. In a separate bowl mix salt, flour and remaining chia seeds to create crust.
2. Line baking tray with parchment paper to prevent the celeriac from sticking and burning. Place some salt mixture on the parchment, place celeriac on salt base and then cover celeriac with remaining mixture. Cook on 160 C for 90 minutes.
3. Once cooked peel off skin from the celeriac and slice into 1/2cm discs.
4. Grate cooked beetroot and rub in on the discs to add pink colour.
5. Roll the disk edges in puffed chia seeds so that they stick. Add vegetables of choice and serve.