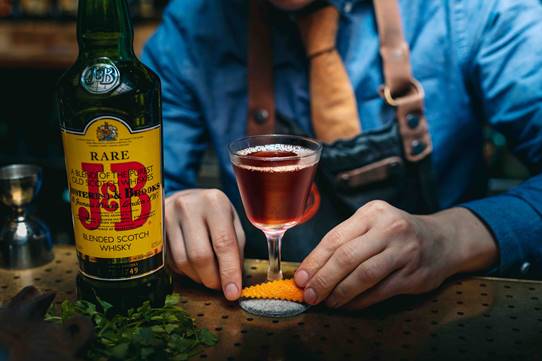 There is no better way to shake off the January blues than by celebrating Burns Night on the 25th January 2020. Observe this historic event and raise a glass to Robert Burns with the classic Bobby Burns cocktail, which has been given an unexpected 'Rare' twist by world-renowned Jason Scott, owner of Bramble Bar and the iconic blended Scotch whisky, J&B Rare.
This year why not take a twist on the traditional and make J&B Rare Scotch whisky part of your celebrations. Created in the 1930's (at the very same time the first known printed recipe of the Bobby Burns appeared in Harry Craddock's The Savoy Cocktail Book), J&B Rare has a light flavour profile, which makes it the perfect canvas for whisky cocktails such as The Bobby Burns.
Craddock's original recipe called for Italian Vermouth and Scotch Whisky with 3 dashes of bitters, Jason Scott's twist on the traditional combines J&B Rare with Balthazar Vermouth, Benedictine and Peychaud bitters, creating a subtle yet complex Bobby Burns.
Now in its 219th year, Burns Night is a true celebration of friends, food and whisky. What better way to mark the occasion than with Jason's instant classic. To make the J&B Rare Bobby Burns simply:
Add ice to a cocktail shaker. Pour in 50ml J&B Rare, 25ml Balthazar Vermouth, 5ml Benedictine and 2 dashes of Peychaud Bitters. Stir and strain into a chilled coupe glass. Garnish with a fresh lemon peel twist.
J&B Rare has been distilled, blended and bottled in Scotland since the 1930's and is a blend of 42 malt and grain whiskies. The heart of J&B Rare is formed from the finest Speyside malts including Knockando, Glen Spey, Auchriosk and Strathmill. The blend is returned to the cask for a further three years' maturation which brings together the bold flavours of the single malts with the lighter grain whiskies adding fullness and depth to the blend.