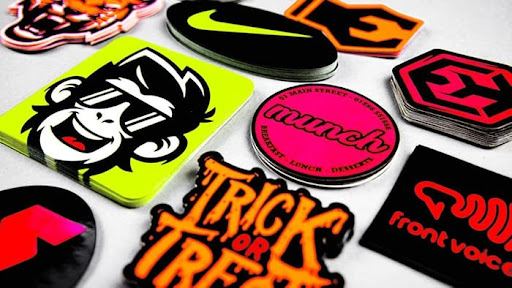 Have you read about sticker marketing and are keen to give it a try? Do you want to make sure you will achieve the best possible outcome when printing your stickers? Maybe, you are looking for some tips and tricks on designing for print?
In this article, you will find exactly that. We will share our top 5 tips on designing and printing stickers that stand out.
Below, you will find everything you need to know about your design, colours, sizing and the perfect material for your application. Are you ready to jump into the world of sticker printing? Then let's get started.
1. Use high-quality artwork
Your design is the foundation of your sticker. So, you want to make sure that you print it at the highest quality possible. Do not worry if you are not a professional designer. There are many great online design tools that will help you create high-quality designs.
If your design is a mix of text and design elements, a vector format will ensure the best print quality. Vectors consist of geometrical shapes and lines, which makes them easy to scale. SVGs and EPSs are perfect as they stay static when being exported to a printing program.
Are you working with an image? Then keep an eye on your DPI. DPI stands for dots per inch. An image consists of little dots, called pixels. The more pixels an image has per inch, the higher its resolution. A DPI of at least 300 indicates a good print quality.
2. Know your colours
Colour can be a little tricky when it comes to designing for print. That is because the colours shown on your screen follow a different colour scheme than your printer does. This means that not all the colours you see on screen can be printed.
Screens operate in RGB. RGB stands for red, green and blue. Based on these colours, your screen can create 16,777,216 different colours. Printers, on the other hand, work with CMYK. They use cyan, magenta, yellow and black to generate 16,000 colours – still a lot, but quite the difference.
To ensure that your colours will come out as vibrant as you want them to, convert the colours you see on screen from RGB to CMYK.
3. Pick the correct size
This tip seems rather obvious, but it is worth mentioning. Especially when choosing custom stickers UK, you can choose your sticker size freely. The very low prices many sticker printers advertise are usually based on the smallest size they offer. Make sure not to be tempted by such offers but keep your own requirements in mind.
A 2×2 cm sticker is about the size of a 50 pence coin. This can work brilliantly for simple logo designs. However, if you are after stickers that will stand out, we recommend a range between 5 cm and 8 cm. These sizes are super popular and work for many applications.
When designing your sticker on your computer, check its size at scale from time to time. This means to zoom out until your sticker has it's "real-life" size. Doing this ensures that you will be happy with the end-result.
4. Choose the perfect material
If you want to print your stickers at home, head over to the likes of Amazon to find printable sticker material. You can usually choose between vinyl-based material or paper stickers. Vinyl stickers tend to be more resistant to scratches and water, whereas paper stickers are more environmentally friendly.
Are you looking for something more eye-catching? Then we recommend checking out some sticker printers. Most of them offer great effect materials like glitter, holographic or fluorescent vinyl.
These materials are the perfect add-on to existing marketing campaigns or can help you announce a new product launch. They can even help you to elevate your product packaging, giving it a premium finish.
5. Stick with simple shapes
The great thing about choosing custom printed stickers is that you can choose any shape you would like. If you are after intricate die cut labels, professional sticker printers can save you a lot of time. With their digital cutting machines, they can create precise cut lines in seconds.
If you want to print your stickers at home, look for pre-cut sheet labels. These usually come in traditional shapes like circular, square and rounded corner stickers and can save you a lot of cutting time – especially if you are using scissors.
We love simple cut lines as they let your design be seen. On top of that, the simpler the cut line, the less likely your sticker is to peel.
And those were our top 5 on designing and printing stickers that stand out. Are you ready to put them into action and create your perfect custom stickers? We hope so! If you have any additional tips you would like to share, we would love to hear them in the comments below.
No tags