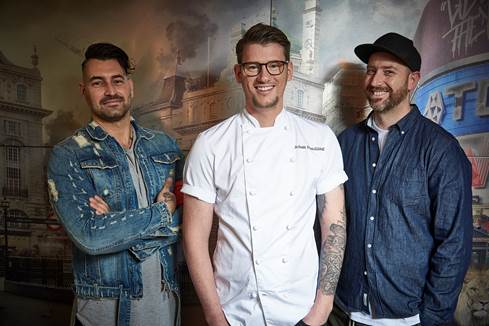 Adam Handling will be creating unique experiences for his guests at his bar operations – Eve Bar in Covent Garden, the new Iron Stag in Hoxton opening in July and The Bar at the Belmond Cadogan opening in December – by inviting leading cocktail and bar specialists Rich Woods (aka The Cocktail Guy) and Matt Whiley (Talented Mr Fox and Scout bar) for a collaboration.
"These guys are at the cutting edge of the UK cocktail and bar scene, and I am knocked out that they have agreed to share their expertise with me to make Eve Bar and Iron Stag indisputably top London bar destinations," said Adam Handling.
Enabling Adam to focus his attention on his existing and new restaurants and F&B operations, Matt and Rich have been appointed to enhance the cocktail and drinks offering at all bar locations.
"We have beautiful bars with a great name in Adam behind them, our role is to develop stand-out cocktails and drinks and create a story and an atmosphere that gives each bar its own personality," said Rich Woods.
Matt Whiley will bring the bars to the next level by introducing exclusive offerings, such as whisky soda on tap, kegged cocktails and a creative new bar programme.
Rich Woods is an award-winning bartender known for his unique creations and is at the forefront of bridging the gap between the worlds of food and liquid, being recognised for his avant-garde approach to mixology. Having opened both Duck & Waffle and Sushisamba in 2012, he now oversees the beverage development for the group – in all eight locations.
Talented Mr Fox is the brainchild of the highly acclaimed Matt Whiley. Matt's achievements and reputation have led him to be named Evening Standards top 1000 most influential Londoners. His groundbreaking work has impacted the cocktail industry globally having co-founded Fluid Movement and five award winning bars across London (Purl, Worship Street Whistling Shop, Dach & Sons, Talented Mr Fox & Peg + Patriot).