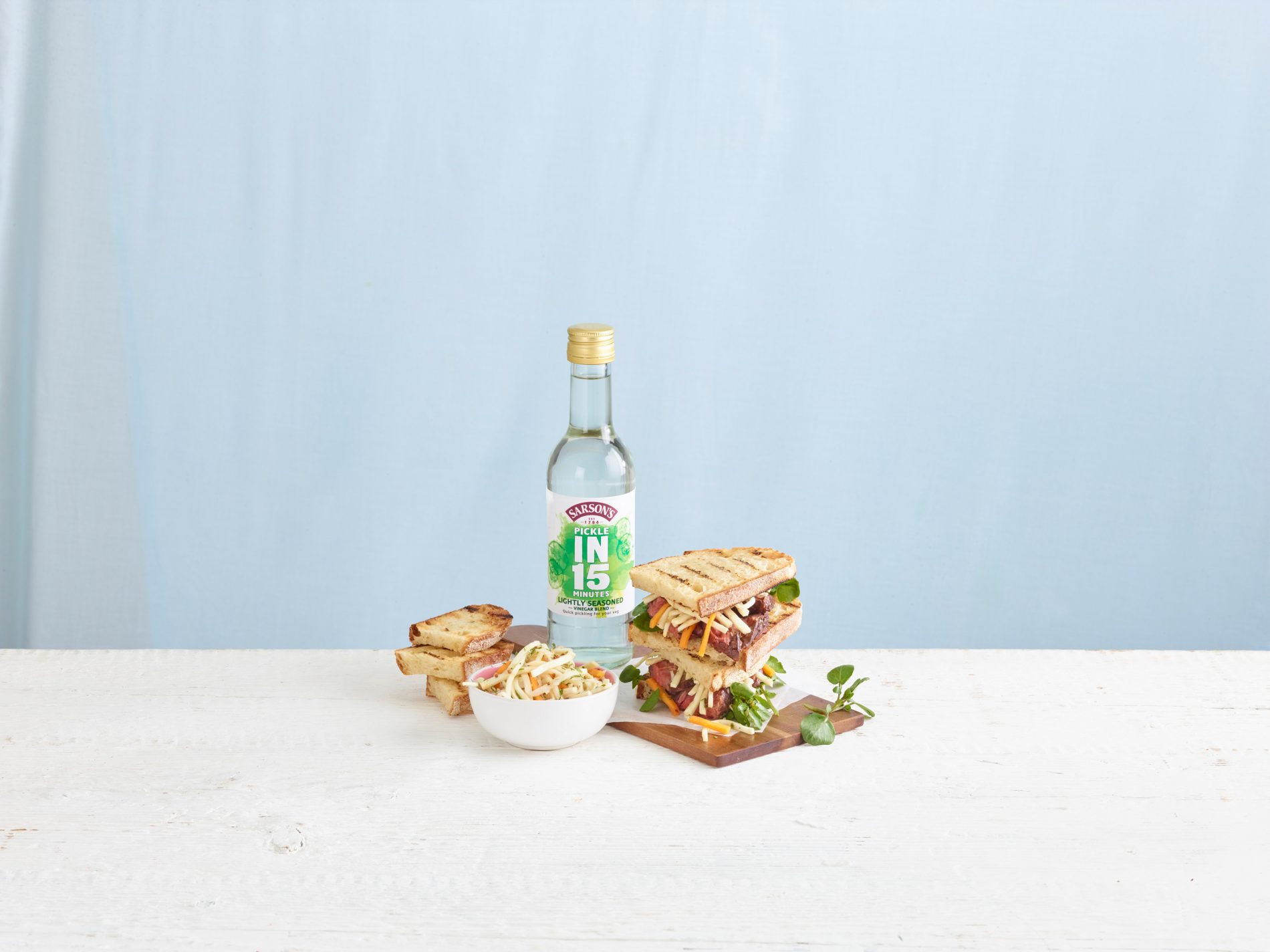 This recipe from Sarson's using Pickle in 15 Minutes Lightly Seasoned makes two sandwiches with extra rémoulade on the side.
Cooking time: 35 minutes
Steak sandwich
300g of onglet steak

1 splash of vegetable oil

2 handfuls of watercress

4 slices of sourdough, toasted

Butter, for the toast
Quick-pickled celeriac and pumpkin rémoulade
150g of celeriac

80g of pumpkin or butternut squash

350ml of Sarson's "Pickle in 15 Minutes" Lightly Seasoned vinegar blend
Dressing
3 tbsp of extra virgin olive oil

1 tsp of wholegrain mustard

1 tbsp of Lightly Seasoned vinegar blend, reserved from pickling the celeriac and pumpkin

½ banana shallot, finely diced

1 tbsp of capers, roughly chopped

1 handful of mixed chopped herbs (preferably parsley, dill and tarragon)

Fresh lemon juice, to taste

Salt

Pepper
Method
Finely slice the celeriac and pumpkin into matchsticks and place in a bowl. Submerge in Lightly Seasoned vinegar blend and leave to pickle for 15 minutes.

Drain the pickled vegetables, reserving 1 tbsp of the pickling vinegar.

Make a quick rémoulade dressing by whisking together the oil, mustard and reserved vinegar. Stir through the shallots, capers and herbs, then fold through the drained celeriac and pumpkin. Season with salt, pepper and a squeeze of lemon juice.

Pat the steaks dry and season with salt and pepper. Cook in a smoking hot pan with a splash of oil for around 3–4 minutes on each side.

Allow the steaks to rest for 5 minutes before carving into 5 mm slices, making sure you cut across the grain of the meat to avoid chewiness.

To assemble the sandwiches, butter the toast and add a handful of watercress to half of the slices. Top with the sliced steak, add plenty of rémoulade and close the sandwich. Serve immediately.