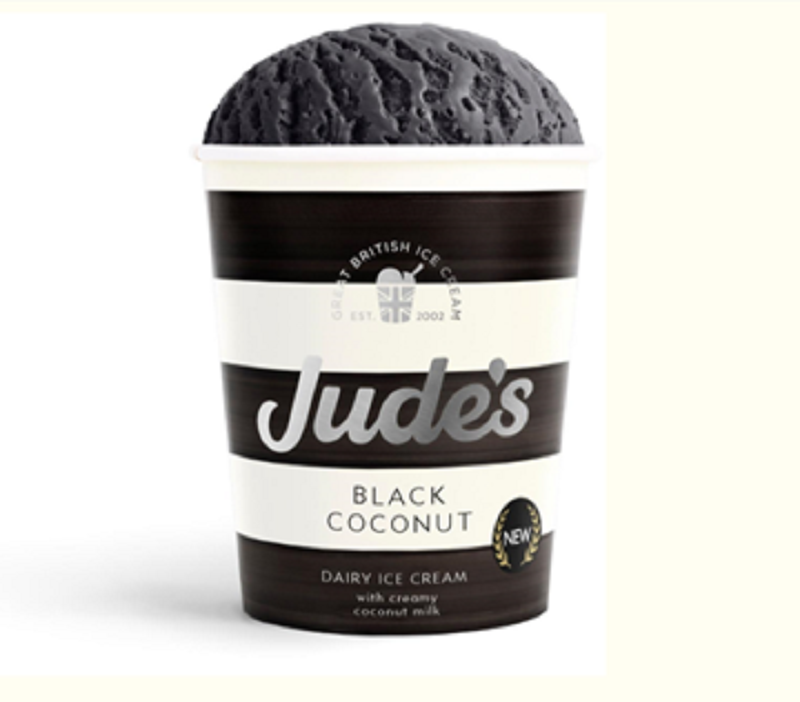 Jude's edgy Black Coconut ice cream was a sensation this summer. The innovative black ice cream is formed using a range of vegetable and coconut ash to get that unique coloring. It has been announced that, the sensational summer flavour will be available for a limited time in 500ml tubs in the winter. The ice cream will be available exclusively from Sainsbury's, allowing fans of the Black Coconut ice cream to continue to enjoy the product from the comfort of their own home.
Jude's ice creams are popular for their amazing flavours, and have won more than 40 Great Taste Awards. Constantly trying innovative new flavours to release, the Black Coconut flavour has been a hit for the company this summer. Jude's also gives back with creating their delicious products, as 10% of all of their profits are donated to charities that work with children and young people.
Black Coconut joined Jude's Family of flavours in May, when it launched in the Pear Tree Café in Battersea Park. Throughout the summer, the new flavour has been a hit at pop-ups and festivals around the country. The strange flavour of this ice cream has also made it an Instagram favourite, adding to the amount of intrigue and publicity created with this smooth flavoured ice cream.
The product has been made with coconut milk and ash, the latter of which delivers the deep black colour. Because of the popular demand that has been experienced for this summer product, Jude's have decided to extend its availability, making it available for purchase from the 22nd of November. The product will be available exclusively at 335 of Sainsbury's stores around the country for just six weeks.
After being the talk of the summer, Jude's Black Coconut ice cream will be a luxury treat for cozy evenings this winter.
No tags