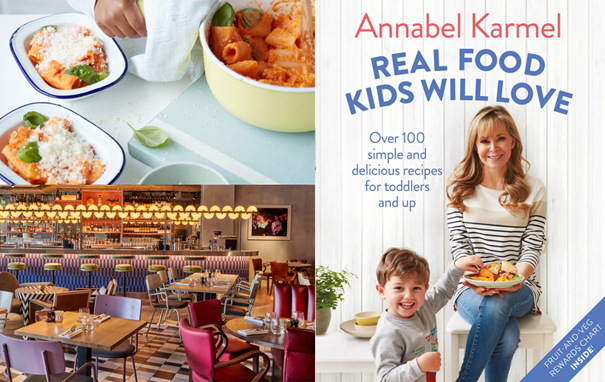 Bluebird Café has partnered up with Annabel Karmel, the UK's no.1 children's cookery author, for exclusive menu collaboration around her new book 'Real Food Kids Will Love'. The six-week residency will be launched on the 27th of June and will see a selection of dishes from the book, forming a nutritious and inspiring menu specifically designed for Bluebird Café's family diners.
Annabel Karmel started her career 25 years ago and has pioneered the way families all over the world feed their babies and children. Credited with starting a food revolution with her trusty recipes and methods, she has become the UK's No.1 children's cookery author, best-selling international author, and the mother of all feeding experts with over 40 cookbooks.
The team at Bluebird Café is thrilled to be welcoming Annabel through its new White City doors, where her signature dishes will run alongside Executive Chef Simon Gregory's modern European menu.
Providing enticing and nutritionally balanced options guaranteed to keep toddlers and children at the table, a special kids menu will include the likes of Hidden veg Bolognese, Roast chicken, roast potatoes, squash and sage stuffing, and No-sugar chocolate orange energy balls. Not wanting mum and dad to miss out, a selection of adult and child friendly dishes will also feature on the a la carte, such as a dessert of Mini raspberry cheesecakes.
Moreover, during the residency two ticketed children's cookery workshops, hosted by Annabel Karmel and Executive Chef Simon Gregory, will also take place. The first workshop will be hosted on Monday, the 13th of August, between 2pm and 4pm, priced at £15 per child and called 'Gingerbread making with Annabel Karmel @ Bluebird Café'. The second one will take place on Monday, the 20th of August, between 2pm and 4pm and entitled 'Cupcake making with Annabel Karmel @ Bluebird Café'.
Tickets can be purchased via https://shop.danddlondon.com/product-category/events/.
#annabelkarmel
#bluebirdcafe